You can hear them now. Those conservative republicans in the U.S. congress with their plant in the White House, Mike Pence as the very powerful Vice President, who thinks on their same wavelength. He is the bridge between the White House and the U.S. congress. The republicans have control of the White House, the majority representation in the U.S. senate and congress along with a check in the supreme court. It is now or never for them to put forward their conservative agenda. But they will have to sell their ideas as being consistent with the president-elect's commitments to his followers. This is where the chief strategist, Steve Bannon is well placed. As the former chairman of Breibart, he is the expert in disseminating fake news targeted to the president-elect's enthusiastically loyal audience.
As bloggers, our role will be to challenge any sales pitch which is not consistent with the president-elects frequently repeated pledges like he would only act to make America safer.
One of the promises that the president-elect has pledged to his  supporters  happens to be consistent with what the republican conservatives have been wanting for years, which has to do with propping up the fossil fuel industry. This is why their officials are so consistent with denying the science of climate change and why they are pushing to dismantle EPA rules barring the expansion of fossil fuel excavations.
This denial of climate change as a major U.S. national security threat to the Americans'  safety, is a direct contradiction to what the president-elect has said over and over again to his listeners, that he will make America safer. The republicans will resist tooth and nail, any attempt to connect climate change to U.S. national security interests, but "we the people" who did not vote for the him, must drive this point, home.
The other carrot that the proponents will tell the public is that the expansion of the fossil fuel business will provide many more jobs that pay better than a living wage. But what  American laborers will not be told, is that more good paying jobs could be made available with the further development of clean energy technology, with the upside that the U.S. becomes less dependent on foreign supplies of fossil fuels and where the U.S. mitigates the harm to Americans due to climate change.
NATIONAL SECURITY
A 9/3/16 NY Times article by Justin Gillis addresses the issue of the importance of not waiting to face the reality of climate change as a pending major national security issue.  The following are some excerpts from his report, "Flooding of Coast,,Caused by Global Warming…Has Already Begun…Scientists' warnings that the rise of the sea would eventually, imperil the United States' coastline are no longer theoretical:"
"Once impacts become noticeable, they're going to be upon you quickly," said William V. Sweet, a scientist with the National Oceanic and Atmospheric Administration in Silver Spring, Md., who is among the leaders in research on coastal inundation. "It's not a hundred years off — it's now."
"In many of the worst-hit cities (floods 2016), mayors of both parties are sounding an alarm."
"I'm a Republican, but I also realize, by any objective analysis, the sea level is rising," said Jason Buelterman, the mayor of tiny Tybee Island, one of the first Georgia communities to adopt a detailed climate plan."
"But the local leaders say they cannot tackle this problem alone. They are pleading with state and federal governments for guidance and help, including billions to pay for flood walls, pumps and road improvements that would buy them time."
"Yet Congress has largely ignored these pleas, and has even tried to block plans by the military to head off future problems at the numerous bases imperiled by a rising sea. A Republican congressman from Colorado, Ken Buck, recently called one military proposal part of a "radical climate change agenda."
You can read about what the US. military says about climate change in a 11/15/16 Scientific American journal article, "Military Leaders Urge Trump to See Climate as a Security Threat," by Erika Bolstad:
"A bipartisan group of defense experts and former military leaders sent Donald Trump's transition team a briefing book urging the president-elect to consider climate change as a grave threat to national security."
"The Center for Climate & Security in its briefing book argues that climate change presents a risk to U.S. national security and international security, and that the United States should advance a comprehensive policy for addressing the risk. The recommendations, released earlier this year, were developed by the Climate and Security Advisory Group, a voluntary, nonpartisan group of 43 U.S.-based senior military, national security, homeland security and intelligence experts, including the former commanders of the U.S. Pacific and Central commands."
"The briefing book argues that climate change presents a significant and direct risk to U.S. military readiness, operations and strategy, and military leaders say it should transcend politics. It goes beyond protecting military bases from sea-level rise, the military advisers say. They urge Trump to order the Pentagon to game out catastrophic climate scenarios, track trends in climate impacts and collaborate with civilian communities. Stresses from climate change can increase the likelihood of international or civil conflict, state failure, mass migration and instability in strategically significant areas around the world, the defense experts argue."
"And President Obama in September ordered federal defense and intelligence agencies to consider the effects of a warming planet in the national security policies, plans and doctrines they develop (ClimateWire, Sept. 22)."
"The memo requires 20 federal agencies to collaborate to make sure decision makers have the best available information on climate change impacts and their potential threats to national security. The agencies are as varied as NASA and the National Oceanic and Atmospheric Administration, which gather scientific observations on climate, and the CIA, the National Security Agency and the Department of Defense, which analyze intelligence and develop national security policy."
"Republicans have been skeptical of tying climate change to national security. House Republicans this summer passed defense appropriations and authorization bills that bar the Defense Department from spending money on efforts to combat climate change, including green fuel projects."
FOSSIL FUEL INDUSTRY V CLEAN ENERGY JOBS
There are still more jobs related to the fossil fuel industry than there are clean energy jobs but this dynamic has been changing towards there being a major increase in clean energy technology jobs, but this positive trajectory could be halted if the president elect's preference towards the fossil fuel industry, prevails.
Katie Fehrenbacher addresses this issue in her 1/12/16 Fortune Magazine article, "U.S Solar Jobs Boom While Oil, Coal Struggle:"
"The rapid rise of solar continues as some traditional fossil fuel industries shed jobs."
"More Americans are now installing solar panels on building rooftops than mining coal or extracting oil and gas, according to a report released Tuesday by the non-profit solar advocacy group The Solar Foundation."
"The shift is a profound one that highlights how U.S. clean energy, both solar and wind, have emerged as large and rapidly growing sectors. It also shows how many traditional fossil fuel industries like coal and oil have struggled to expand in recent years."
"The U.S. solar industry grew dramatically in 2015, and is expected to continue to do so this year. The industry now employs 209,000 workers after adding over 35,000 jobs last year. By the end of this year, its ranks are expected to grow to 240,000 workers.
"The solar sector employs 77% more workers than the U.S coal mining industry does today, according to The Solar Foundation report. The coal industry now employs a little less than 70,000 workers, notes the report."
"According to the Bureau of Labor Statistics, there were 185,000 workers employed in the business of extracting oil and gas in the U.S. as of the end of 2015. These workers  operate and develop oil and gas fields."
"While the sheer numbers of solar workers is large, it's the growth rate that's more impressive. The solar industry's employment has grown 123% since 2010. It grew 20.2% just over the past year."
"Last year, the solar sector added workers at a rate that was almost 12 times faster than the overall economy, says the report. In fact, 1.2% of all jobs—or 1 in 83 jobs—created in the U.S. last year were solar jobs."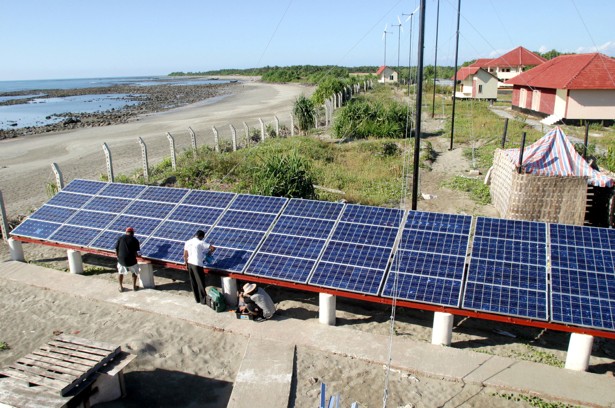 National Geographic lists some of the hottest green jobs which are: 1.) Urban Farm growers; 2.) Water Quality Technicians; 3.) Clean Car Engineers; 4.) Natural Scientists; 5.) Recyclers; 6.) Green Builders; 7.) Green Design Professionals; 8.) Wave Energy Producers; 9.) Wind Energy Workers; 10.) Biofuels Jobs.
RELATED ARTICLE:
11 of the Fastest Growing Green Jobs – National Geographic environment.nationalgeographic.com/