The republican President Donald Trump and far right supporters have been openly threatening republican law-makers legislators who do not tow the part line but instead, have chose to first, represent the best interests of their constituents. One of them is Senator Dean Heller (R-NV) who simply voiced concern over the republicans' so-called substitute for ObamaCare during July 2017. Immediately, there were super-pac funded ads televised against him.
President Trump openly mocked Nevada Sen. Dean Heller (R) at a White House lunch earlier in July, asking if Mr. Heller would like to "remain a senator," and positing that, "any senator who votes against debate says you are fine with ObamaCare."
Senator Jeffrey Flake (R-AZ) has taken a principled stand against some of President Trump's policies even though he is aware that for his acts of courage, far- right super-pacs will "Primary" him by abundantly funding an opponent to run against him at his next election.
The following describes how the recalcitrant Alaskan Senator Lisa Murkowski has been treated.
On July 28, 2017, Devin Henry and Timothy Cama of the Hill penned the following report, "Trump feud with Alaska senator intensifies."
Excerpts:
"White House is escalating its public feud with Sen. Lisa Murkowski (R-Alaska), a key swing vote who helped defeat the "skinny" ObamaCare repeal plan (in July 2017)."
"Interior Secretary Ryan Zinke called Murkowski and Sen. Dan Sullivan (R-Alaska) and threatened to withhold federal support for key economic development projects in the state if Murkowski didn't line up to support the GOP's healthcare plans."
"The missive — a threat Sullivan called "troubling" in the Alaska Dispatch News — came hours after Trump publicly called out Murkowski on Twitter, saying she "really let the Republicans, and our country, down" when she voted against a measure to proceed to the healthcare bill."
"The same day as the talks with Zinke and Trump, Murkowski, in her role as chairwoman of the Energy and Natural Resources Committee, canceled a committee vote on six Interior and Energy Department nominees slated for Thursday. But she said that decision was because of a "hiccup" in the nomination process, not retaliation for the vote."
"In a late-night vote, Murkowski joined GOP Sens. Susan Collins (Maine) and John McCain (Ariz.) in voting against the latest Republican healthcare overhaul plan, effectively killing it."
"Murkowski has repeatedly taken a moderate posture on healthcare reform, saying in a statement that a Senate repeal package needs to go through a "committee process where we can work issues in the open and ensure Alaskans have the healthcare choices they want, the affordability they need and the quality of care they deserve."
How is it that Alaskan Senator Murkowski is not so easily intimidated by her republican party leaders? Here's the rest of the story…
On July 28, 2017, Jeff Stein of VOX penned the following report, "Why Alaska's Lisa Murkowski isn't afraid of Donald Trump."
Excerpts:
"Thousands of Alaska's indigenous people would have been at risk of losing their health insurance if Senate Republicans had successfully executed their plans to repeal Obamacare."
"But many of the Alaska Natives were optimistic that Sen. Lisa Murkowski (R-AK) — whose political career they helped save in 2010 — would not abandon them, even in the face of an all-out campaign against her from President Donald Trump."
"The Alaska Native communities once saved Lisa Murkowski's political career," said Lloyd Miller, a natives' rights attorney in Anchorage, ahead of the final vote. "And now she's doing her best to save their health care."
"On Capitol Hill, Murkowski has emerged as a key obstacle in Senate Republicans' months-long campaign to repeal and replace the Affordable Care Act. Despite furious vote whipping from Senate Republican leadership and even threats from the White House, Murkowski was one of just two Republicans to vote against the motion to proceed on the GOP health bill on Tuesday."
"Collins, another vocal critic of the Obamacare repeal bill, made her opposition to the bill clear months ago. But Trump lost Collins's state by 3 points; he won Murkowski's by 15. (One) morning, Trump exploded in an indignant rage against Murkowski on Twitter. Right-wing groups were apoplectic that a senator from such a red state would hold up their party's No. 1 legislative priority."
"Her opposition even reportedly garnered threats from the Trump administration. But one reason Murkowski may have taken her stance has to do with her reelection campaign in 2010, when thousands of Alaska Natives learned how to spell the name of the embattled Republican so they could support her unprecedented write-in campaign for Senate as an independent.Conservatives saw Murkowski's votes as betrayal. But they're missing the unique coalition that saved her Senate seat in the first place — one that gave her the political freedom to buck the rest of her party."
"Alaska is a place where the Murkowski name means a lot — and establishment Republicans once left her for dead."
"The daughter of former Alaska Gov. and Sen. Frank Murkowski, Lisa rose rapidly through the ranks of Alaska politics after graduating from Georgetown University. Murkowski, who kept her maiden name after she married Verne Martell, worked as an attorney in private practice in Anchorage before securing a seat in Alaska's House of Representatives in 1998."
"In December 2002, Frank Murkowski nominated his daughter to fill his Senate seat as he left for the governor's mansion. Broadly popular and still in her mid-40s, Murkowski looked likely to hold on to a safe Republican Senate seat for decades."
"But then the Tea Party wave hit — and Murkowski was almost swept under the current."
"Joe Miller, a Tea Party darling and Fairbanks attorney, ran against Murkowski in the GOP primary and attacked her as a "Washington insider." Sarah Palin, then the state's most prominent politician, threw her endorsement to Miller. (Palin had defeated Frank Murkowski in a race for the Alaska governor's race in 2006.) On Election Day, Miller shocked the political world and beat Murkowski in the Alaska GOP primary."
"At that pivotal moment, Republicans in Washington could have come to Murkowski's defense. They could have sent key surrogates to back her independent write-in bid, or helped funnel donors to her campaign."
 "Instead, they did the opposite — and the National Republican Senatorial Committee  
sent
 staffers and millions of dollars up north to elect Miller."
"Murkowski would never forget the betrayal."
"Left to fend for herself, Murkowski cobbled together the votes of Alaska Democrats, centrist Republicans, and Alaska Natives. The bid for her independent write-in campaign was kicked off with an announcement featured several Alaska Natives in its backdrop.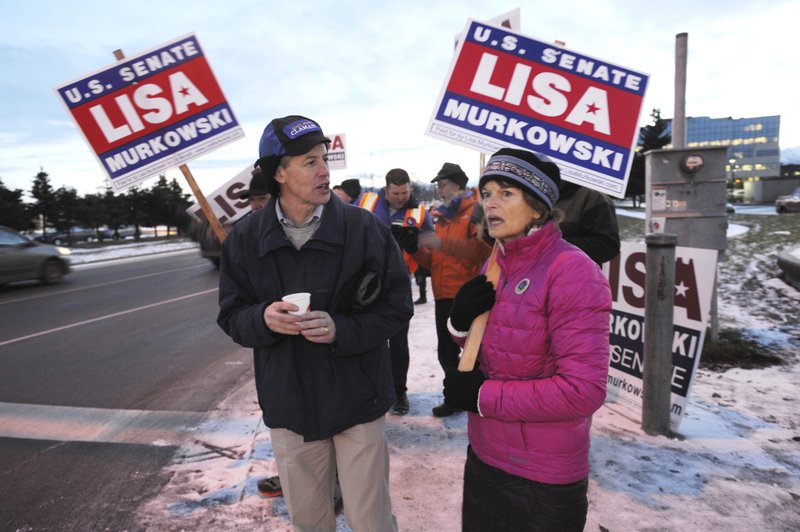 "The natives in the Bush had to learn how to spell M-u-r-k-o-w-s-k-i," said Kokayi Nosakhere, 43, an Alaska Native who lives in Anchorage. "They had to do a whole lot of handwriting practice."
"Several indigenous-run corporations quickly formed a new Super PAC, Alaska Standing Together, which spent more than $600,000 on ads supporting Murkowski in the final month of the campaign — more than twice what she herself raised."
"She got much more support from the Alaska Native population than either the Republican candidate or, surprisingly, the Democratic candidate," said Jerry McBeath, a political scientist at the University of Alaska who has analyzed the 2010 election's results. "And she did particularly well with the Alaskan Bush People — which was remarkable given how many live off road and away from a polling station."
"McBeath noted that 18 percent of the state is Alaska Native (the largest percentage of American indigenous people of any state in the union), and that they traditionally vote for Democrats. But facing the prospect of Sen. Miller — who Nosakhere said ran as an opponent of indigenous rights — they strategically supported the less right-wing Republican."
"The 2010 election showed Murkowski how dependent her career could be on a broader selection of Alaskans than just a narrow Republican constituency," McBeath said. "And she's kept that in mind ever since."
As late as 2016, Murkowski still reportedly wore a gold-plated wristband from her reelection campaign, emblazoned with her name and the words, "Fill it in. Write it in."
But Senator Murkowski did promise to repeal and replace Obamacare — and could pay a price at her next election. Of course, her argument will be that she made a promise to help her constituents and not harm them as the republicans' plans would have done. 
By the way, this past February 2017, she and Susan Collins from Maine were the only GOP senators to vote against Betsy DeVos, Trump's nominee for education secretary.
What would happen if the democratic party would select these three republicans to help them with their future elections if they should lose to a far-right opponent because they dared to do what is right?