Update on morning of 9/28/17: News reports have been announcing that President Trump has decided to temporarily waive the the Jones Act. The Jones Act bars foreign ships from delivering timely aid to Puerto Rico.
AND the US military is finally heading to Puerto Rico to help our fellow Americans who find themselves in dire straights due to the devastation caused by Hurricane Maria around September 20, 2017.
Here's the rest of the story…
On September 27, 2017, Arelis R. Hernandez, Dan Lamothe, Ed O'Keefe and Joel Achenbach of the Washington Post penned the following report, "Trump administration rushes military assets to Puerto Rico amid growing crisis.
Excerpts:
The Trump administration is rushing military hardware and personnel to Puerto Rico and the Virgin Islands as it becomes increasingly clear that the U.S. government response to Hurricane Maria so far has been inadequate and over-matched by the scale of the disaster.
"In the first six days after the hurricane made landfall here, the Navy had deployed just 2 ships, citing concerns that Puerto Rico's ports were too damaged to accommodate numerous large vessels. But harrowing reports of isolated U.S. citizens struggling in the heat without electricity and running low on food and water have now spurred the Pentagon to throw resources into the relief ­effort even though they haven't been specifically requested by territorial officials."
"The more robust approach includes the deployment of the USNS Comfort, a hospital ship that has responded to other natural disasters. The Pentagon also has assigned an Army general as point person for the humanitarian crisis: Brig. Gen. Richard C. Kim, the deputy commanding general of U.S. Army North. He will coordinate operations and assess what other resources are needed, defense officials said."Obviously, what we asked for and what they sent was not enough for a storm that impacted every town in Puerto Rico from north to south and east to west," Ramón Rosario, Gov. Ricardo Rosselló's secretary of public affairs and public policy, said Wednesday (9/27/17) in the San Juan convention center, the headquarters for the intergovernmental recovery effort."
"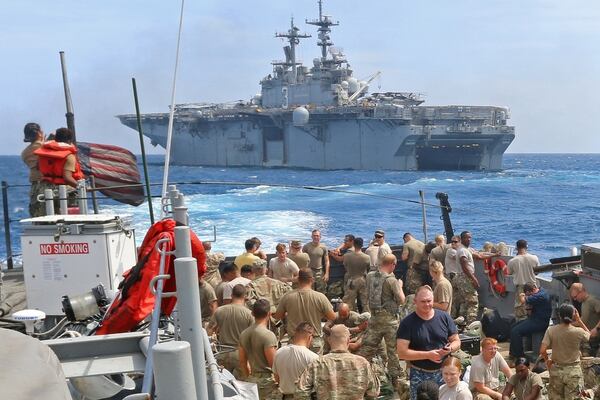 "Rosario said the governor on Tuesday (9/26/17) asked President Trump for more help for the devastated island, including more military personnel."
"If they send 1,000, we'll take it," Rosario said. "If they send 10,000, we'll take it."
"Puerto Rican officials said that 10 military vessels are en route to the island and that half should arrive within 48 hours. A ship arrived Tuesday with 262,000 barrels of fuel for distribution to gas stations across the island."
"Additional aid cannot come soon enough for Rafael Surillo, the mayor of Yabucoa, a town on the island's southeast coast, in the area where Maria's eye — and its harshest winds — made landfall on Sept. 20. Surillo came to the capital city Wednesday (9/27/17) to pick up a satellite phone the government had promised."
"The National Guard arrived Tuesday (9/26/17) with relief supplies that Surillo plans to distribute to 2,000 families in his municipality. He's most concerned about getting medicine, insulin and oxygen to those most vulnerable as Yabucoa struggles with austerity."
"There's no municipal government right now," he said. "About 95 percent of our municipal facilities were destroyed. There is nothing left."
"This phenomenon was unprecedented. We are learning here," he said. "No one underestimated the storm's power, but the magnitude and scale of the destruction has been overwhelming."
"The administration's critics, in turn, have made comparisons to the anemic federal effort in the days after Hurricane Katrina struck the Gulf Coast in 2005."
"If President Trump doesn't swiftly deploy every available resource that our country has, then he has failed the people of Puerto Rico — and this will become his Katrina," Rep. Nydia M. Velázquez (D-N.Y.), who was born on the island and visited Friday, said in a statement. "Every second in this effort counts, and the stakes are too high for further delay, inaction or inefficiency."
"Velázquez and 144 other lawmakers sent a letter to Trump demanding more resources in the Maria response, including the deployment of the aircraft carrier USS Abraham Lincoln."
"Air Force Gen. Lori Robinson, who oversees the military response as chief of U.S. Northern Command, said that the Pentagon is dispatching water, food, generators and other resources to the Caribbean and that much more will arrive now that facilities are reopening".
"The Pentagon's effort to date remains smaller than relief operations marshaled after other major natural disasters, including Katrina in 2005 and the 2013 typhoon that devastated the Philippines. In those cases, the military established a joint task force led by a three-star general. Critics of the response to Maria have called for the Pentagon to do so in Puerto Rico, too."
"
A massive C-5 military cargo jet arrived in Puerto Rico on Wednesday carrying about 50 people and equipment needed to set up a headquarters on land, according to U.S. Northern Command."
"The military surges come after a visit this week to the islands by Federal Emergency Management Agency Director William "Brock" Long, and after the U.S. military reopened two major airfields capable of handling the Pentagon's cargo jets. There are about 5,000 active-duty U.S. service members and National Guardsmen on duty assisting Puerto Rico, said Lt. Col. Jamie Davis, a Pentagon spokesman."
Elaine Duke, the acting secretary of the Department of Homeland Security, called the deployment of Kim, the brigadier general, a "big step forward," telling senators Wednesday that his presence will help accelerate decision-making on the ground."
"The opening of a former base, Naval Station Roosevelt Roads, also will allow more military planes to land. "
"FEMA has released details about the amount of aid provided to the islands thus far, including 4 million meals, 6 million liters of water, 70,000 tarps and 15,000 rolls of roof sheeting. The agency has said that federal personnel are "aggressively working 24 hours, seven days a week" to restore power, communications and port access."
"The difference between Puerto Rico and the mainland is the logistical challenges," said FEMA spokesman William Booher. "Unlike Texas and Florida, with Hurricanes Harvey and Irma, you can't just move in with a convoy of trucks and supplies. Everything has to be brought in by air and sea."
"He said that there are now 10,000 federal workers on the ground in Puerto Rico and that more than 120 satellite phones arrived Tuesday to help responders communicate with one another."
"The territorial government and federal agencies are all working under the same roof, at the convention center in San Juan. Thousands of people are hurrying through the cavernous three-story facility. A smattering of residents are coming in to ask for help with food and fuel."
"One man insisted on being heard: Jaime Barlucea, mayor of the mountainous town of Adjuntas in the island's center. He carried a cardboard box full of stuffed manila folders."
"Each form represents a home that was destroyed," Barlucea said.
"Barlucea, who has been mayor for 16 years, said he came to San Juan to personally ask the governor for the food, tarps and generators his people desperately need."