On or around October 4, 2017, four army green beret soldiers were killed near the Niger-Mali border while traveling in Niger when they and their convoy were ambushed by a group of at least 50 well armed bandits.
 According to ABC News, fewer than 100 Green Berets are in Niger to help build the capacity of its military. Those troops can instruct their counterparts on skills from basic marksmanship to small-team maneuvering and calling in close air support. But clearly, the mission can turn dangerous and resemble something like combat.
What is important to know is that the US military and the Nigerian soldiers' versions of what happened on the 4th of October in Niger, differ significantly. The major clue of the body of Sgt. La David Johnson being found 48 hours later and about a mile way from his fellow soldiers, tells me that this may not have been a routine mission.
There was an important development prior to October 4, 2017 that increased the risk of anyone traveling in Niger to militants like Boko Haram and other ISIS affiliated groups. This added intelligence should have been a warning that any US troops in Niger should have been better prepared for a foreseeable attack.
Within days after the republican President Donald Trump insisted on including the country of Chad in its Travel Ban around September 24, 2017, despite just about every foreign policy expert advising him otherwise, the competent, experienced and well trained Chaldean soldiers began exiting Niger. The problem with this development, is that these soldiers were the ones keeping groups like the Boko Haram at bay. Less than 2 weeks later, four heroic US military soldiers were killed by militants.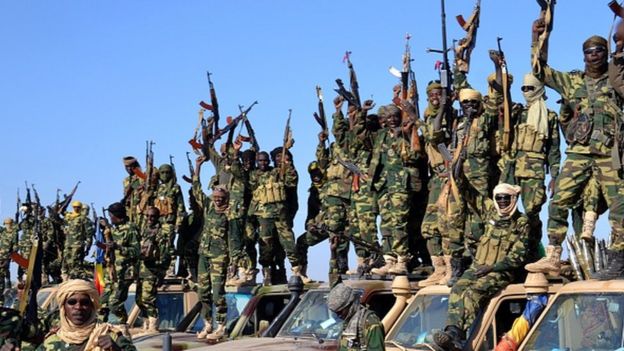 Below are more details about what happened in Niger on October 4, 2017 and how the US travel ban may have contributed to this tragedy…
As per a 10/20/17, Washington Post report, "Everything we know about the Niger attack that left 4 U.S. soldiers dead" by Amanda Erickson, "we know that a group of eight to 12 U.S. soldiers was accompanying 30 to 40 Nigerien troops on some kind of mission near Tongo Tongo. (Other accounts suggest that only eight to 12 Nigerien and American soldiers actually entered the village and that the other Nigerien troops were stationed nearby.) The group met with leaders and collected supplies. As they were heading home, they were ambushed by about 50 militants."
"There was a firefight. Witnesses said the assailants blew up their vehicles. The soldiers ran for cover and began returning fire. Apparently, a French military aircraft was on the scene within 30 minutes, but it didn't fire on the attackers. (There are different accounts as to why. Reuters reported that the fighting was happening at close quarters, so the French aircraft couldn't intervene. Others have said that Niger forbids airstrikes on its soil.)"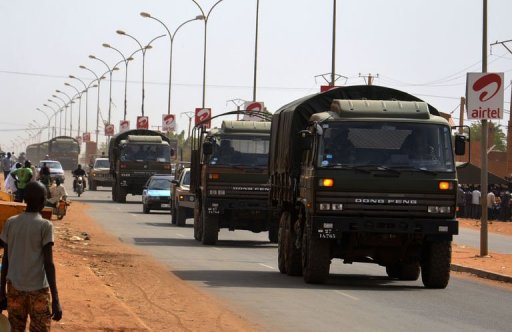 "The troops were armed only with rifles and traveled in unarmored pickup trucks. There was no U.S. drone flying overhead to track the soldiers. French officials told Reuters they felt the U.S. military acted without enough intelligence or contingency planning."
"Investigations are underway. The Defense Department is conducting a review of what went wrong, and the Pentagon's Africa Command has sent a team of investigators to Niger. ("We need to collect some basic facts," a Defense Department official told NBC News.) The French military is also looking into it. The Senate Armed Services Committee has called on the Trump administration to lay out a fuller explanation of what went wrong."
"I think the administration has to be more clear about our role in Niger and our role in other areas in Africa and other parts of the globe," Sen. Jack Reed (D-R.I.) told New York magazine. "They have to connect it to a strategy. They should do that. I think that the inattention to this issue is not acceptable."
"Sen. John McCain (R-Ariz.) has been more blunt. When asked by a reporter whether he thought the Trump administration was being upfront about what happened in Niger, he replied, simply: "No."
As per Wikipedia, "Among the Nigeriens, four were killed and eight were wounded. Among the Americans, four were killed: Staff Sgt. Bryan Black, Staff Sgt. Jeremiah Johnson, Sgt. La David Johnson, and Staff Sgt. Dustin Wright. However, Sgt. La David Johnson's body was not recovered until 48 hours after the attack, because he had been separated from the other soldiers. The body of Sgt. La David Johnson was found nearly a mile (1.6 kilometers) away from the scene of the ambush. According to Lt. Gen. Kenneth McKenzie, the Director of the Joint Staff, U.S., French, and Nigerien forces "never left the battlefield" until Sgt. La David Johnson's body was found. Two American soldiers who were wounded in the ambush were transferred to the Landstuhl Regional Medical Center in Germany.  A senior U.S. intelligence official told ABC News that at least 21 militants were killed."
On October 12, 2017, Alexander Thurston of Foreign Policy penned the following report, "America Should Beware a Chadian Military Scorned." ("Stung by its inclusion on the Trump administration's travel ban, Chad is already making life harder for U.S. troops in Africa.")
"For reasons that remain unclear, U.S. President Donald Trump's administration included the Central African nation of Chad in the latest iteration of its infamous travel ban, which also targets citizens from Iran, Libya, North Korea, Somalia, Syria, Venezuela, and Yemen. The move came as a shock to most observers, not least because Chad, in the White House's own words, is an "important and valuable counter-terrorism partner" in a region threatened by al Qaeda, the Islamic State, and Boko Haram. Now Washington may learn, in the least pleasant fashion possible, just how important and valuable Chad has been."
In the wake of the new travel ban announcement on Sept. 24, (2017) Chad has  withdrawn hundreds of troops from neighboring Niger, where up to 2,000 of its soldiers were part of a coalition battling Boko Haram. The Chadian government has not yet offered an official explanation for the pullout, but Communications Minister Madeleine Alingué condemned Chad's inclusion on the travel ban, saying that it "seriously undermines" the "good relations between the two countries, notably in the fight against terrorism."
"Despite its relative poverty, Chad plays an outsized role in African security and politics. Its troops are considered some of the most capable in the region, and its president, Idriss Déby, has won considerable influence with the African Union, France, and, until recently at least, the United States by deploying them to clean up others' messes. In addition to leading the fight against Boko Haram, Chad's military is busy countering al Qaeda in the Islamic Maghreb and other jihadis in the Sahel, a volatile region that includes parts of Mali and Niger."
"The groundwork for the country's current security partnership with Washington was laid in northern Mali in 2013, when Chadian soldiers fought alongside French forces in some of the harshest terrain and deadliest battles as they sought to roll back jihadis who had dug in there. When less than two years later Boko Haram began seizing huge swaths of territory in northeastern Nigeria, Washington looked to Chad as part of a regional response because it didn't believe Nigeria could handle the threat on its own. Chad and Niger, which also has a budding security partnership with the United States, mounted an armed intervention in early 2015 that pushed Boko Haram out of numerous towns and broke up the group's Islamic emirate. Later, Chad took on a leading role in the Multinational Joint Task Force, a larger military coalition that included troops from four other nations, hosting its new headquarters as well as a coordination cell partly staffed by Western experts advising the campaign against Boko Haram."
Chad has also continued to play an important role in Mali, where the United States is a significant contributor to the United Nations peacekeeping mission and aides French counterterrorism efforts with financial, logistical, and intelligence support. It is a former Chadian minister, Mahamat Saleh Annadif, who leads the U.N. mission in Mali, and Chad has signed on to another regional effort — the so-called "Sahel G5" force that also includes forces from Mauritania, Mali, Burkina Faso, and Niger — that is tasked with improving security in the troubled Mali-Niger-Burkina Faso border region. The G5 force was a brainchild of the French, and the Trump administration has been skeptical of the effort because of the projected cost but initially gave it some rhetorical support."
"But while Chad has burnished its image abroad by participating in military operations, it has struggled with mounting unrest and economic hardship at home. An authoritarian leader who seized power in 1990, Déby finds himself increasingly threatened by student and labor union unrest as persistently low oil prices and mounting security expenditures have at times left his government unable to pay workers. As his position has grown more tenuous, Déby has been blunt with his Western partners: Give more money, or Chad will scale back its regional security commitments. France and others have heeded Déby's threats. In June, the International Monetary Fund approved over $300 million in extra loans for Chad. In September, a donor roundtablein Paris generated nearly $20 billion in pledges designed to support Chad's 2017-2021 national development plan."
"But instead of rewarding Chad as other donors have, the Trump administration has punished it. Experts are still baffled by the decision to include the country on the latest travel ban, which was partially blocked by a federal judge on Tuesday, hours before it was set to go into effect. The administration said it was because "several terrorist groups are active within Chad or in the surrounding region" and the government has failed to "adequately share public-safety and terrorism-related information." Yet on the first count, at least — terrorist groups active within its borders — Chad is better off than many of its neighbors. One possible explanation for this discrepancy, which would be preposterous in any administration except this one, is that the architects of the ban, having repeatedly heard the phrases "Boko Haram" and "Lake Chad" in the same sentence, assumed that Chad must be the epicenter of Boko Haram. (Lake Chad in fact lies on the border of Chad and three other countries, and Boko Haram is mostly confined to northern Nigeria, northern Cameroon, and southeastern Niger.)"
"Regardless of the rationale for including Chad in the ban, the decision was a mistake. The partial withdrawal of Chadian soldiers from places like southeastern Niger, an area that has been heavily targeted by Boko Haram in recent years, could result in swift and serious consequences. Initial reports indicate that the security situation there has already begun to deteriorate in the vacuum left by departing Chadian forces: Boko Haram attacks have escalated since the withdrawal, and so has banditry, a chronic regional problem. A security vacuum will also have political and humanitarian consequences, imperiling tentative deradicalization and amnesty efforts by Niger's government and making it more difficult to get vital assistance to millions of displaced people in the Lake Chad region."
"A more significant Chadian pullback would likely embolden Boko Haram, which already seems to be getting some of its mojo back. This year has seen an uptick not just in suicide bombings, but also in audacious and successful attacks on Nigerian military convoys and bases. If Chadian authorities take even more dramatic steps to halt their cooperation with the United States and other regional militaries involved in the fight against Boko Haram, the Multinational Joint Task Force itself could be partly dismantled, as could the coordination cell in Chad's capital, developments that would impede the entire regional effort to counter the terrorist group."
There are good reasons why the United States should consider reducing its dependence on Chad, Déby's autocratic rule being one of them, but the travel ban does not appear to be part of a considered rebalancing of U.S. security relationships in the region. The confusion and anger engendered by Chad's inclusion, moreover, seem unlikely to lead to reform. Of course, the last word about the travel ban has not been said, as Tuesday's court ruling suggests. Déby is a tough and skilled negotiator who has faced down savvier interlocutors than Trump — including the World Bank and ExxonMobil — and has come away each time with at least part of what he wanted. The Chadian president is likely betting that with his forces withdrawn from Niger, the Trump administration will quickly come to appreciate his country's security contributions and remove it from the list. The danger for Déby, Washington, and especially for the region, however, is that the administration's characteristic disorganization and stubbornness may delay a course correction until after serious harm has occurred.