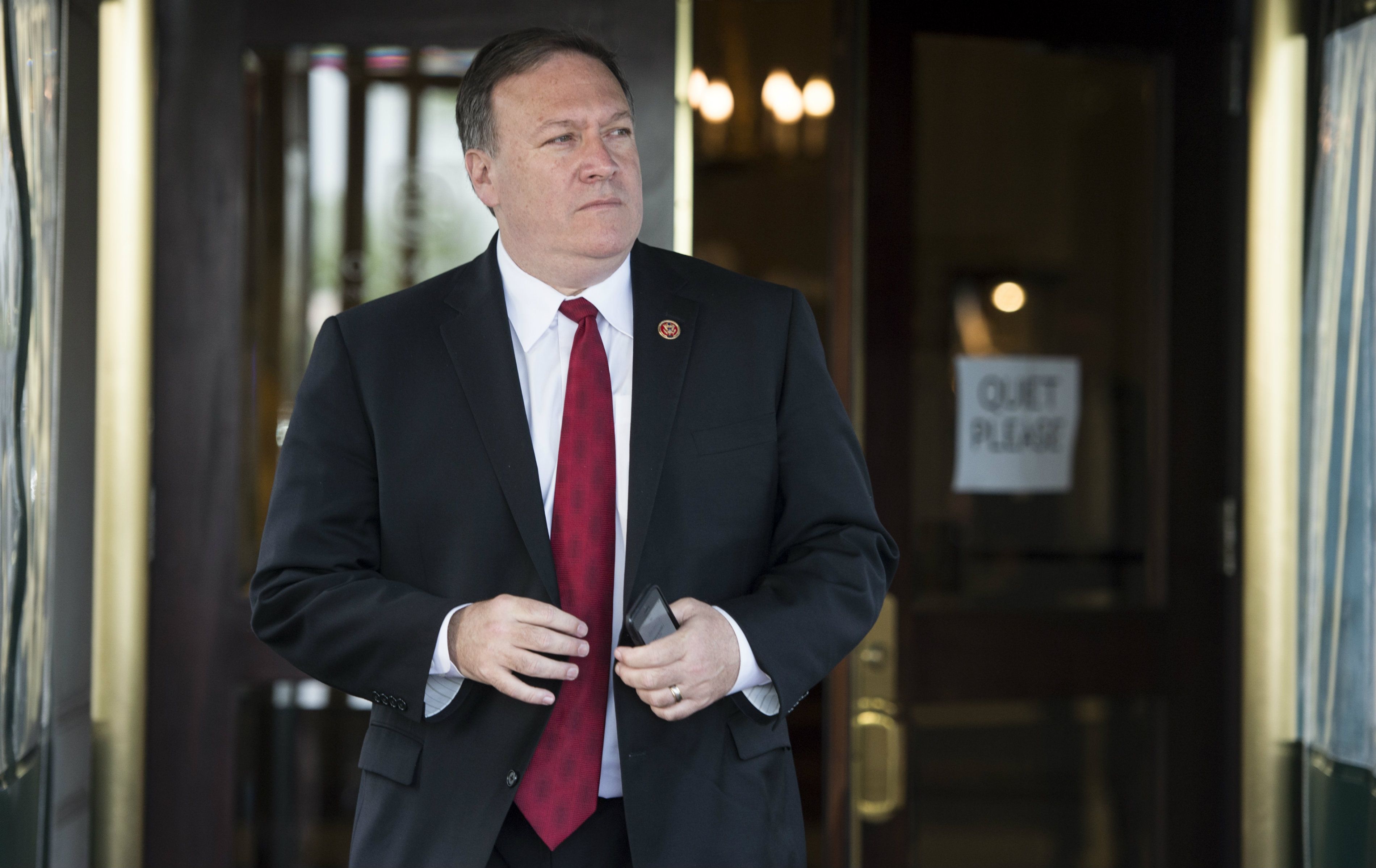 Why on earth would the CIA Director Mike Pompeo with real intelligence at his fingertips, be doing by meeting with a well known purveyor of fake news, if he wasn't acting at the direction of the republican President Donald J. Trump? Is the CIA director supposed to catering to the whims of the president?
What is also worrisome, is the president's announcement during the summer of 2017 that he has been dealing with advisers to restructure the CIA as it has become too politicized.
The question is, would the CIA be restructured to better accomplish its mission, the collection of intelligence around the world or to cater to the whims of the White House?
Here is the rest of the story…
On November 8, 2017, Jennifer Rubin posted Aaron Blake's Intercept article,  for the Washington Post penned the following report, "Pompeo is playing with fire at CIA."
Excerpts:
"The Intercept just broke a pretty big story: CIA Director Mike Pompeo reportedly met with the purveyor of a disputed theory about the internal Democratic National Committee emails that were released last year — a theory that runs counter to the intelligence community's own long-standing conclusions about the matter."

"It's not the first example of Pompeo doing something that has been put under microscope. But there is a common thread running through just about every example: Pompeo doing and saying questionable things involving Russia — and those questionable things tend to lean in a pro-Trump direction."

"The most recent example is Pompeo's meeting with William Binney, a former intelligence official who argues that the DNC hack wasn't a hack at all, but rather a leak from within."
"Max Boot, a military historian and critic of President Trump, tells me, "It has to be very demoralizing to CIA employees to see their boss meeting with a conspiracy theorist who rejects the consensus view of the intel community regarding the Russia hack." He adds, "It signals that Pompeo is more concerned with the pursuit of Trump's favor than the pursuit of truth. He is fast losing the confidence of his employees, for understandable reasons. This is bringing Russian-concocted 'fake facts' into the heart of the intelligence community."
"Make no mistake: Binney is nothing short of a crackpot:"
"Binney is a former official at the National Security Agency (NSA) who later became a whistleblower and now belongs to Veteran Intelligence Professionals for Sanity, a group of former intelligence officials who are skeptical of the intelligence community's conclusions. He has occasionally been a guest on Fox News, where it seems Trump may have seen him, and where host Sean Hannity once seized upon the inside-job theory and tied it — dubiously — to the murder of DNC staffer Seth Rich. The appeal of Binney's theory to Trump is clear: It suggests Russia's interference wasn't nearly so broad or influential as the intelligence community contends."
"Pompeo also had to recently back down from a statement that our intelligence service confirmed the Russia interference did not affect the outcome of the election. The intelligence community has previously said such a judgment is out of its purview. Pompeo was forced to walk his statement back."
"Foreign policy gurus and ex-intelligence officers are greatly disturbed by this. Congress should be too, but it is controlled by GOP sycophants such as Sen. Tom Cotton (R-Ark.), widely rumored to be Pompeo's replacement if Pompeo takes Rex Tillerson's place at the State Department. "Usually, the director of the CIA does not personally interview crackpot conspiracy theorists at the behest of an equally crackpot president," Eliot Cohen, a former State Department official and staunch #NeverTrumper, told me. " But this is the Trump administration. What is worrisome is the question what other daft — or more dangerous — directives he would also follow."
"Former CIA director Michael Hayden, in a rare on the record criticism of a successor, said, "I am sure … Director Pompeo would not have wanted to do this. Clearly this was at the direction of the president." He continued, "He knew that this would create a [problem] for him with his own workforce because of the appearances the visit would have created. Equating a conspiracy theory with the high confidence judgment of the intelligence community. And there was no way that Binney would've kept it quiet." Hayden adds, "And yet it appears that the president insisted he do it. This whole episode says more about the president than it does anyone else." The only saving grace was the CIA's retreat. "It was a good thing that the agency reiterated its support for the intelligence community assessment," Hayden said."
"The greater concern is that Pompeo, a frequent presence in the White House, is more interested in buttering up the president than in managing his agency in a fair and impartial manner. Pompeo is a former congressman, a politician, but if he is to succeed and earn the trust of his agency and the country he needs to put politics aside."