Once upon a time the Republican Party had conservative republican leaders like President Ronald Reagan who were capable of delivering a stirring July 4th address  like at the Statue of Liberty on Governors Island on July 3, 1986 which lifted everyone up. I didn't agree with President Reagan on a host of issues like on taxes and on immigration but he definitely sounded sane and  he sang a very different tune than the head of today's republican party  President Donald Trump.
You would never guess that it was President Reagan who was the first to use the phrase, "we can make America great again" but he delivered these words in a way that was favorable to immigration.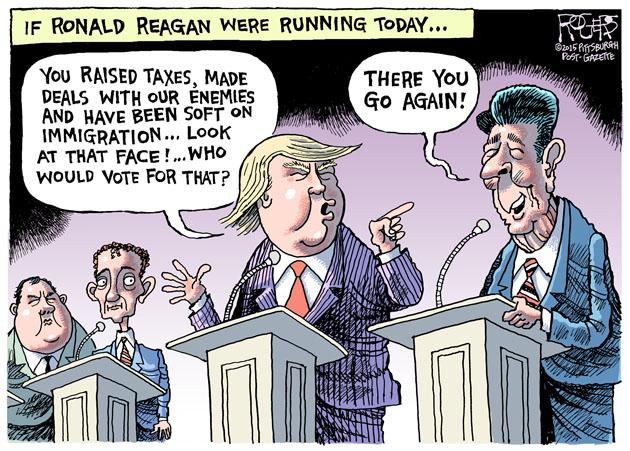 Here's the rest of the story…
UPI published text "of some of Reagan's Liberty speech":
 "The following is the text of President Reagan's speech on (7/3/1986), at the rededication of the Statue of Liberty:"
"President and Madame Mitterrand, my fellow Americans. The iron workers from New York and New Jersey who came here to begin restoration work were at first puzzled and a bit put off to find foreign workers – craftsmen from France — arrive, too. Jean Wiart, the leader of the French workers, said his countrymen understood. After all, he asked, how would Frenchmen feel if Americans showed up to help restore the Eiffel Tower?"
"But as they came to know each other — these Frenchmen and Americans – affections grew; and so, too, did perspectives. The Americans were reminded that Miss Liberty, like the many millions she has welcomed to these shores, is originally of foreign birth — the gift of workers, farmers and shopkeepers who donated hundreds of thousands of francs to send her here. They were the ordinary people of France — this statue came from their pockets and from their hearts."
"The French workers, too, made discoveries. Monsieur Wiart, for example, normally lives in a 150-year-old cottage in a small French town but for the last year he has been riding the subway through Brooklyn. A study in contrasts, he says; contrasts indeed. But he has also told the newspapers that he and his countrymen learned something else at Liberty Island. For the first time, they worked in proximity with Americans of Jewish, black, Italian, Irish, Russian, Polish and Indian backgrounds. Fascinating, he said, to see different ethnic and national types work and live so well together."
"It is how we like to thing of America; and it is good to know that Miss Liberty is still giving life to the dream that brought her to us, the dream of a new world where old antagonisms could be cast aside and people of every nation could live together as one."
"It is especially fitting that this lesson should be relived and relearned here by Americans and Frenchmen. President Mitterrand, the French and American people have forged a special friendship over the course of two centuries. In the 1700s, France was the midwife of our liberty. In 2 world wars, America stood with France as she fought for her life — and for civilization. And today, Mr. President, with infinite gentleness your countrymen tend the final resting places — marked now by rows of white crosses and stars — of more than 60,000 Americans who remain on French soil, a reminder since the days of Lafayette of our mutual struggles and sacrifices for freedom. So tonight, as we celebrate the friendship of our 2 nations, we also pray: May it ever be so. God bless America. Vive La France."
"And yet, my fellow Americans, it is not only the friendship of 2 people but the friendship of all peoples that brings us here tonight. We celebrate something more than the restoration of this statue's physical grandeur. Another worker here, Scott Aronsen, a marble restorer, has put it well: ' I grew up in Brooklyn and never went to the Statue of Liberty. But when I first walked in there to work, there's this feeling I can't describe. I thought about my grandfathers coming through here.'"
"And which of us doesn't think of other grandfathers and grandmothers — from so many places around the globe — for whom this statue was that first glimpse of America, that first chance at their dreams."
As a reminder, it was President Reagan who was the first to use the phrase, "we can make America great again."
Says Ronald Reagan said immigrants "brought with them courage and the values of family, work, and freedom. Let us pledge to each other that we can make America great again."
As per a 7/3/18 PolitiFact report by Miriam Valverde, "A conservative group in favor of legislation that benefits immigrants has a new ad claiming President Ronald Reagan said immigrants made America great — a jab to President Donald Trump's campaign slogan and his hard-line immigration policies."
"Today, the Becoming American Initiative launched its first ad featuring a video of President Ronald Reagan talking about how immigrants have always made America great," the group said July 3. "The message is especially important for conservatives and all Americans to hear on July 4th as President Trump pushes to limit immigration."
"The ad shows footage of Reagan talking about immigrants who "brought with them courage and the values of family, work and freedom. Let us pledge to each other that we can make America great again."
"Reagan used the "Let's Make America Great Again" slogan in his 1980 presidential campaign. Did he say what the ad shows? "
"We found that Reagan in a 1980 campaign speech spoke about immigrants' journey to America and of their contributions to society. The ad patched together what Reagan said about immigrants with his closing call for everyone to "make America great again."
Link to entire article: Did Ronald Reagan say immigrants made America great?