UPDATE ON 7/19/18: General James Clapper, the former Director of National Intelligence Office stated for the record that some of the facts alleged in the following NY Times article are not accurate but he wouldn't provide more details as to specifically what was true and not true. So, please read the following report with this caveat in mind. ………………………………………………………………………………………………………………..
The New York Times is breaking the story that two weeks before the republican President-elect Donald Trump moved into the White House to fulfill his role as the 45th president of the USA, Intelligence Community agents had shared hard evidence about Russia's attack on the 2016 US elections' infrastructure.
We now know that while the president has been muddying the waters on this issue along with his sycophant republicans in the US Congress including at the recent 7/16/18 Trump-Putin Helsinki summit, he has known full well that Russia's President Vladimir Putin ordered the interference into the 2016 US elections.
Of course it would be difficult for President Trump to point the finger at Russia if he conspired/ coordinated with its officials to do whatever was necessary to help him win the 2016 presidential elections.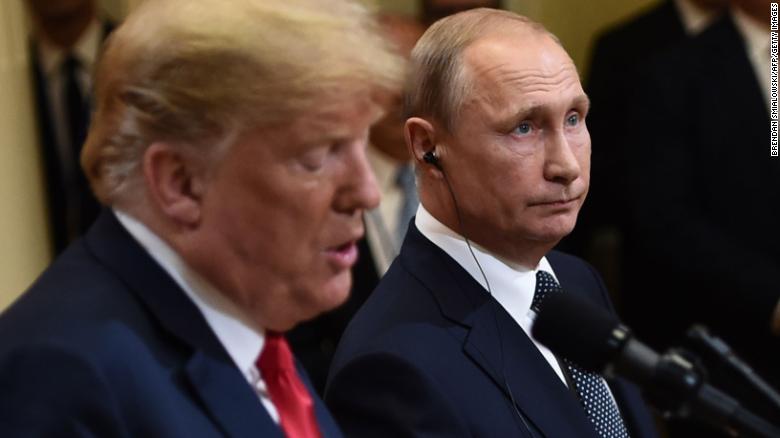 It's time to contact the republican lawmakers in the US Congress to force them to decide to do the right thing by deciding to be on Team USA vs. Team Presidents Trump and Putin. They need to figure out how to have the US translator present at the 2 plus hour one-on-one tete-a-tete between the two leaders, testify before it.
One recommended the phone number is 877-650-0039. Other contacts phone members and fax methods are listed below.
Find Your Representative · House.gov – U.S. House of Representatives
TO FAX:  Resistbot will do it all for you. Text "RESIST" to 50409 or message Resistbot on Facebook and it will walk you through the steps to fax your Senator and will tell you when your fax has been delivered.
The main US Senate phone line 202-225-3121 (202-224-3121) or  YOU CAN FIND PHONE NUMBERS FOR EVERY SENATOR HERE. or U.S. Senate: Senators of the 115th Congress.
On July 18, 2018, David E. Sanger and Matthew Rosenberg of the New York Times penned the following reporting,  "From the Start, Trump Has Muddied a Clear Message: Putin Interfered"
Excerpts:
"Two weeks before his inauguration, Donald J. Trump was shown highly classified intelligence indicating that President Vladimir V. Putin of Russia had personally ordered complex cyberattacks to sway the 2016 American election."
"The evidence included texts and emails from Russian military officers and information gleaned from a top-secret source close to Mr. Putin, who had described to the C.I.A. how the Kremlin decided to execute its campaign of hacking and disinformation."
"Mr. Trump sounded grudgingly convinced, according to several people who attended the intelligence briefing. But ever since, Mr. Trump has tried to cloud the very clear findings that he received on Jan. 6, 2017, which his own intelligence leaders have unanimously endorsed."
"The shifting narrative underscores the degree to which Mr. Trump regularly picks and chooses intelligence to suit his political purposes. That has never been more clear than this week."
"On Monday (7/16/18), standing next to the Russian president in Helsinki, Finland, Mr. Trump said he accepted Mr. Putin's denial of Russian election intrusions. By Tuesday, faced with a bipartisan political outcry, Mr. Trump sought to walk back his words and sided with his intelligence agencies."
"On Wednesday (7/18/18), when a reporter asked, "Is Russia still targeting the U.S.?" Mr. Trump shot back, "No" — directly contradicting statements made only days earlier by his director of national intelligence, Dan Coats, who was sitting a few chairs away in the Cabinet Room. (The White House later said he was responding to a different question.)"
"Hours later, in a CBS News interview, Mr. Trump seemed to reverse course again. He blamed Mr. Putin personally, but only indirectly, for the election interference by Russia, "because he's in charge of the country."
"In the run-up to this week's ducking and weaving, Mr. Trump has done all he can to suggest other possible explanations for the hacks into the American political system. His fear, according to one of his closest aides who spoke on the condition of anonymity, is that any admission of even an unsuccessful Russian attempt to influence the 2016 vote raises questions about the legitimacy of his presidency."
"The Jan. 6, 2017, meeting, held at Trump Tower, was a prime example. He was briefed that day by John O. Brennan, the C.I.A. director; James R. Clapper Jr., the director of national intelligence; and Adm. Michael S. Rogers, the director of the National Security Agency and the commander of United States Cyber Command."
"The F.B.I. director, James B. Comey, was also there; after the formal briefing, he privately told Mr. Trump about the "Steele dossier." That report, by a former British intelligence officer, included uncorroborated salacious stories of Mr. Trump's activities during a visit to Moscow, which he denied."
"According to nearly a dozen people who either attended the meeting with the president-elect or were later briefed on it, the four primary intelligence officials described the streams of intelligence that convinced them of Mr. Putin's role in the election interference."
"They included stolen emails from the Democratic National Committee that had been seen in Russian military intelligence networks by the British, Dutch and American intelligence services. Officers of the Russian intelligence agency formerly known as the G.R.U. had plotted with groups like WikiLeaks on how to release the email stash."
"And ultimately, several human sources had confirmed Mr. Putin's own role."
"That included one particularly valuable source, who was considered so sensitive that Mr. Brennan had declined to refer to it in any way in the Presidential Daily Brief during the final months of the Obama administration, as the Russia investigation intensified."
"Instead, to keep the information from being shared widely, Mr. Brennan sent reports from the source to Mr. Obama and a small group of top national security aides in a separate, white envelope to assure its security."
"Mr. Trump and his aides were also given other reasons during the briefing to believe that Russia was behind the D.N.C. hacks."
"The same Russian groups had been involved in cyberattacks on the State Department and White House unclassified email systems in 2014 and 2015, and in an attack on the Joint Chiefs of Staff. They had aggressively fought the N.S.A. against being ejected from the White House system, engaging in what the deputy director of the agency later called "hand-to-hand combat" to dig in."
"The pattern of the D.N.C. hacks, and the theft of emails from John D. Podesta, Hillary Clinton's campaign chairman, fit the same pattern."
"After the briefings, Mr. Trump issued a statement later that day that sought to spread the blame for the meddling. He said "Russia, China and other countries, outside groups and countries" were launching cyberattacks against American government, businesses and political organizations — including the D.N.C."
"Still, Mr. Trump said in his statement, "there was absolutely no effect on the outcome of the election."
"Mr. Brennan told Congress that he had no doubt where the attacks were coming from."
"I was convinced in the summer that the Russians were trying to interfere in the election," he said in testimony in May 2017. "And they were very aggressive."