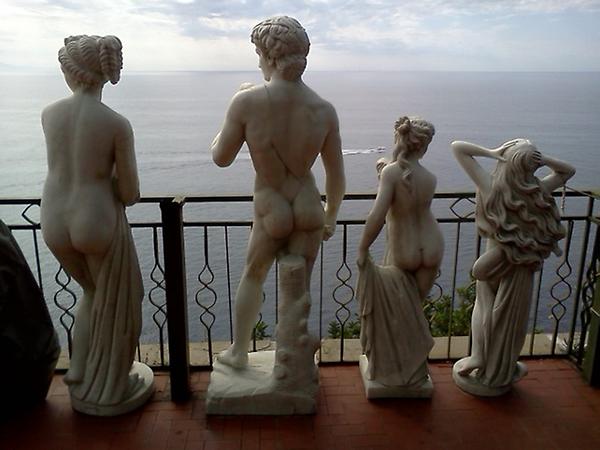 One of the most pleasurable perks when traveling is the making of new friends. While having breakfast on the terrace of Hotel Onda, we began a conversation with another couple of adventuresome ladies who were having a grand time exploring Praiano, the neighboring Amalfi towns and eating at a variety of foodie hot spots. Before long, we were sharing our stories about where we had been; where we were going; what were everyone's plans for the day were; information about what we had learned as well as what were the highlights of our adventures. I remember Donna's surprise about all the feedback she was receiving after posting a photo of local statues' back sides versus all the others. We would commiserate how a cat's melancholy meowing and how the previous night's fireworks woke us up. It turned out that our three rooms were right next to each other.
One morning, Donna from North Jersey and Lynn from New York City told us about the "to die for massages" that they had experienced at our hotel. Of course, I and my friend ran to sign up and we were not disappointed.
After only a few days, our friends would soon be off to Ravello and we would be  returning to Rome. During our times together, both Donna and Lynn kept bragging about a local restaurant where they had been enjoying their dinners. They described, the owner, Genaro of Vivaro's bar as a one man show, cook, waiter, host. To gain entry, you could not make a reservation. When they arrived for the first night, they were turned away but not without the owner's promise that he would find room for them on the following evening. From what they explained, there were no menus but the guests were granted the option of either fish or meat. Then the host would present the wine, the pasta, the meat or fish dishes and then the dessert according to what you selected.
You could tell that Donna and Lynn loved their food and their praise was so over the top about their delicious meals at Vivaro's that we accepted their invitation to join them in a good bye dinner.
From the hotel, we shared the expense of a Benvenuto taxi ( Giovanni-English speaker answers the phone at 0039 339 636 1653); to take us a short distance up the road. Before heading to the restaurant we stopped by to visit the local church, the Church of San Giovanni Battista (Parrocchia Di San Gennaro) which was right across the street.  The church is constructed in the Romanesque style with a rectangular design, vaulted ceilings and with an Italian ornate baroque interior. Dating back to the 11th–12th centuries, the church features beautiful maiolica flora and fauna tiled flooring.
When we arrived at Vivaro's, we were graciously greeted and escorted to our tables. (Technically, you cannot make a reservation. It is first come, first serve but an exception was made because of our 2 charming friends.) Everything was just  as Donna and Lynn had described. With the delicious wine, three course dinner, we were stuffed. Everything was scrumptious and we had a wonderful fun evening. We were sad to say good bye to Donna and Lynn. I couldn't believe it when Donna was up at the next crack of dawn to tell us ciao and to take some more photos.
Our side day trip to Positano
It is a given that I am biased in favor of the town of Praiano and its Hotel Onda Verde which is my namesake, Onda. (My grandchildren call me Gronda and this is what I use for my blog.) With this caveat, the other town that I was absolutely enthralled with is Ravello. My friend's choice is Positano.
We ventured out by boat to this stylish, upscale post card, glamorous chic town of Positano with a mutitude of steps going up from the harbor to the main street. The harbor is where you purchase ferry tickets to destinations like Capri and various tours. This port area is dotted with bars, cafés, terraced eating places, souvenir stores, etc. As you climb up you will pass the Landmark church, Santa Maria Assunta and then more souvenirs and pottery displays, gelato and food shops, art, fashion and jewelry vendors.
The following is a write up about Positano by Lonely Planet:
"Positano is the coast's most picturesque and photogenic town, with vertiginous houses tumbling down to the sea in a cascade of sun-bleached peach, pink and terracotta colours. No less colourful are its steep streets and steps lined with wisteria-draped hotels, smart restaurants and fashionable boutiques."
"Look beyond the facades and the fashion, however, and you will find reassuring signs of everyday reality: crumbling stucco, streaked paintwork and even, on occasion, a faint whiff of drains. There's still a southern-Italian holiday feel about the place, with sunbathers eating pizza on the beach, kids pestering parents for gelati and chic women from Milan checking out the boutiques. The fashionista history runs deep – moda Positano was born here in the '60s and the town was the first in Italy to import bikinis from France. "
A friend, Janet highly recommended a wonderful but affordable restaurant in Positano,   Restaurant "La Tagliata" in Montepertuso – Positano;  Via Tagliata 32b – 84017 Positano (Sa)
Tel. (+39) 089 875 872
Fax. (+39) 089 812 2020
Email. info@latagliata.com
This is from the restaurant's website:
 La Tagliata endeavours to satisfy our clients palates with local dishes from Positano using organically grown vegetables cultivated on our own land and free – range meat locally reared from the surrounding area.

As our charcoal – grilled meat is our speciality , we take great pride in using produce home grown naturally which gives us the unique flavour and high quality we are known for…

At La Tagliata ,we look forward to you coming to try our traditional dishes and our specialities in a beautiful , panoramic location .

Here , we believe , the values and the flavours of the past still count.
 "John Steinbeck visited in 1953 and wrote in an article for Harper's Bazaar:  'Positano bites deep. It is a dream place that isn't quite real when you are there and becomes beckoningly real after you have gone."
"There certainly is something special about the place and this is reflected,  in the prices, which tend to be higher here than elsewhere on the coast."
You forget about all the step climbing as you just get into the moment of savoring the surrounding shops while stopping for drinks and treats along the way.
The distance from the harbor at sea level to where we had to catch the bus is surprisingly lengthy.  We were ecstatic when we reached the bus stop. We did not realize that there were two bus stops for buses to Praiano. We discovered this when we presented our Sita Sud tickets to the bus operator who advised us that we were on the wrong bus but we were allowed to buy the tickets from him. And so, within 20 minutes we were back at our hotel in Praiano.