What does the republican Presidential-elect Donald Trump and his team's continued denial of climate change despite overwhelming scientific evidence; denial of Russian agents having hacked American institutions at will despite 17 U.S. intelligence agencies stating otherwise; the appointment of Scott Pruitt, an avid climate change denier to lead in the dismantling of EPA regulations; and the possible consideration of Exxon's CEO Rex Tillerson for the post of  secretary of state, have in common?
A possible common link could be related to Exxon's business with Russia regarding a partnership worth up to $500 billion. However, all of this is blocked by sanctions on Russia that the U.S. and its allies imposed two years ago (2014) after the country's invasion of Crimea in Ukraine. To get this business deal back on track would require the lifting of the imposed NATO sanctions against Russia.
While Mr. Tillerson may be a very qualified candidate for secretary of state, the question remains, would he be biased towards placing U.S. business interests ahead of U.S. security priorities?
Bradley Olson writes about the inevitable problems with this CEO's possible appointment, for the 12/6/16 The Wall Street Journal, "Rex Tillerson, a Candidate for Secretary of State, Has Ties to Vladimir Putin." Here are excerpts:
"Exxon Mobil Corp. CEO Rex Tillerson, who was meeting with Donald Trump on Tuesday to discuss becoming his secretary of state, is a seasoned deal-maker whose close ties to Vladimir Putin and other world leaders could redefine American interests abroad."
"His emergence as a candidate to be the nation's top diplomat despite having no government experience surprised senior Exxon officials—including Mr. Tillerson, according to people familiar with the matter."
"Friends of the 64-year-old Texas oilman, whom they describe as a staunch conservative, said they expect he would consider the job due to his sense of patriotic duty and because he is set to retire from the company next year. The meeting was taking place Tuesday morning at Trump Tower in New York, according to a transition official."
"His appointment would introduce the potential for sticky conflicts of interest because of his financial stake in Exxon, which explores for oil and gas on six of the world's seven continents and has operations in more than 50 countries. He owns Exxon shares worth $151 million, according a recent securities filing."
"It is unclear how Mr. Tillerson, a strong supporter of free trade, would fit ideologically with Mr. Trump, who has spoken out repeatedly against trade deals. Little is known of the foreign-policy views held by Mr. Tillerson, who as secretary of state would be expected to handle any changes to the 2015 nuclear agreement with Iran, sanctions on Russia and disputes with China, the subject of repeated barbs from Mr. Trump on the campaign trail."
"His appointment would introduce the potential for sticky conflicts of interest because of his financial stake in Exxon, which explores for oil and gas on six of the world's seven continents and has operations in more than 50 countries. He owns Exxon shares worth $151 million, according a recent securities filing."
"Friends and associates said few U.S. citizens are closer to Mr. Putin than Mr. Tillerson, who has known Mr. Putin since he represented Exxon's interests in Russia during the regime of Boris Yeltsin."
"He has had more interactive time with Vladimir Putin than probably any other American with the exception of Henry Kissinger," said John Hamre, a former deputy defense secretary during the Clinton administration and president of the Center for Strategic and International Studies, a Washington think tank where Mr. Tillerson is a board member."
"In 2011, Mr. Tillerson struck a deal giving Exxon access to prized Arctic resources in Russia as well as allowing Russia's state oil company, OAO Rosneft, to invest in Exxon concessions all over the world. The following year, the Kremlin bestowed the country's Order of Friendship decoration on Mr. Tillerson."
"The deal would have been transformative for Exxon. Mr. Putin at the time called it one of the most important involving Russia and the U.S., forecasting that the partnership could eventually spend $500 billion. But it was subsequently blocked by sanctions on Russia that the U.S. and its allies imposed two years ago after the country's invasion of Crimea and conflicts with Ukraine."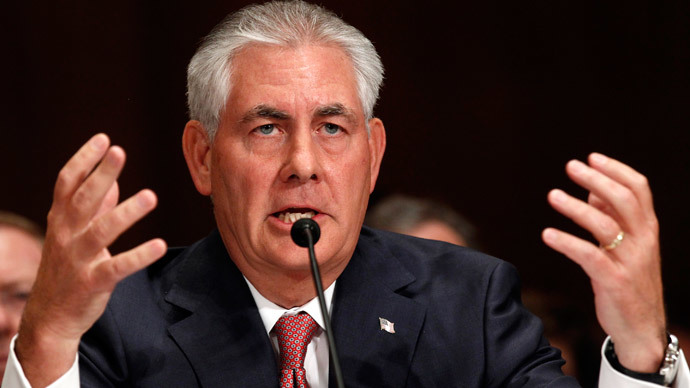 "Mr. Tillerson spoke against the sanctions at the company's annual meeting in 2014. "We always encourage the people who are making those decisions to consider the very broad collateral damage of who are they really harming with sanctions," he said."
"One of the first issues Mr. Tillerson would have to resolve as secretary of state would be his holdings of Exxon shares, many of which aren't scheduled to vest for almost a decade. The value of those shares could go up if the sanctions on Russia were lifted."
"The shares would likely have to be sold under State Department ethics rules, Chase  Untermeyer, a former U.S. Ambassador to Qatar, said in an interview. "He could not erase his strong relationship with a particular country," Mr. Untermeyer said. "The best protection from a conflict of interest is transparency."
"Mr. Trump has also faced repeated questions about how he will untangle himself from his real-estate empire to avoid potential conflicts as president. He has yet to clarify what steps he would take, saying on Twitter shortly after he was elected that he can't have a conflict of interest as president. On Nov. 30, he tweeted he would soon "leave his great business in total," promising to disclose details at a Dec. 15 press conference."
"Mr. Tillerson has over the years shown ideological flexibility on certain topics when he deems it strategically important to the companies or institutions he has led."He helped shift Exxon's response to climate change when he took over as CEO in 2006. He embraced a carbon tax as the best potential policy solution and has said climate change is a global problem that warrants action. That was a break from his predecessor."
"Still, Mr. Tillerson is a polarizing figure among Democrats and environmental activists. They have accused Exxon of sowing doubt about the impacts of climate change during Mr. Raymond's tenure and say Mr. Tillerson hasn't done enough to disclose the future impact of climate-change regulations on the company's ability to get oil out of the ground."
"This is a good way to make clear exactly who'll be running the government in a Trump administration—just cut out the middleman and hand it directly to the fossil-fuel industry," said Bill McKibben, the environmental activist and founder of 350.org."
"Exxon has disputed the criticism and accused activists and Democratic attorneys general of conspiring against the company."