It is CRUCIAL for the American public to have verification that President Trump, no longer has any investments tied to either Energy Transfer Partners or Phillips 66 which has been influencing his decision to move forward, as is, with the Dakota Access Pipeline instead of finding an alternate routing, satisfactory to the local community, including the Standing Rock Sioux Indians. "We the People" have a right to be assured that the republican President Donald Trump's policies are not being driven by his personal business interests. We cannot take his word or those speaking on his behalf at face value that he has divested himself of these investments, as they appear to be addicted to their alt-facts.
On 12/8/16 ABCgo.com reported that President Trump announced on 12/7/16 that he sold all of his stock holdings a few months ago. But the he has never offered proof that such a sale happened. We are talking about the sale of the president's investments into Energy Transfer Partners and Phillips 66, involved in the construction of the DAPL.
"This declaration comes amid continued questions about his potential conflicts of interest once he assumes office."
"Mark Zandi, the chief economist for Moody's Analytics, told ABC News that there's no way to check if Trump actually sold his stock investments."
"There's no transparency, so how do we know one way or another?" Zandi said.
"On Dec. 2 Trump spokeswoman Hope Hicks told The Associated Press that it was "her understanding that Trump recently sold his Energy Transfer stock but provided no details." Energy Transfer is one of the companies involved in the construction of the controversial Dakota Access Pipeline."
"On Tuesday (12/6/16), another Trump spokesman, Jason Miller, told reporters that Trump had sold all of his stocks in June, and Trump himself reiterated that claim.
Would it be possible for the Sioux Indians to bring a lawsuit against the government regarding President Trump's possible "conflict interest" in him seeking the completion of the construction DAPL without him proving that he has sold off above described investments?
On Tuesday, 1/24/17, the president signed executive orders pressuring federal agencies to support construction of the Dakota Access and Keystone XL pipelines. Each of these projects were put on hold by President Obama's administration because of local  citizens' legitimate environmental and legal due process concerns. Now, congressional republicans are selling this move as one that would create good paying jobs which is a lie. Any jobs associated with the pipeline are temporary (short term) only during the construction phase.
CNBC, the business TV channel, has noted: "Pipelines do not require much labor to operate in the long term" – they will further delay the inevitable transition to clean, renewable energy our economy needs and the American people demand. "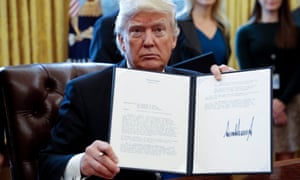 Plus, there will be truckers and railroad personnel who will lose out because they will no longer be needed to transport the crude oil products. If there is an oil spill or leak with a truck or a railroad car, the damage is limited to a smaller area and it is easier to clean up; whereas, with a leak from a pipeline, the damage is not so easily contained.
As per The 1/25/17 Guardian report by Raul M. Grijalva, "the Standing Rock Sioux and other tribes that will suffer the consequences should a pipeline rupture–as one did in December (2016) just 150 miles from the Standing Rock reservation, spilling 176,000 gallons of crude oil–are asking nothing more than to be treated fairly and for federal agencies to follow our environmental planning laws."
At some point within the past couple of years, our republican President Donald Trump has owned stock in both Energy Transfer partners and Phillips 66 which are the companies associated with the Dakota Access Pipeline. As per the 11/23/16 Washington Post report, President Trump dumped the stocks pertaining to the pipeline, but 2 later Guardian Post articles refer to the President still owning this stock. I'm speculating that there are other conflicting reports as the president's team cannot keep up with their own spin. This just highlights the need for the president to share his IRS tax returns with the public.
The following are some of the conflicting stories.
Steven Mufson writes in his 11/23/16 Washington Post article, "Trump dumped his stock in the Dakota Access pipeline owner over the summer."
Excerpts:
"President-elect Donald Trump sold off his shares of Energy Transfer Partners, the owner of the $3.7 billion Dakota Access pipeline that has become the focus of protests by Native American and environmental groups, according to his spokeswoman Hope Hicks."
"Trump's share, which in a May 2015 disclosure was listed at between $500,000 and $1 million, had fallen to less than $50,000 by the time he sold it in the summer of 2016, according to a disclosure earlier this year."
"The sale would eliminate one possible conflict of interest for Trump, who has vowed to speed up permits for oil and gas pipelines in order to spur more oil and gas development in the United States. The Dakota Access pipeline, which is largely finished, would carry as many as 570,000 barrels a day of shale oil 1,170 miles from North Dakota to pipeline connections in Illinois."
On 12/2/2016, Oliver Milman of The Guardian wrote, "Trump supports Dakota pipeline – but claims it's not due to his investment in it."
Excerpts:
"A briefing from Trump's transition team said that the real estate magnate supports the construction of the Dakota Access pipeline and that his backing "has nothing to do with his personal investments and everything to do with promoting policies that benefit all Americans".
"Financial disclosure forms released earlier this year show that Trump has a stake in Energy Transfer Partners, the Texas-based firm behind the pipeline, and Phillips 66, which will hold a share of the project once completed."
"Trump's investment in Energy Transfer Partners dropped from between $500,000 and $1m in 2015 to between $1,500 and $50,000 this year. His stake in Phillips 66, however, rose from between $50,000 and $100,000 last year to between $250,000 and $500,000 this year, according to the forms."
"The financial relationship has run both ways. Kelcy Warren, chief executive of Energy Transfer Partners, gave $103,000 to elect Trump and handed over a further $66,800 to the Republican National Committee after the property developer secured the GOP's presidential nomination."
"However, Trump's transition team dismissed any conflict of interest. "Those making such a claim are attempting to distract from the fact that president-elect Trump has put forth serious policy proposals he plans to set in motion on day one," said a briefing note sent to campaign supporters."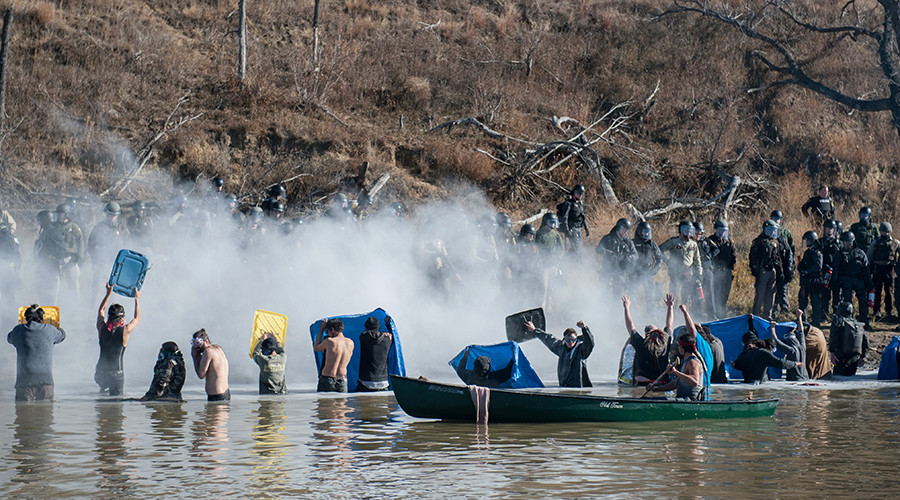 A protest camp has grown in North Dakota since April, amid fears that the $3.8bn Dakota Access pipeline will threaten the water and cultural artifacts of the Standing Rock Sioux tribe. The 1,170-mile pipeline will take oil from North Dakota's Bakken fields to a refinery in Illinois and will cross the Missouri river – the main source of water for the tribe.
"Barack Obama has suggested that the pipeline be rerouted to allay the fears of tribes but Energy Transfer Partners has vowed to push ahead and has accused the federal government of imposing costly delays upon the project."
"President Trump has promised an "America first" energy policy that will attempt to boost domestic oil, coal and gas production. The president-elect has already stated he wants to "lift the Obama-Clinton roadblocks and allow vital energy infrastructure projects to move forward", including the Keystone pipeline, another controversial fossil fuel project."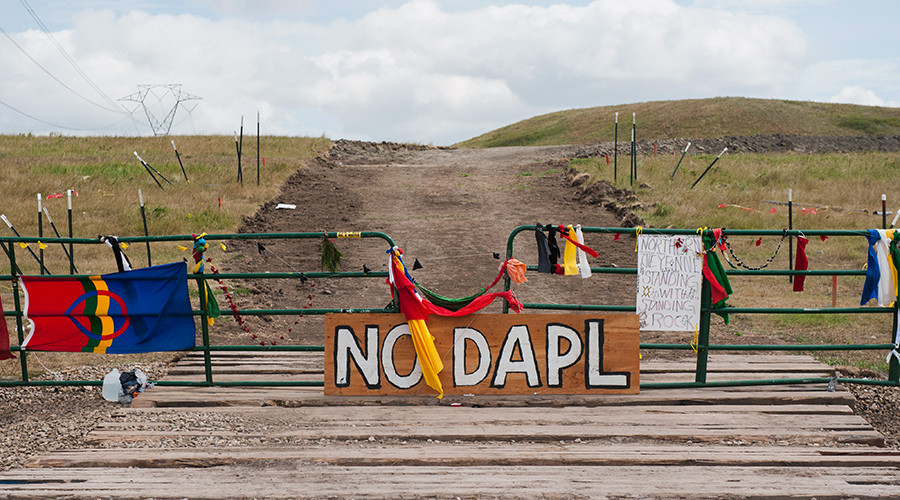 On 10/26/2016 Oliver Milburn of The Guardian, wrote "Dakota Access pipeline company and Donald Trump have close financial ties."
Excerpts:
"Donald Trump's close financial ties to Energy Transfer Partners, operators of the controversial Dakota Access oil pipeline, have been laid bare, with the presidential candidate invested in the company and receiving more than $100,000 in campaign contributions from its chief executive."
"Trump's financial disclosure forms show the Republican nominee has between $500,000 and $1m invested in Energy Transfer Partners, with a further $500,000 to $1m holding in Phillips 66, which will have a 25% stake in the Dakota Access project once completed. The information was disclosed in Trump's monthly filings to the Federal Election Commission, which requires candidates to disclose their campaign finance information on a regular basis."
"The financial relationship runs both ways. Kelcy Warren, chief executive of Energy Transfer Partners, has given $103,000 to elect Trump and handed over a further $66,800 to the Republican National Committee since the property developer secured the GOP's presidential nomination."
"Warren made a further $1000,000 donation to the Trump Victory Fund, a joint fundraising committee among Trump's campaign, the RNC and 11 state parties, on 29 June. A day earlier, the Energy Transfer Partners chief executive doled out $66,800 in two separate donations to the RNC."
The 12/1/16 Inquisitr blog noted the disparity among various news  outlets' reporting:
"Even if Trump had zero investments in the DAPL, Energy Transfer Partners CEO Kelcy Warren donated $1.53 million in political contributions to his campaign. Moreover, Warren also donated more than $250,000 to other GOP campaigns in 2016. Trump campaigned on the platform of approving the Keystone XL and the DAPL.
"The Dakota Access Pipeline was originally slated to flow through Bismarck, North Dakota, but the route was scrapped after residents of the city raised concerns about potential water contamination. The Standing Rock Sioux tribe has said that the Army Corps of Engineers failed to consult the tribe before approving the new route through reservation lands which cuts through a sacred burial ground."
"Energy Transfer Partners also ignored a request by the Corps of Engineers to stop drilling until it could assess the environmental impact and reroutes. On November 9, Common Dreams reported that oil company was ignoring the Obama Administration's   request to cease drilling and that it would begin to drill beneath the Missouri River soon."
This blog was updated on 2/11/17.