Evening of 2/15/17, Ruth Hopkins tweeted: NPS is sending US rangers who do not want to go to Standing Rock. Request is to call 202-208-3818 to stop this.
QUESTIONS:
1.) Why aren't the US media taking steps to verify that President Donald Trump, no longer has any investments tied to either Energy Transfer Partners or Phillips 66, the companies associated with the Dakota Access Pipeline?
It should be obvious by now that "we the people" cannot take his word on anything, let alone, on "potential conflict of interest" issues.  Mark Zandi, the chief economist for Moody's Analytics, told ABC News that there's no way to check if Trump actually sold his stock investments.
2.) Why aren't the US media outlets covering this story of FBI investigating protesters against the construction of the Dakota Access Pipeline in North Dakota?
Here is the rest of the story…
On 2/10/17 Sam Levine of The Guardian has penned the following exposé "Revealed: FBI terrorism task-force investigating Standing Rock activists."
Excerpts:
"FBI is investigating political activists campaigning against the Dakota Access pipeline, diverting agents charged with preventing terrorist attacks to instead focus their attention on indigenous activists and environmentalists."
"The Guardian has established that multiple officers within the FBI's joint terrorism task-force have attempted to contact at least three people tied to the Standing Rock "water protector" movement in North Dakota."
"The purpose of the officers' inquiries into Standing Rock, and scope of the task force's work, remains unknown. Agency officials declined to comment. But the fact that the officers have even tried to communicate with activists is alarming to free-speech experts who argue that anti-terrorism agents have no business scrutinizing protesters."
"Regan, who has regularly visited Standing Rock and is the executive director of the Civil Liberties Defense Center in Oregon, said she learned of three cases in which officers with the task-force, known as the JTTF, tried to talk to activists in person. She described the encounters as attempted "knocks and talks", meaning law enforcement showed up at people's doors without a subpoena or warrant and tried to get them to voluntarily cooperate with an interview."
"The three individuals, who include a Native American and a non-indigenous activist, asserted their fifth amendment rights and did not respond to the officers, according to Regan, who declined to identify them to protect their privacy and out of fear of retribution."
"Two of them were contacted in North Dakota and a third at their home outside the state, according to Regan. She said all three contacts were made in recent weeks after Trump's inauguration."
"Trump, (who claims to be former) investor in Energy Transfer Partners, the Texas-based firm behind the pipeline, took executive action in his first week in office to expedite the project. On Wednesday, 2/9/17 workers began drilling to complete the pipeline across the Missouri river."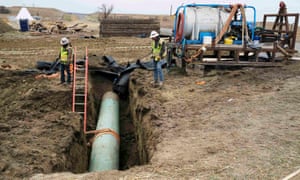 "Since the summer, law enforcement officials have made roughly 700 arrests,  in some cases leading to serious felony charges and possibly lengthy state prison sentences. Following recent indictments, at least six activists are now facing charges in federal court. Rumors about JTTF have caused further stress among the activists."
"Regan said she was able to confirm the identity of one of the JTTF officers, Andrew Creed, who attempted to contact an activist. Reached by phone, he declined to comment to the Guardian, saying, "I can't talk to you" before hanging up."
"An FBI spokesman, Jeffrey Van Nest, also declined to answer any questions, saying: "We're not in a position to provide a comment as to the existence of an investigation."
"In November, a JTTF officer also showed up to the hospital room of Sophia Wilansky, a 21-year-old who was seriously injured during a standoff with law enforcement at Standing Rock, according to her father, Wayne Wilansky. The FBI took her clothes and have not returned them, he said in an interview this week."
"Wayne said he suspected that the FBI brought a terrorism agent given that local police had alleged that activists set off an explosion that caused his daughter's  injuries. Witnesses have said they believe she was hit by a police concussion grenade."
"The timing of the FBI hospital visit in Minneapolis was upsetting, he added. "It was especially disturbing, because Sophia's blood pressure was going up. She was about to be wheeled into surgery."
"From the very beginning, local law enforcement has attempted to justify its militarized presence … by making false allegations that somehow these water protectors were violent."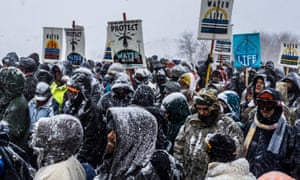 "This is history repeating itself," said LaDonna Brave Bull Allard, who founded the first camp opposing the pipeline. "I keep on thinking, how we did come to this point? … When did Americans lose their rights? When did America stop following the law?"