The following blog is about how the group, "Indivisible" is playing a role in the resistance against our republican President Donald Trump.
Resources for resisters:
The main US Senate phone line 202-225-3121 (202-224-3121) or  YOU CAN FIND PHONE NUMBERS FOR EVERY SENATOR HERE. 
Find Your Representative · House.gov – U.S. House of Representatives
Michael Moore's Calendar of resistance events' reference: https://www.resistancecalendar.org
"The Michael Moore Easy-to-Follow 10-Point Plan to Stop Trump."
This is the how to manual that Senator Marco Rubio was probably denouncing: THE INDIVISIBLE GUIDE: Read the text of the how-to anti-Trump manual
On 2/20/17 Tony Marrero of the Tampa Bay Times penned the report about the Indivisible movement, "Following tea party playbook, 'Indivisible' tries to nudge Congress away from Trump."
Excerpts:
"It was Valentine's Day, and Andrea Beley and Gaston Naranjo of Tampa had joined about 150 other demonstrators to send a message to U.S. Sen. Marco Rubio. This day, the group was largely focused on getting Rubio to hold a town hall meeting."
"I don't feel like I have a senator," said Beley, a 64-year-old retired university professor, as she held a sign that read, "Rubio, Wherefore Art Thou?" "He seems like he's disappeared."
"The weekly demonstrations at Rubio's Tampa office are among the most visible signs of a national grassroots movement taking hold in Tampa Bay. The goal: Block President Donald Trump's agenda by pressuring members of Congress at home.'
"The activists are coalescing around the Indivisible Guide, a how-to manual written by ex-Democratic aides and modeled after the tactics that helped the tea party block President Barack Obama's agenda. It calls for putting a laser focus on representatives and senators in their districts by flooding town hall meetings, showing up at their offices and calling them out if they refuse to meet."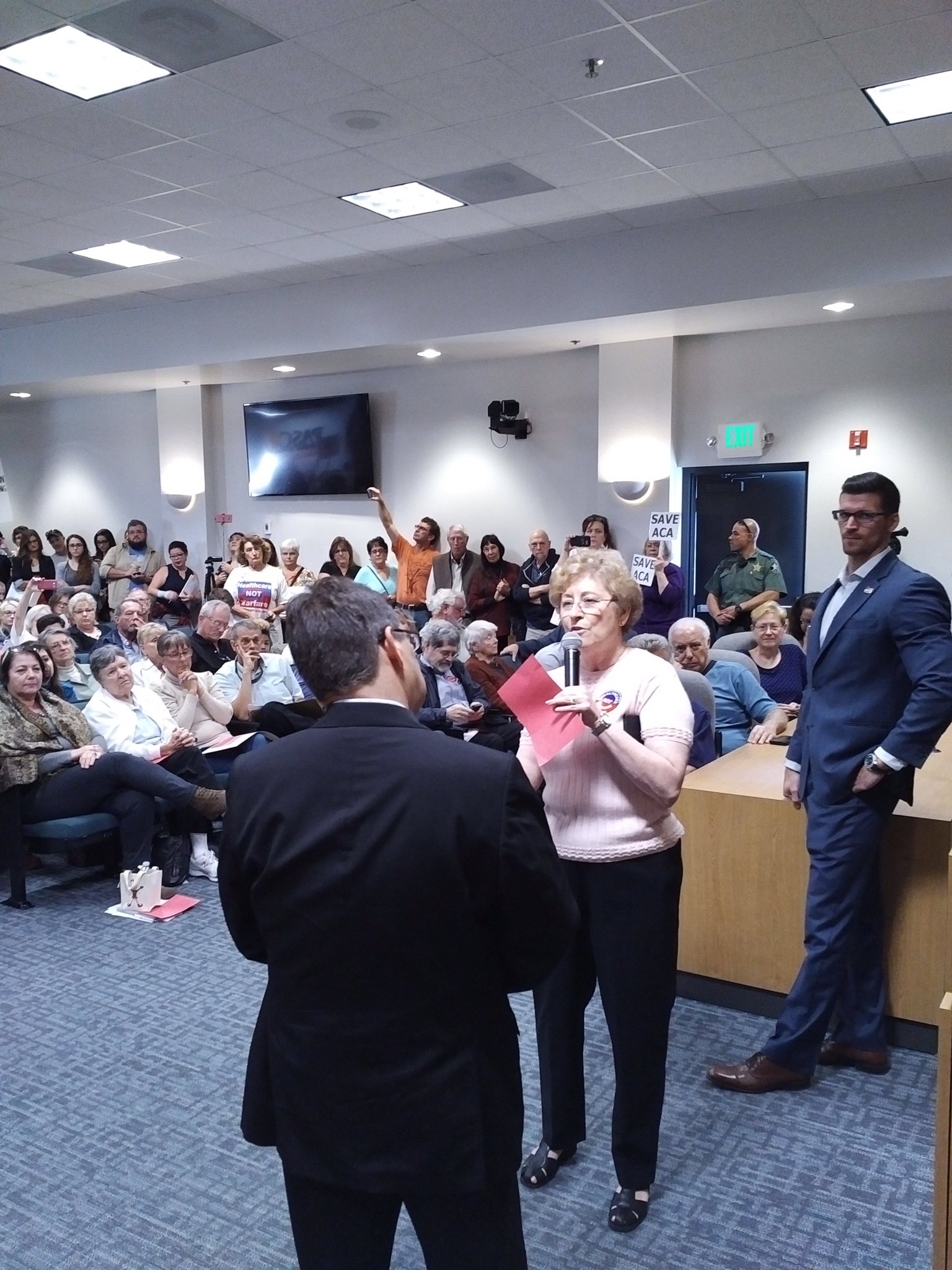 "About two dozen groups in Hillsborough, Pinellas, Pasco and Hernando counties have registered on the Indivisible website in the last couple of months."
"They're using social media to connect and engage with every member of Congress, including Tampa Democrat Rep. Kathy Castor and Rep. Dennis Ross, a Republican who represents eastern Hillsborough County and served on Trump's transition team."
"I think we're at an important moment in American democracy," said Indivisible Tampa co-founder Michael Broache, a 32-year-old college professor who has never worked as an organizer before. "There's a troubling trend toward authoritarianism, and Congress is in place to act as a check and balance on the administration."
"It started in a bar in Austin, Texas, a few days after Thanksgiving."
"Ezra Levin, a former aide to Texas Democratic Rep. Lloyd Doggett, and his wife Leah Greenberg, a longtime aide to ex-Virginia Democratic Rep. Tom Perriello, were visiting family and lamenting the recent election results. By then, a resistance movement was already brewing and they wanted to help it along."
"They created a Google document that would become the first draft of the Indivisible Guide, described as a set of "best practices for making Congress listen." The final version, posted at indivisible.com, is the product of input from about two dozen veteran Capitol Hill staffers and activists."
"Trump is not popular," the guide states. "He does not have a mandate. He does not have large congressional majorities. If a small minority in the Tea Party could stop President Obama, then we the majority can stop a petty tyrant named Trump."
"Groups that register must agree to three principles, Levin said: That Trump's agenda needs to be resisted; that at least part of a group's work will be carried out using strategies in the guide; and that it will endorse progressive, inclusive, non-violent values. The guide urges activists to be "polite but persistent."
"Some 7,000 groups have registered on the website, including 300 in Florida, according to Levin. All but a small minority are newly formed groups. The rest, he said, are established civil rights and community activism groups."
"The manual explains why the tactics will work: "MoCs want their constituents to think well of them, and they want good, local press. They hate surprises, wasted time, and most of all, bad press that makes them look weak, unlikable, and vulnerable. You will use these interests to make them listen and act."
"This approach is making activist organizers out of people like David Higgins, a 35-year-old writer and editor for a marketing company who co-founded Indivisible St. Pete."
"It's not just signing petitions or marching in the streets," Higgins said. "It's direct, face-to-face, sustained engagement with your members of Congress."
"Higgins depends on the Affordable Care Act for insurance, and his wife Daina is a neuroscientist who cares deeply about funding for research."
"We're normal, everyday Floridians who are affected in very real ways by things that the federal government does, and we want to make sure our members of Congress know about and hear our voices, too, and not just professional lobbyists or corporations or big dollar donors," Higgins said."

"Indivisible St. Pete had its first founders meeting a few weeks ago, and none of the five people there had been involved in activism before, Higgins said. The chapter now has about 475 members in its Facebook group."
"Tampa's two Indivisible groups have an ally in Castor, who has criticized Trump policies such as the travel ban and the push to repeal the Affordable Care Act. But Levin, the Indivisible co-founder, said it's important to engage with progressive members, too, "to make them more bold and provide positive reinforcement to resist the Trump agenda."
"Indivisible groups in Republican-dominated districts have bigger challenges ahead."
"Ross, the Lakeland Republican, represents a swath of eastern Hillsborough that includes Brandon, portions of Riverview and Plant City. The former state lawmaker was sent to Washington in 2010 amid the tea party wave and has been an enthusiastic Trump supporter, speaking at two of his Florida rallies."
"Ross will be a focus of Indivisible East Hillsborough, founded by Darlene Goodfellow. The 57-year-old Valrico real estate agent said she and her husband, who is self-employed, could be the "poster children" for the Affordable Care Act. Both have pre-exisiting medical conditions and worry about what will happen if the law is repealed — a move Ross supports."
"Until she formed the Indivisible group a few weeks ago, Goodfellow was a "keyboard warrior" who didn't attend political demonstrations, never mind organize them. But Trump spurred her to help rally progressives in a red district."
"There are a lot of us out here. We've been too passive and haven't been organized, and that's what the Indivisible guide is all about, getting people together and making our voices heard."
"Indivisible-inspired activism is beginning to make headlines."
"It happened in New Port Richey this month when U.S. Rep. Gus Bilirakis hosted the second of two "listening sessions" on health care. The Palm Harbor Republican, who supports repealing and replacing the Affordable Care Act, arrived to an overflow crowd boosted by local Indivisible groups, carrying signs and lining up to voice their support for the health care law."
"At least two national news networks showed clips of the crowd erupting into boos when a local GOP official raised the specter of ACA "death panels," a description that the Tampa Bay Times' PolitiFact declared its "lie of the year" in 2009."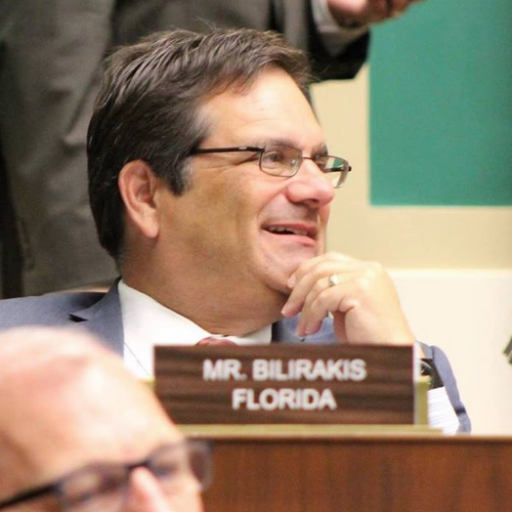 "In an interview last week, Bilirakis said he hadn't heard of the Indivisible movement until the town hall meetings. He said facing crowds who oppose his views gives him ideas to take back to Washington and won't discourage him from hosting future events."
"I have a duty to hear from my constituents, and they have a right to voice their opinion," Bilirakis said. "It's democracy in action."
"Still to be determined is how much will these actions will really influence members such Bilirakis, Ross and fellow Tampa Bay area Republicans Dan Webster and Vern Buchanan, who have voiced support for Trump and represent comfortably Republican districts."
"There could be a massive bloodletting in 2018 for Republicans who strongly support him if he continues on this path of seek and destroy," Benton said. "They may pay a price for his misdeeds," a prospect the Invisible movement is exploiting. "The message is, 'We're watching you, and we're going to hold you accountable if you don't hold the president accountable.'"
"In terms of sheer numbers and consistency, few members of Congress will feel the push of the Indivisible playbook more than Rubio."
"As a Republican senator, Rubio has the power to check Trump's agenda, but has gone along with it early in the term. He expressed concerns about Rex Tillerson, Trump's pick for secretary of state, but voted for the former Exxon executive anyway.'
"For weeks, activists have been flocking to demonstrate outside Rubio's offices."
"In an email statement to the Tampa Bay Times, a Rubio spokeswoman said the Tampa location has two employees who serve multiple locations, "yet they have met with dozens of these liberal activists." The Rubio statement cited the Indivisible manual's strategy to raise specific issues on given days, dismissing the effort as "mass office calling."
"Some demonstrators said Rubio's staff has been more accommodating lately, taking comments and accepting appointments to meet with them."
Update on 2/22/17: Some republicans like Senator Marco Rubio of Florida are hiding out in Europe instead of returning to their home states during the  congressional recess. According to the senator's Facebook page, he is traveling to Europe to speak with officials regarding the U.S. relationship with the European Union, NATO operations and Russian aggression in Europe."
What that means is that he won't be attending town hall events like the one planned by activists for Wednesday (2/22/17) night at the Tampa Letter Carriers Hall.