The President Donald Trump's newest immigration orders have been issued and it is not good news. The following is a short synopsis by USA Today. There is a link below to the article so that readers can study the order.
Alan Gomez of USA penned his article, "Today Homeland Security Unveils Sweeping Plan To Deport Undocumented Immigrants."
"The Department of Homeland Security issued a sweeping set of orders Tuesday that implement President Trump's plan to increase immigration enforcement, placing the vast majority of the nation's 11 million undocumented immigrants at risk of deportation."
"The memos instruct all agents, including Customs and Border Protection (CBP) and Immigration and Customs Enforcement (ICE) to identify, capture and quickly deport every undocumented immigrant they encounter."
"The memos require undocumented immigrants caught entering the country to be placed in detention until their cases are resolved, increase the ability of local police to help in immigration enforcement, call for the hiring of 10,000 more immigration agents and allow planning to begin on an expansion of the border wall between the United States and Mexico."
"The memos make undocumented immigrants who have been convicted of a crime the highest priority for enforcement operations. But they make clear that ICE agents should also arrest and initiate deportation proceedings against any other undocumented immigrant they encounter."

"The new directives also allow Customs agents to send some people directly back to Mexico, whether they're Mexican or not. Under previous administrations, people from Mexico and Canada could be deported directly back home. But people from all other countries, such as from Central America, had to detained until they could be flown back to their country of origin."
"The memos do not mention the idea of using National Guard troops along the southwest border, as reported by several media outlets last week."
Link to USA Article to read the president's executive order:
Homeland Security unveils sweeping plan to deport … – USA Today  www.usatoday.com/story/news/nation/2017/02/21/donald-trump.
On 2/21/17, David Nakamura of the Washing ton Post, has written the following article, "Trump administration seeks to prevent 'panic' over new immigration enforcement policies."
Excerpts:
"The Trump administration sought to allay fears in immigrant communities Tuesday as it publicly released wide-ranging new guidelines that allow federal authorities to take stronger enforcement actions against illegal immigrants, saying the directives are not intended to produce mass deportations."
"Federal officials cautioned that many of the changes detailed in a pair of memos signed by Homeland Security Secretary John F. Kelly will take time to implement and that other policies that grant agents and officers greater powers will be used with care and discretion."
"Kelly's memos, first disclosed in media reports over the weekend, establish new policies at the Department of Homeland Security to hire thousands of additional enforcement agents, expand the pool of immigrants who are prioritized for removal, speed up deportation hearings and enlist local law enforcement to help make arrests."
"We do not need a sense of panic in the communities," a DHS official said in a conference call with reporters to formally release the memos to the public."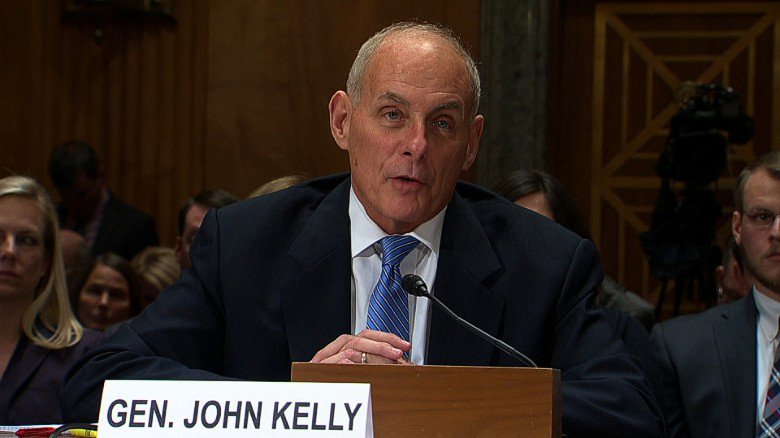 "We do not have the personnel, time or resources to go into communities and round up people and do all kinds of mass throwing folks on buses. That's entirely a figment of folks' imagination," said the official, who was joined on the call by two others, all of whom spoke on condition of anonymity to answer questions. "This is not intended to produce mass roundups, mass deportations."
 "Immigrant rights groups have expressed concern that the new policies will lead to widespread enforcement raids and abuses by federal authorities as they seek to ramp up deportations of the nation's 11 million undocumented immigrants. The memos are intended as an implementation blueprint for DHS to follow through on three executive orders Trump signed in January to pursue construction of a border wall, beef up patrols along the southern border with Mexico and escalate enforcement inside the country."
"The new policies represent a sharp break from the final years of the Obama administration and could reverse a reduction in the number of deportations in President Barack Obama's last years in office."
"Kelly's new DHS policies considerably broaden the pool of those who are prioritized for deportations, including undocumented immigrants who have been charged with crimes but not convicted, those who commit acts that constitute a "chargeable criminal offense," and those who an immigration officer concludes pose "a risk to public safety or national security."
"The Trump administration "is using the specter of crime to create fear . . . in the American community about immigrants in order to create an opening to advance the indiscriminate persecution of immigrants," said Clarissa Martínez-de-Castro, deputy vice president at the National Council of La Raza. "This administration is saying, 'Now, everybody is going to be a priority,' and the devil may care."
"DHS officials emphasized that the guidelines in Kelly's memos are focused on carrying out Trump's vision and that they hew closely to the language of the executive orders. And they said the secretary has written the memos to abide by federal immigration laws established by Congress."
This blog was updated on 2/21/17.