As I watched our President Donald Trump deliver his talk to the American peoples, I was struck by how he acted like a typical republican leader with a conservative leaning viewpoint on the world.
And I was pleasantly pleased to observe that he took a stand against the recent antisemitic spike in hate crimes.
He reiterated his many promises that he committed to his ardent supporters at his rallies during the campaign season, like a replacement health insurance plan for Obamacare which would include coverage for Americans with pre-existing illnesses; and the priority of implementing a trillion dollar US infrastructure project.
There is just this dissonant note between what he was publicly voicing to his audience versus what is being legislated by the republican U.S. congressional representatives.
If the president means what he says, there should not be drafts under consideration with wording about high risk pools for healthcare coverage which is not what most folks consider as an acceptable alternative to the current status of insurance companies not being permitted to deny this  coverage to those with pre-existing conditions.
There should not be talk about delaying the badly needed infrastructure plan until 2018. And no, tax cuts for businesses is not what most of his followers are thinking about when they hear the president's pledge for a trillion dollar infrastructure bill.
The president's tone on display tonight was an attempt to present to the American peoples, a reasonable image of someone who can lead. I only wish his actions matched his higher angels speaking to him instead of the alt-right surrogates who surround him like Steve Miller and Steve Bannon.
I suspect that the 2/28/17 presentation by the president was designed in part to address his upside numbers which has significantly worsened with this segment of the population, those White voters with a college degree.
On 2/28/17, Philip Rucker and Robert Costa of the Washington Post penned a report on the president's speech, "Trump gives his hard-line campaign promises a more moderate tone in address to Congress."
The following excerpts are from the Washington Post analysis.
Trump's 60-minute speech touched on his plans to overhaul the nation's health-care system and tax code, but it was short on specifics. Trump effectively pleaded with the American people to give him a chance and to imagine what could be achieved during his presidency."
"We are one people, with one destiny," Trump said quietly near the end. "The time for small thinking is over. The time for trivial fights is behind us. We just need the courage to share the dreams that fill our hearts."
"Trump opened his address by noting the wave of anti-Semitic vandalism and threats targeting Jewish cemeteries, community centers and schools. "We are a country that stands united in condemning hate and evil in all of its very ugly forms."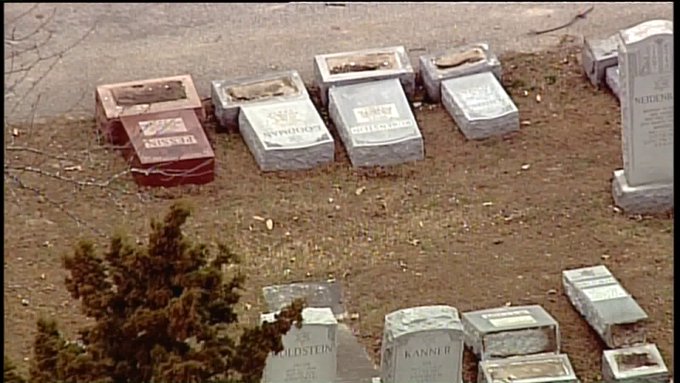 "Trump extended olive branches to his opponents. He called on Congress to pass paid family leave, a reference to a long-held Democratic Party priority. And he pledged to work with Muslim allies to extinguish Islamic State terrorists, going so far as to acknowledge the killings of Muslims as well as Christians in the Middle East."
"Still, Trump did not back away from his most controversial policies. He used typically bellicose language to describe the fight against the Islamic State, calling it "a network of lawless savages that have slaughtered Muslims and Christians, and men, women and children of all faiths and all beliefs." He made a point to utter the phrase "radical Islamic terrorism." 
"The president forcefully defended his travel ban of refugees and citizens from seven Muslim-majority countries — an executive order that was halted in federal court — as necessary to prevent the entry of foreigners who don't share America's values."
"We cannot allow a beachhead of terrorism to form inside America," Trump said. "We cannot allow our nation to become a sanctuary for extremists."
"The president trumpeted his plans to budget a major increase in military spending. One of Trump's fiercest Republican critics, Sen. John McCain (Ariz.), stood enthusiastically when the president said he would end the "defense sequester" caps on Pentagon spending.
"On foreign affairs, Trump said he would honor historic alliances — and stated his support for the North Atlantic Treaty Organization, on which he had wavered during his campaign — but said he would seek new ones as well, even with former adversaries."
"America is willing to find new friends, and to forge new partnerships, where share interests align," Trump said. "We want harmony and stability, not war and conflict."
"Trump declared the time had come to rewrite trade deals and alliances in terms that benefit the United States, irrespective of global pressures."
"My job is not to represent the world," Trump said. "My job is to represent the United States of America."
"Trump was adamant that the United States cannot continue to abide by what Republicans and Democrats see as free trade. "It also has to be fair trade," Trump said. He cited Abraham Lincoln, who, he said, "warned that the 'abandonment of the protective policy by the American government [will] produce want and ruin among our people.' " He said he would not let workers "be taken advantage of anymore."
"The night's emotional high point came when Trump singled out one of the night's guests, Carryn Owens, the widow of Navy SEAL William "Ryan" Owens, who died in a Jan. 29 raid in Yemen."
"Although Ryan's father has spoken out against the raid that killed his son, Trump said Tuesday night that Ryan died "a warrior and a hero," with Carryn looking on with tears in her eyes. The audience stood with sustained applause. Trump peered up at Carryn and said, "Ryan is looking down right now. You know that. And he's very happy."
"Trump, as he typically does, basked in his electoral feat and cast his ascent to the presidency in epic terms. "In 2016, the earth shifted beneath our feet," he said, saying that a "rebellion" that started as "a quiet protest" morphed into "a loud chorus" and finally "an earthquake."
"He said he was sent to Washington to deliver on the promises he made on the campaign trail — arguably chief among them, to build a wall along the U.S. border with Mexico. Trump argued that everyday Americans cannot succeed "in an environment of lawless chaos" at the borders."
"To any in Congress who do not believe we should enforce our laws, I would ask you this one question: What would you say to the American family that loses their jobs, their income or their loved one, because America refused to uphold its laws and defend its borders?"
"As he spoke, Trump turned toward Jamiel Shaw, a black man whose son was killed by an illegal immigrant. Shaw, who sat stone-faced and then grew visibly emotional as Trump spoke to him and Shaw stood to applause."
"On the seemingly intractable issue of immigration, Trump signaled he would be open to a reform bill — though he did not state what terms he would find acceptable in such a compromise."
"I believe that real and positive immigration reform is possible, as long as we focus on the following goals: to improve jobs and wages for Americans, to strengthen our nation's security, and to restore respect for our laws," Trump said. "If we are guided by the well-being of American citizens, then I believe Republicans and Democrats can work together."
"Trump said he supports a "merit-based immigration system," such as those in Canada and Australia, that allow people to enter the country who can support themselves financially and contribute to society."
"Trump challenged both parties in Congress to move quickly to repeal and replace the Affordable Care Act, the signature health-care law of former president Barack Obama."
"House Republicans immediately rallied behind Trump's remarks, interpreting his words as an endorsement of several key parts of their own plan. In an email to reporters, an aide to House Speaker Paul D. Ryan (R-Wis.) wrote that Trump "embraced" the House plan and demonstrated that "the White House and Congress are coalescing around a particular approach" that includes individual health-savings plans and tax credits."
"The way to make health insurance available to everyone is to lower the cost of health insurance. " Trump said, calling for Democrats to work with him. He said he would "ensure that Americans with preexisting conditions have access to coverage and that we have a stable transition for Americans currently enrolled in the health care exchanges."
"Turning to the states, he said he would give governors "the resources and flexibility they need with Medicaid to make sure no one is left out."
"Trump also called for a $1 trillion infrastructure plan that he said would be the biggest program of national rebuilding since former president Dwight Eisenhower built the interstate highway system in the 1950s, to be financed through a combination of public and private capital"