It seems that the Steve Bannon who is the chief strategist for our republican President Donald Trump may have committed voter fraud.
Here is the rest of the story...
On 3/11/17, Robert O'Harrow Jr. and Shawn Boburg of the Washington Post penned the following article, "During his political rise, Stephen K. Bannon was a man with no fixed address."
Excerpts:
"In the three years before he became Donald Trump's chief strategist, Stephen K. Bannon lived as a virtual nomad in a quest to build a populist political insurgency."
"No presidential adviser in recent memory has followed such a mysterious, peripatetic path to the White House. It was as though he was a man with no fixed address."
"He owned a house and condo in Southern California, where he had entertainment and consulting businesses, a driver's license and a checking account. He claimed Florida as his residence, registering to vote in Miami and telling authorities he lived at the same address as his third ex-wife."
 "At the same time, he routinely stayed in Washington and New York as he engineered the expansion of Breitbart News and hosted a live Breitbart radio program. By 2015, Bannon stayed so often at Breitbart's townhouse headquarters on Capitol Hill that he kept a picture of a daughter on a mantle piece, beneath a portrait of Abraham Lincoln.""Bannon told a friend that year he was living in multiple cities, including Washington, New York, London and Miami, according to an email obtained by The Washington Post."
"The issue of Bannon's legal residency has been simmering since last summer, shortly after he became chief executive of Trump's campaign. The Guardian reported in an Aug. 26 story that he was registered to vote at a then-vacant house and speculated that Bannon may have signed an oath that he was a Florida resident to take advantage of the state's lack of state income taxes."
"In California, where Bannon had lived and owned property for more than two decades, income tax can exceed 12 percent."
"Two Post reporters sought to independently verify his residency claims, using a wide array of publicly available information. They obtained utility bills, court records, real estate transactions, state driver reports and the checks he wrote to pay municipal taxes in California. They interviewed neighbors, spoke with landlords and tracked his Breitbart-related activity."
"In the digital age, when most Americans leave a clear footprint of their whereabouts, Bannon left a meandering trail filled with ambiguity, contradictions and questions. The Post found that Bannon left a negligible footprint in Florida. He did not get a Florida driver's license or register a car in the state. He never voted in Florida, and neighbors near two homes he leased in Miami said they never saw him. His rent and utility bills were sent to his business manager in California."
"Bannon's former wife occupied the premises, according to a landlord and neighbors."
"At the same time Bannon said he was living with his ex-wife, she was under investigation for involvement in a plot to smuggle drugs and a cellphone into a Miami jail, a law enforcement document obtained by The Post shows."
"The Post learned that state prosecutors in Miami have an active investigation into Bannon's assertions that he was a Florida resident and qualified to vote in the state from 2014 to 2016. In late August, investigators subpoenaed Bannon's lease of a Coconut Grove home and other documents. They also contacted the landlords of that home and another that Bannon leased nearby, and sought information from a gardener and handyman who worked at one of the homes, according to documents and interviews."
"Because state laws do not clearly define residency, making a false registration case can be difficult."
California connection
"A former investment banker and Hollywood producer, Bannon lived in California when he took a turn toward politics nearly a decade ago."
"He had a condo in Los Angeles and a house just to the south in Laguna Beach, in Orange County. In 2010, he told Orange County election officials that he wanted to become a "permanent absentee voter" and have all ballots mailed to his Laguna Beach home."
"In 2011, Bannon produced and directed a political documentary about Sarah Palin for the Victory Film Project, a company in Sarasota, Fla. He is listed as a manager of the company in Florida corporate records."
"In March 2012, with the death of founder Andrew Breitbart, Bannon became executive chairman of the Los Angeles-based Breitbart News, which was expanding its operations to Washington."
"Bannon was still a resident of California, records show. In the November 2012 elections, he voted in Orange County by absentee ballot. That same month, he renewed his California driver's license for five years."
"But in his subsequent travels across the country, his living situation became more complicated. The details gathered by The Post create uncertainty about where exactly he was spending the bulk of his time."
"On Feb. 9, 2013, Bannon and Diane Clohesy, his former third wife, signed a lease application for a three-bedroom house on Opechee Drive in a lush Miami neighborhood with palm trees and Spanish-style homes."
"Bannon signed as "applicant," and Clohesy signed as "applicant's spouse."
"The two were married in 2006, when Bannon was 53 and Clohesy was 36. They divorced in California in 2009. She had moved to Florida in 2008, "starting a new life in Miami," Bannon said in court papers during the divorce. But the two remained in touch, and she worked on three political documentaries he directed in 2011 and 2012."
"The lease application said Bannon was "relocating from California." But Devin Kammerer, the real estate agent who represented Bannon and Clohesy, said he never met Bannon in person, and only sent him listings by email."
"It was Diane who made the decisions about where she wanted to be, and she'd send over listings to Steve for his approval," Kammerer said."

(Obtained by The Washington Post)
"He stated on the application that he earned $750,000 a year as chairman of Breitbart News Network, a figure that has not been previously reported. He also earned $270,000 as executive chairman of Arc Entertainment, a film distribution company based in Santa Monica, Calif."
"In addition, Bannon received about $100,000 in salary that year as part-time chairman of the Government Accountability Institute, a new nonprofit charity in Tallahassee, according to filings with the Internal Revenue Service. Bannon, two Breitbart writers and other conservative activists had launched the organization a year earlier and it produced reports and books that were promoted by Breitbart. Bannon claimed he worked 30 hours a week at GAI, according to IRS filings."
"Just weeks after signing the Opechee Drive lease, Bannon launched "Breitbart News Sunday with Stephen K. Bannon," a three-hour program broadcast live Sunday nights from SiriusXM studios in Washington."
"In May 2013, Bannon opened an account in his name for municipal sewer and water service at the Opechee Drive residence, documents show."
"The utility account is one of the few public indications of Bannon's presence in Florida. But Bannon told utility officials to mail the bills to the office of his business manager on Wilshire Boulevard in Beverly Hills, Calif., according to documents obtained through Florida public records laws."
"Four neighbors told The Post they do not recall seeing Bannon at the house."
"At the time Bannon was sharing the lease with Clohesy in Opechee, she was apparently involved with another man. Neighbors said they repeatedly saw a man they could not identify at the house."
"She filed for a restraining order against Jose A. Cabana in 2012. He filed one against her in May 2013, court records show. She was granted a two-year injunction against him and his complaint was dropped after he failed to appear in court. Cabana was charged with cocaine distribution in November 2013 and sentenced to 10 years in prison. He could not be reached for comment."
"In October 2013, Clohesy became ensnared in an undercover investigation of a jail guard suspected of smuggling drugs and other contraband to another man, a friend of hers in the Miami-Dade County Pre-trial Detention Center, according to an arrest warrant for the jail guard first reported by the the Miami New Times."
"Efforts to reach Clohesy were unsuccessful. Her brother, Declan, provided The Post witha statement Friday, (3/10/17) that Bannon had provided "emotional or financial support" to help her recover from drug addiction and depression."
"Steve is a caring and compassionate man and Diane is blessed to still have him in her life," the statement said. "We appreciate the media respecting my sister's privacy at this early stage of her recovery."
"Neighbors of the Opechee Drive home said they remember Clohesy, in part because she had a steady stream of visitors, some of them disruptive. Four neighbors told The Post that they had a community meeting with police to complain about noise at the house and cars speeding from the premises at late hours."
"Police records show that officers went to the Opechee address at least three times over several months in 2014. The officers were responding to reports about disturbances, including loud music. In one case, a woman at the home called police around midnight to express fears about an ex-boyfriend who was shining a bright light into the windows. Her name is redacted in the report."
"Beatriz Portela, a real estate agent who represented the Opechee landlords, said she also received a call and text messages from neighbors who were anxious about troubling incidents, including speeding vehicles and a car crash."
A roving life
"On April 2, 2014, more than a year after Bannon signed the lease on the residence in Coconut Grove, he registered to vote in Florida and listed the Opechee Drive address as his legal home. Bannon did not have to show an ID to register. He provided the last four digits of his Social Security number to verify his identity."
"One of the allures of Florida is its zero income tax rate for in-state residents. The Post was unable to determine what state Bannon claimed as his primary residence for the purpose of income tax."
"Accountants advise people who work in multiple states to carefully document the number of nights they spend in Florida and maintain records of travel, housing, even of meals. Registering to vote is considered one indication of residency, as is a driver's license. Under state law, new residents must apply for a license within 30 days if they intend to operate a vehicle."
"Phillip Sroka, a partner at the accounting firm of Morrison, Brown, Argiz and Farra in Miami, said he advises clients who split their time in multiple states to take care to document their presence in Florida for more than six months. That includes airline tickets, restaurant receipts and utility bills. Suspicions are raised when individuals have their bills sent outside the states where they claim their residences."
"As 2015 approached, Bannon continued his roving life. He rented out his Laguna Beach home and, in January 2015, bought a townhouse as a second home in Pinehurst, N.C. The deed lists Bannon's mailing address at his money manager's office in Beverly Hills."
"On Feb. 18, 2015, Bannon ended the water and sewer service at Opechee Drive and switched the service to Onaway Drive, less than a half mile away in Coconut Grove, records show. Five days later, Bannon changed his voter registration to Onaway Drive."
The Opechee house was left in disrepair, according to an email between the landlord and Bannon. Padlocks had been placed on interior doors — or the doors had been removed altogether. A hot tub was destroyed."
"[E]ntire Jacuzzi bathtub seems to have been covered in acid," the landlord wrote in the February 2015 email to Bannon."
"I'm out of town," Bannon replied. "is there any way u can talk with Diane and sort things out ???"

"The damage was estimated at more than $14,000, according to an accounting by the landlords, who kept the $9,800 security deposit from Bannon and Clohesy."
"Around this time, Bannon was becoming a fixture at the Breitbart News townhouse location in Washington, nicknamed "the Breitbart Embassy," hosting parties, meeting with journalists and staying overnight."
In a Bloomberg Businessweek profile in October 2015, a reporter described interviewing Bannon multiple times in January and February at the Breitbart townhouse in Washington.
The article, headlined "This Man Is the Most Dangerous Political Operative in America," described the building as a "14-room townhouse that (Bannon) occupies."
"Ordinarily Bannon's townhouse is crypt-quiet and feels like a museum, as it's faithfully decorated down to its embroidered silk curtains and painted murals in authentic Lincoln-era details," the article said."

"On Oct. 26, 2015, SiriusXM announced that Bannon'sweekend radio show would expand its live broadcasts to weekday mornings from 6 a.m. to 9 a.m. from studios in Washington and New York."
"Months later, Bannon shut off sewer and water service at the Onaway address in Miami."
"Three neighbors interviewed by The Post said they were confident Bannon had not lived at the home."
"I often saw Diane," said Joseph "J.L." Plummer, a prominent Miami resident who lived next door and was a city commissioner for nearly 30 years. "I never saw him."
"In mid-August, Bannon became chief executive of the Trump campaign. As he was assuming control, Bannon changed the address on his Florida voter registration records. On Aug. 19, he signed an oath that he now lived at the home of a longtime business associate in Nokomis, Fla., in Sarasota County."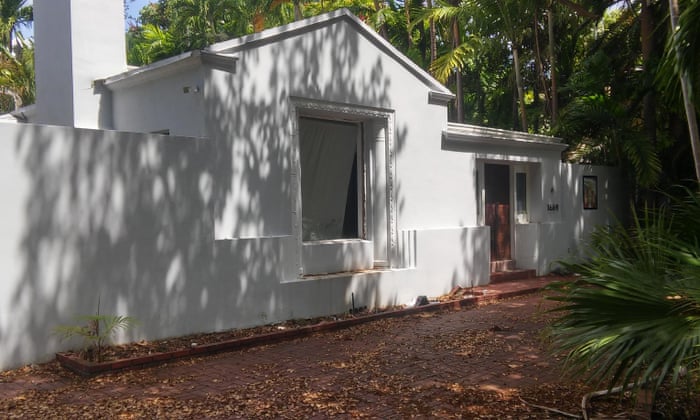 "The questions about Bannon's residency emerged Aug. 26, when the Guardian wrote that Bannon had been registered to vote at a vacant house — the Onaway address in Miami."
"The local NBC station in Miami reported that the state attorney's office had requested Bannon's voter records from county election officials."
"At least two people filed complaints about Bannon with the Florida Department of State, claiming he had committed voter fraud by asserting he was a resident, documents show. In October, the department said the complaints did not merit an investigation."
"That month, Bannon registered to vote in NY from a Manhattan condo overlooking Bryant Park and later cast an absentee ballot in the presidential election. Because he was registered in two places, he was later removed from Florida's voter rolls."
"Under Florida law, it is a third-degree felony to provide false information on a voter registration application. It is punishable by up to five years in prison. First-time offenders are rarely given more than probation, something that could also lead to the loss of a security clearance."
"Officials from the State Attorney's Office for Miami-Dade County, which is led by an elected Democrat, declined to provide details about their probe into Bannon's residency claim. In denying a Post request for documents about the investigation, officials cited confidentiality rules for "active criminal investigative information."
"Spokesman Ed Griffith said, "At this point it is not over."
"But proving wrongdoing in Bannon's case could be difficult because state law does not clearly define residency, according to an official who spoke on the condition of anonymity."