Sergei Millian is a player who appears to be on the periphery of associates of our republican President Donald Trump who could possibly be a conduit for his Russian connections. The conjecture is that Mr. Millian could have been an inadvertent source for the former MI6 agent Christopher Steele's controversial dossier made public by Buzzfeed in January 2017.
Here is the rest of the story…
On 1/24/17 Mark Maremont of WSJ reported on the following story, "Key Claims in Trump Dossier Said to Come From Head of Russian-American Business Group."
Excerpts:
"Some of the most explosive parts of a dossier containing unverified allegations that President Donald Trump had secret ties to Russian leaders originated from the Belarus-born head of a Russian-American business group, according to a person familiar with the matter."
"Sergei Millian, a 38-year-old American citizen who has claimed he helped market Trump properties to Russian buyers, wasn't a direct source for the 35-page dossier, this person said. Rather, his statements about the Trump-Russia relationship were relayed by at least one third party to the British ex-spy who prepared the dossier, the person said."
"Among the unverified allegations of Mr. Millian's that an intermediary passed along, the person said: The claim that the Russians had compromising video of Mr. Trump that could be used to blackmail him, and a claim that there was a "conspiracy of cooperation" between the Trump camp and Russian leadership that involved hacking the computers of Mr. Trump's Democratic opponents."
"The emergence of Mr. Millian as a key but indirect source highlights the messy nature of intelligence gathering and the uncertainties behind the dossier, which was funded by Mr. Trump's political opponents."
"Both Mr. Trump and Russian officials have dismissed the dossier's claims as false. Then-Director of National Intelligence James Clapper said earlier this month that "the [intelligence community] has not made any judgment that the information in this document is reliable." The Wall Street Journal hasn't been able to verify any of its contents."
"Mr. Millian, who posted photos of himself at several VIP events at the Trump inauguration last week, said in an email that the information in the dossier was "fake news (created by sick minds)," and was "an attempt to distract the future president from real work."
On 1/19/17 David Corn of Mother Jones penned the following article, "Investigators on the Trump-Russia Beat Should Talk to This Man."
Excerpts:
"Last week, the Senate Intelligence Committee announced it was commencing an investigation of Russian hacking during the 2016 campaign that would include an examination of connections between Russia and the Trump camp. So with subpoena-wielding investigators on this beat, here's a suggestion: The gumshoes ought to talk to an American from Belarus named Sergei Millian, who has boasted of close ties to Trump and who has worked with an outfit the FBI suspected of being a Russian intelligence front. If they haven't already."
"Millian, who is in his late 30s and won't say when he came to the United States or how he obtained US citizenship, is an intriguing and mysterious figure with a curious connection to Trump. He is president of the Russian-American Chamber of Commerce in the USA (RACC) and the owner of a translation service. The RACC, a nonprofit that Millian started in Atlanta in 2006 and that has survived on shoestring budgets, advocates closer commercial ties between Russia and the United States and assists US firms looking to do business in Russia. Its website notes that it "facilitates cooperation for U.S. members with the Russian Government, Russian Regional Administrations, U.S. Consulates in Russia, Chambers of Commerce in Russia, and corporate leaders from CIS (Commonwealth of Independent States) countries."
"The Russian-American Chamber of Commerce's 2011 tax return reported the group was based in an apartment in Astoria, Queens, where Millian lived—though the group's letterhead that year listed a Wall Street address—and that year it brought in only $23,300 in contributions and grants and $14,748 in program revenue. The tax return noted that the chamber "successfully hosted four universities from Russia in New York City" and hosted a trade mission from Belarus. In 2015, Millian received a Russian award for fostering cooperation between US and Russian businesses."
"On his LinkedIn page, Millian notes he is also the vice president of an outfit called the World Chinese Merchants Union Association, a group that has only a slight presence on the internet and that seems to have an address in Beijing. According to a LinkedIn post published by Millian in April 2016, he met that month in Beijing with a Chinese official and the Russian ambassador to the Republic of San Marino to discuss industrial and commercial cooperation between China and Russia."
"Millian's online bio notes he graduated from the Minsk State Linguistic University with the equivalent of a master's degree in 2000. His bio says he is a real estate broker who works in residential and commercial properties in the United States and abroad. He used to go by the name Siarhei Kukuts—that's how he's listed on tax returns for the RACC—and it is unclear why he changed his name. Millian also has repeatedly claimed he had a significant business association with Trump."
"In an April 2016 interview with RIA Novosti, a Russian media outlet, Millian described his history with Trump. He said he met the celebrity real estate developer in 2007 when Trump visited Moscow for a "Millionaire's Fair," where he was promoting Trump Vodka. Millian noted that Trump subsequently invited him to a horse race in Miami. "Later," Millian said, "we met at his office in New York, where he introduced me to his right-hand man—Michael Cohen. Subsequently, a contract was signed with me to promote one of their real estate projects in Russia and the CIS.
"He asserted that Trump would be good for Russia if elected president. Trump, he noted, would improve US relations with Russia and lift economic sanctions imposed by Washington on Russia."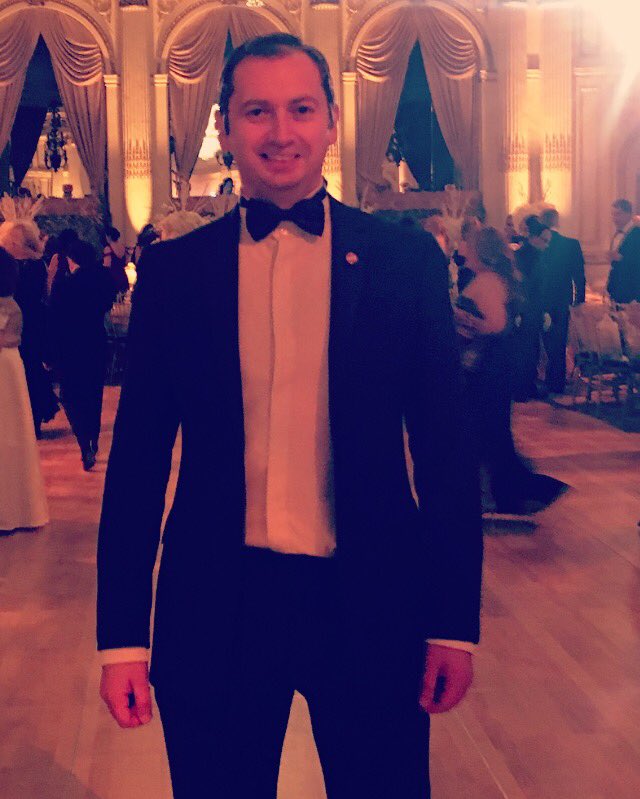 "In the April 2009 issue of the Russian-American Chamber of Commerce newsletter, Millian reported that he was working with Russian investors looking to buy property in the United States, and he said, "We have signed formal agreements with the Richard Bowers and Co., the Trump Organization and The Related Group to jointly service the Russian clients' commercial, residential and industrial real estate needs." Millian's claim did jibe with what Donald Trump Jr. said at a 2008 real estate conference in New York. Trump's son noted, "Russians make up a pretty disproportionate cross-section of a lot of our assets."
"Millian apparently was proud of his association with Trump. In 2014, he posted on Facebook a photograph of him with Trump and Jorge Perez, the billionaire real estate developer in Miami who owns the Related Group."
"Millian seemed delighted to spin for Trump and push the impression he was a Trump insider. During the Republican convention, he told the Daily Beast that Trump was a "powerful, charismatic, and highly intelligent leader with a realistic approach toward Russia." He added, "I, personally, wholeheartedly support his presidential aspirations. It's been a great pleasure representing Mr. Trump's projects in Russia." But weeks later, as the Russia hacking controversy was heating up, Millian, in another exchange with the Daily Beast, downplayed his connection to Trump. And the website reported that after its reporter spoke him, Millian removed mentions of his Trump association from an online biography."
"Millian's activities and ties to Trump have raised questions. In October, the Financial Times mounted an investigation of him and the Russian-American Chamber of Commerce. It reported:"
Most of the board members are obscure entities and nearly half of their telephone numbers went unanswered when called by the Financial Times. An FT reporter found no trace of the Chamber of Commerce at the Wall Street address listed on its website. At the same time, the chamber appears to have close official ties, arranging trips for visiting Russian regional governors to the US."
"As part of its inquiry into Millian, the newspaper pointed to Millian's connection to a Russian government organization that promotes Russian culture abroad. In 2013, Mother Jones reported that Rossotrudnichestvo was under investigation by the FBI for using junkets to recruit American assets for Russian intelligence. Through cultural exchanges, Rossotrudnichestvo, which operates under the jurisdiction of the Russian Foreign Ministry, was bringing young Americans—including political aides, nonprofit advocates, and business executives—on trips to Russia. The program was run by Yury Zaytsev, a Russian diplomat who headed the Russian Cultural Center in Washington, DC."
"Americans who participated in the exchange trips and were later questioned by FBI agents told Mother Jones that the agents' questions indicated the FBI suspected Zaytsev and Rossotrudnichestvo had been using the all-expenses-paid trips to Russia to cultivate Americans as intelligence assets."
"Millian has collaborated with Rossotrudnichestvo. In 2011, he and the Russian-American Chamber of Commerce worked with Zaytsev and the Russian group to mount a 10-day exchange that brought 50 entrepreneurs to the first "Russian-American Business Forum" in Moscow and the Vladimir region. According to a letter Millian sent to Russian President Dmitry Medvedev, Millian praised Rosso-trudnichestvo, and he added, "My entire staff, fellow participants, and I, here at the Russian-American Chamber of Commerce, very much look forward to assisting Rossotrudnichestvo with the preparations for next year's trip." (Millian now says, "We are not affiliated with (Rossotrudnichestvo) in any way.")
(Michael) Cohen "did not respond to questions about whether (President Trump) interacted with Mr. Millian or why Mr. Millian is one of only 100 people he follows on Twitter."
"Reached by telephone this week, Millian said he would not discuss his relationship with Trump and requested he be sent questions via email. Mother Jones subsequently sent him a list. He said in the email, "I have a solid reputation with businesses around the world. It's a common practice for immigrants to change name upon immigrating to the USA. I am US citizen and do not have and never had Russian citizenship. I live and work in NYC."
"In the email, Millian asserted, "I have never said that I worked personally for Trump. I said I was a broker for one of his many real estate projects. I never represented Mr Trump personally and I am not working with Mr Trump." He added, "I have signed an official contract with talks of exclusivity that authorized me to represent Trump name project in Russia and CIS." But he said he had never been paid. He maintained that the last time he spoke to Trump was in 2008.""Millian insisted he had "never worked for Russian Government or Russian military as a translator or in any other capacity." He said, "We never got any business with Rossotrudnichestvo."