Talk about quid pro transactions. It appears that the republican President Donald Trump's National Security Adviser General Mike Flynn was able to talk to the then National Security Adviser Susan Rice into not taking military action as planned by the President Obama's administration. The action plan was to overtake the ISIS stronghold of Raqqa in Syria with the assistance of the Kurdish military and this was shared with General Flynn by Ms. Rice about 10 days before the president's inauguration.
At the time, what wasn't known was that General Flynn was a paid agent, representing the interests of Turkey who did not want the US cooperating with Kurds. The Turks despise the Kurdish peoples even more than ISIS.
Here's the rest of the story….
On 5/17/17, Vera Bergengruent of the McClatchy Report  penned the following report, "Flynn stopped military plan Turkey opposed – after being paid as its agent."
"One of the Trump administration's first decisions about the fight against the Islamic State was made by Michael Flynn weeks before he was fired – and it conformed to the wishes of Turkey, whose interests, unbeknownst to anyone in Washington, he'd been paid more than $500,000 to represent."
"The decision came 10 days before Donald Trump had been sworn in as president, in a conversation with President Barack Obama's national security adviser, Susan Rice, who had explained the Pentagon's plan to retake the Islamic State's de facto capital of Raqqa with Syrian Kurdish forces whom the Pentagon considered the U.S.'s most effective military partners. Obama's national security team had decided to ask for Trump's sign-off, since the plan would all but certainly be executed after Trump had become president."
"Flynn didn't hesitate. According to timelines distributed by members of Congress in the weeks since, Flynn told Rice to hold off, a move that would delay the military operation for months."
"If Flynn explained his answer, that's not recorded, and it's not known whether he consulted anyone else on the transition team before rendering his verdict. But his position was consistent with the wishes of Turkey, which had long opposed the United States partnering with the Kurdish forces – and which was his undeclared client."
"Trump eventually would approve the Raqqa plan, but not until weeks after Flynn had been fired."
"Now members of Congress, musing about the tangle of legal difficulties Flynn faces, cite that exchange with Rice as perhaps the most serious: acting on behalf of a foreign nation – from which he had received considerable cash – when making a military decision. Some members of Congress, in private conversations, have even used the word "treason" to describe Flynn's intervention, though experts doubt that his actions qualify."
( Michael Flynn in an opinion piece for The Hill) "WE NEED TO ADJUST OUR FOREIGN POLICY TO RECOGNIZE TURKEY AS A PRIORITY. IN THIS CRISIS, IT IS IMPERATIVE THAT WE REMEMBER WHO OUR REAL FRIENDS ARE."
"But treason or not, Flynn's rejection of a military operation that had been months in the making raises questions about what other key decisions he might have influenced during the slightly more than three weeks he was Trump's national security adviser, and the months he was Trump's primary campaign foreign-policy adviser."
"Even three months after he was fired, for lying to Vice President Mike Pence about a call with Russian Ambassador Sergey Kislyak, his role in the White House resonates."
"With word that the president may have asked FBI Director James Comey to drop any criminal probe of Flynn – failure to register as a foreign agent is a federal crime – there is renewed focus on getting to the bottom of what Flynn did, and what Trump knew."
"Despite the Trump administration's attempts to downplay the red flags, it is becoming increasingly apparent that the administration was repeatedly warned about Flynn's foreign involvement."
"This was a serious compromise situation that the Russians had real leverage," former acting Attorney General Sally Yates said in an interview with CNN on Tuesday, after White House Press Secretary Sean Spicer downplayed her warning about Flynn's interactions with Russian officials as just "a heads up."
"Flynn's actions were also the subject of discussion just last week at a Senate Intelligence Committee hearing on national security threats, with Sen. Ron Wyden, D-Ore., zeroing in on the 18 days that passed between Yates' warning that Flynn might be subject to Russian blackmail and Flynn's forced resignation."
"Blackmail, by an influential military official, that has real ramifications for global threat," he said. "So this is not about a policy implication, this is about the national security adviser being vulnerable to blackmail by the Russians."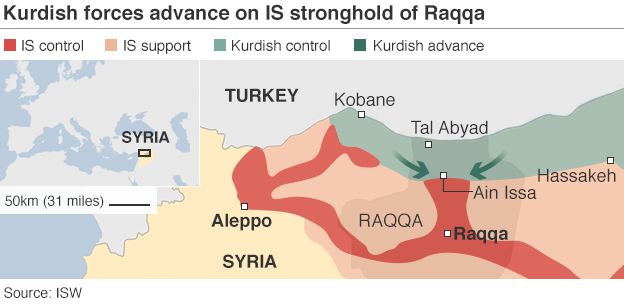 As per a 5/18/17 CNN report by Ralph Ellis, "Turkey will not participate in an offensive on Raqqa, an ISIS stronghold in Syria, because the US-led coalition will include Kurdish militia fighters, who Turkey considers terrorists, Turkish President Recep Tayyip Erdogan said."
"Erdogan made the comments Thursday (5/18/17) while addressing Turkish businessmen in Istanbul after returning to Turkey from a Tuesday (5/16/17) visit to the White House."