Nigel Farage can easily be described as the British version of the republican US President Donald Trump. Mr. Farage led the successful fight for BREXIT, where Brits voted to leave the European Parliament. In July 2016, Mr. Farage stepped down as the leader of the (UKIP) UK Independence Party stating that he had already done his part. He had also been a Member of the European Parliament (MEP), a person who has been elected to serve as a popular representative in the European Parliament.
He has denied that he has ever been financially compensated by Russia.
Here is the rest of the story…
On 6/1/17, Stephanie Kirchgaessner, Nick Hopkins and Luke Harding of The Guardian penned the following article, "Nigel Farage is 'person of interest' in FBI investigation into Trump and Russia."
Excerpts:
"Sources with knowledge of the investigation said the former Ukip leader had raised the interest of FBI investigators because of his relationships with individuals connected to both the Trump campaign and Julian Assange, the WikiLeaks founder whom Farage visited in March."
"WikiLeaks published troves of hacked emails last year that damaged Hillary Clinton's campaign and is suspected of having cooperated with Russia through third parties, according to recent congressional testimony by the former CIA director John Brennan, who also said the adamant denials of collusion by Assange and Russia were disingenuous."
"Farage has not been accused of wrongdoing and is not a suspect or a target of the US investigation. But being a person of interest means investigators believe he may have information about the acts that are under investigation and he may therefore be subject to their scrutiny."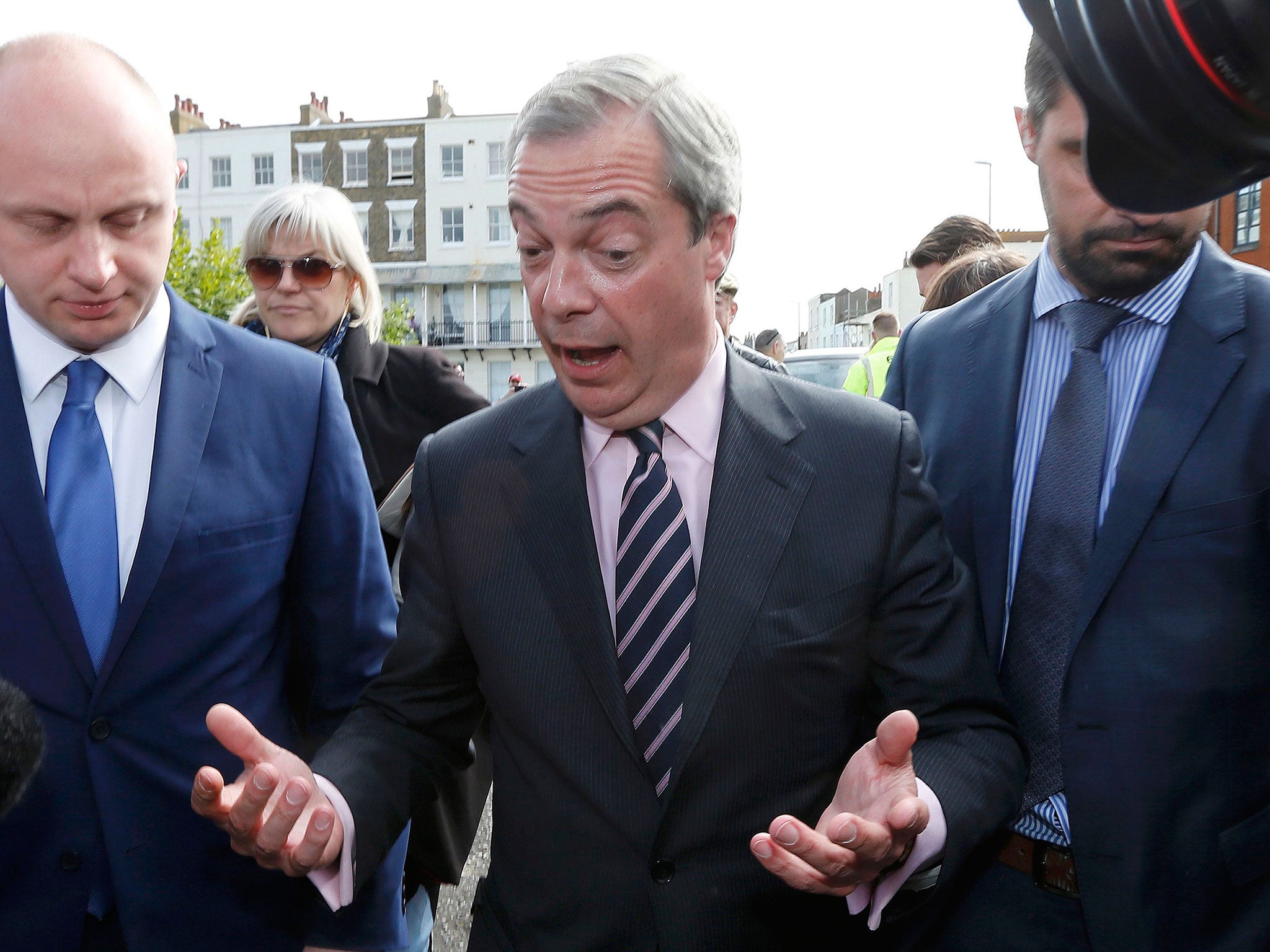 "Sources who spoke to the Guardian said it was Farage's proximity to people at the heart of the investigation that was being examined as an element in their broader inquiry into how Russia may have worked with Trump campaign officials to influence the US election."
"One of the things the intelligence investigators have been looking at is points of contact and persons involved," one source said. "If you triangulate Russia, WikiLeaks, Assange and Trump associates the person who comes up with the most hits is Nigel Farage."
"The source mentioned Farage's links with Roger Stone, Trump's long-time political adviser who has admitted being in contact with Guccifer 2.0, a hacker whom US intelligence agencies believe to be a Kremlin agent."
"The spokesman also declined to comment on whether Farage had received compensation from the Russian state-backed media group RT for his media appearances. RT, which has featured Farage about three times over the last 18 months, also declined to comment, citing confidentiality." (There is no way he was not paid for this.)
"He said he visited Assange at the Ecuadorian embassy in March (2017 and only that one time) at the behest of LBC Radio "with a view to conducting an interview".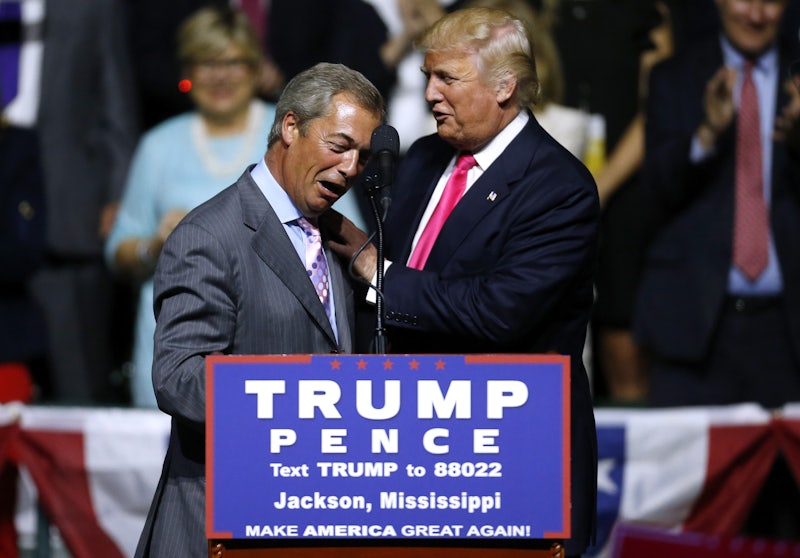 "The former Ukip leader has voiced his support for the Russian president, calling Vladimir Putin the leader he most admired, in a 2014 interview. Ukip also has history with Assange: Gerard Batten, a Ukip member of the European parliament (MEP), defended the Wikileaks founder in a speech in the European parliament in 2011."
Neither Farage nor Trump have made a secret of their admiration for one another. They emerged as unlikely winners last year in contests that have reshaped the world order: Britain's vote to leave the EU and Trump's surprise ascendency to the White House.
"Both men credited their ability to tap into the worries of struggling and neglected citizens for their victories. But at the heart of the US investigation lies a deeper question: whether Trump campaign officials and people close to the former reality TV star sought to work with state players in Russia to try to influence the US election result."
"According to an account by the Ukip donor Arron Banks, Farage first met Trump at a campaign stop in Mississippi in August, where he spoke at a Trump campaign event."
"But Farage's relationships with people close to the US president began years earlier. Farage first met Steve Bannon, Trump's strategist and former campaign chief executive, in the summer of 2012, when Bannon, who was interested in right-wing movements in Europe, invited the then Ukip leader to spend a few days in New York and Washington, according to an account in the New Yorker magazine."
"There Farage was introduced to, among others, the staff of the then senator Jeff Sessions, who is now the US attorney general. Speaking of his longtime admiration for Bannon, Farage told the New Yorker last year: "I have got a very, very high regard for that man's brain."
"In 2015, Breitbart News arranged a dinner in Farage's honour at "the embassy", the nickname for the house the news group rented in Washington. According to a report in Bloomberg, attendees were "blown away" by Farage's speech at the event, which was also attended by Sessions."
Then, on 24 June last year, the day after the UK voted to leave the EU, Farage thanked Bannon during an interview for Breitbart News's coverage of the leave campaign. Bannon, in turn, congratulated Farage on his victory, saying he had led an extraordinary "David v Goliath" campaign.
"Stone publicly predicted the 2016 release of hacked emails from the Clinton campaign that now lie at the heart of the federal inquiry. Democrats on the House intelligence committee have named Stone in their hearings and, according to the New York Times, he is now under investigation."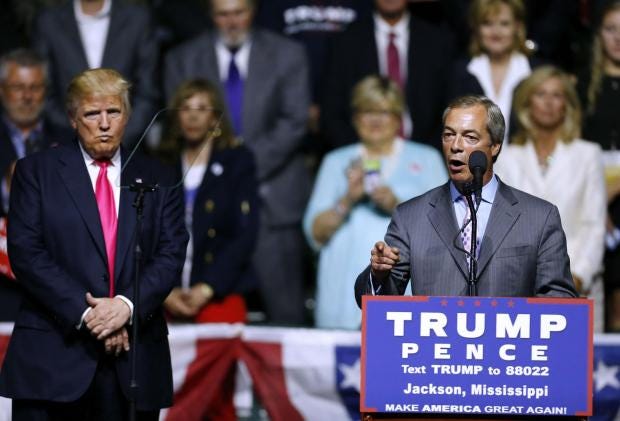 "Last summer, just a few weeks before Farage met Trump in Mississippi, Stone bragged about having a "mutual friend" who served as an intermediary between himself and Assange. He also mentioned in a separate tweet that he had dinner with Farage, though the date of the encounter is unclear."
"After Trump's victory, Farage was one of the first foreign politicians to meet and celebrate with the Republican president-elect, and had his picture taken with Trump in front of a golden elevator in Trump Tower just days after the US election."
"Farage was asked about his relationship with Assange in a recent interview with Die Zeit, the German newspaper, after he was seen on 9 March leaving the Ecuadorian embassy where Assange has lived for years. Farage, who declared he had "never received a penny from Russia", said he met Assange for "journalistic reasons".
"Pressed on his meetings with Russian officials in the past, Farage initially denied having had any, but then acknowledged that he had met Alexander Yakovenko, the Russian ambassador to the UK, in 2013."
"A spokesman for Farage told the Guardian he had only met Assange on that one occasion. "The meeting was organised by a broadcaster."