The US Attorney General Jeff Sessions and the former republican senator from Alabama specifically stated that he categorically had nothing to do with colluding in any way with any Russian officials to interfere in the 2016 US presidential elections. He was emphatic about not recalling a meeting with the US Russian Ambassador at the Mayflower Hotel around the end of April 2016. But he admitted he was present as a private observer to watch the republican presidential candidate Donald Trump deliver his first foreign policy speech.
What Mr. Sessions failed to disclose was that he had been hired in March 2016 to be Mr. Trump's chief policy adviser which was a month before the Mayflower Hotel event and so he was not there in an unofficial capacity. There was a Russian think tank sponsored reception held before Mr. Trump started talking and Mr. Sessions was one of the guests where the US Russian Ambassador was also present.
What he said a lot when it came to his meetings with any Russian dignitaries was that he "didn't recall." But he did admit to discussing Ukraine on one occasion with the Russian Ambassador Sergey  Kislyak. He had been claiming that any discussions with any Russian official had to do with his senate position in the US Senate Armed Forces Committee. What Mr. Sessions did not share is that the other 20 plus senators on this same committee have admitted publicly to the Washington Post that they never had any connection with any Russians as a function of performing their duties.
When Senator John McCain who has served for many years on this same committee asked what security issues did Mr Sessions discuss with the Russian Ambassador, Mr. Sessions was at a loss about what to say.
Finally, I do not remember any senator asking Mr. Sessions if he had witnessed or conversed at any time with any Russian or anyone about the president's team's specific goal of eventually lifting the 2014 sanctions imposed on Russia because of its unprovoked invasion of Crimea, Ukraine.
During the hearing, Senator Cotton misstated that the republican's platform had not been deliberately watered down to exclude the US arming of Ukrainians who wished to protect their territory from Russia's aggressive tactics. Instead he provided fake news by stating that the platform regarding Ukraine had indeed been strengthened (July 2016).
Here are excerpts from Josh Rogan's 7/18/16 Washington Post article, "Trump campaign guts GOP's anti-Russia stance on Ukraine:"
"The Trump campaign worked behind the scenes (July 2016) to make sure the new Republican platform won't call for giving weapons to Ukraine to fight Russian and rebel forces, contradicting the view of almost all Republican foreign policy leaders in Washington."
"Throughout the campaign, Trump has been dismissive of calls for supporting the Ukraine government as it fights an ongoing Russian-led intervention. Trump's campaign chairman, Paul Manafort, worked for the Russian-backed former Ukrainian president Viktor Yanukovych for more than a decade."
"Still, Republican delegates at last week's national security committee platform meeting in Cleveland were surprised when the Trump campaign orchestrated a set of events to make sure that the GOP would not pledge to give Ukraine the weapons it has been asking for from the United States."
"Inside the meeting, Diana Denman, a platform committee member from Texas who was a Ted Cruz supporter, proposed a platform amendment that would call for maintaining or increasing sanctions against Russia, increasing aid for Ukraine and "providing lethal defensive weapons" to the Ukrainian military."
"Today, the post-Cold War ideal of a 'Europe whole and free' is being severely tested by Russia's ongoing military aggression in Ukraine," the amendment read. "The Ukrainian people deserve our admiration and support in their struggle."
"Trump staffers in the room, who are not delegates but are there to oversee the process, intervened. By working with pro-Trump delegates, they were able to get the issue tabled while they devised a method to roll back the language."
"On the sideline, Denman tried to persuade the Trump staffers not to change the language, but failed. "I was troubled when they put aside my amendment and then watered it down," Denman told me. "I said, 'What is your problem with a country that wants to remain free?' It seems like a simple thing."
"Finally, Trump staffers wrote an amendment to Denman's amendment that stripped out the platform's call for "providing lethal defensive weapons" and replaced it with softer language calling for "appropriate assistance."
Here's the rest of the story…
On June 13, 2017, Sari Horwitz and Matt Zapotosky of the Washington Post penned the following report, "Jeff Sessions testifies: Refuses to say whether he spoke to President Trump about Comey's handling of Russia investigation."
Excerpts:
"Attorney General Jeff Sessions refused to comment Tuesday on whether he spoke to President Trump about former FBI Director James B. Comey's handling of the investigation into coordination between the Trump campaign and Russia during the 2016 presidential race."
"Sessions told the Senate Intelligence Committee he could not discuss his conversations with Trump because they were private."
"I am not able to discuss with you or confirm or deny the nature of private conversations that I may have had with the president on this subject or others," Sessions said."Sessions opened his testimony to the panel with a fiery assertion that he never had any conversations with Russians about "any type of interference" in the 2016 presidential election."
"The suggestion that I participated in any collusion … is an appalling and detestable lie," Sessions said."
"Sessions took particular aim at news reports about a possible meeting he had with a Russian official during an April 2016 event at the Mayflower hotel, where Trump gave a pro-Russian speech. He acknowledged being at the event and said he had conversations with those there, but did not remember any with Russian Ambassador Sergey Kislyak."
"If any brief interaction occurred in passing with the Russian ambassador during that reception, I do not remember it," Sessions said. If he did have a conversation with the ambassador, it was "certainly nothing improper."
"Sessions acknowledged that he had met twice with Kislyak — once during the Republican National Convention and once in his Senate office — and he did not disclose that during his confirmation hearing. But he said essentially that he was flustered by a question from Sen. Al Franken (D-Minn.) about an alleged "continuing exchange of information during the campaign between Trump's surrogates and intermediaries for the Russian government," and that is why he claimed wrongly that he had not met with Russians."
"I wanted to refute that immediately," Sessions said.
"Sessions also said he does not remember any other meetings with Russian officials, except those two, during the 2016 presidential campaign.""The attorney general has recused himself from the Russia investigation — a decision he sought to cast on Tuesday as resulting from his role on the Trump campaign, rather than because of any inappropriate interaction with Russian officials."
"I recused myself from any investigation into the campaigns for President, but I did not recuse myself from defending my honor against scurrilous and false allegations," Sessions said."
"In his opening statement, Sessions also said he is bound to protect private communications with the president, suggesting he will not answer some questions about the firing of FBI director James B. Comey."
"I cannot and will not violate my duty to protect the confidential communications I have with the president," he said."
"At one point, Sen. Ron Wyden (D-Ore.) suggested the attorney general was ducking questions, angering Sessions."
"I believe the American people have had it with stonewalling. Americans don't want to hear that answers to relevant questions are privileged or off limits,'' said Wyden. "We are talking about an attack on our democratic institutions and stonewalling of any kind is unacceptable.''
"Sessions shot back: "I am not stonewalling. I am following the historic policies of the Department of Justice.''
"Wyden noted Comey had said it was "problematic'' for Sessions to oversee the Russia probe, for reasons he did not explain in a public setting."
"Sessions got angry again when Wyden pressed Sessions to explain what facts might be "problematic "about his involvement in the Russia probe, as Comey suggested."
"Why don't you tell me? There are none, Sen. Wyden. There are none. This is a secret innuendo being leaked out there about me and I don't appreciate it and I've tried to give my best and truthful answers,'' Sessions said. "People are suggesting through innuendo that I have been not honest… and I've tried to be honest.''
"In another exchange with lawmakers, Sessions disputed Comey's testimony about a key discussion the two of them had in February, after the president met with Comey alone and privately suggested the FBI drop its probe of former national security adviser Michael Flynn. The president has denied asking Comey to drop the Flynn matter."
"Testifying last week, Comey said after that "disturbing" private talk with Trump, he went to the attorney general and told Sessions "it can't happen that you get kicked out of the room and the president talks to me.''
"Comey said the attorney general didn't say anything, but the attorney general's body language "gave me the sense like 'what am I going to do?'.''
"Sessions described the exchange very differently Tuesday (6/13/17)."
"Following a routine morning threat briefing, Mr. Comey spoke to me and my chief of staff. While he did not provide me with any of the content of the substance of the conversation, Mr. Comey expressed concern about proper communications protocol,'' said Sessions. "I responded to his comments by agreeing that the FBI and the Department of Justice needed to be careful to follow department policies regarding appropriate contact with the White House.'
'"Earlier Tuesday, deputy attorney general Rod J. Rosenstein appeared before lawmakers on the Senate Appropriations Committee. He responded to questions regarding comments Monday from Christopher Ruddy, the chief executive of Newsmax Media and a friend of Donald Trump, that Trump might fire Robert S. Mueller III. Mueller was recently appointed to lead the investigation into whether the Trump campaign coordinated with Russia to influence the 2016 presidential election."
"Rosenstein said that if the president ordered him to fire the special counsel handling the Russia investigation, he would only comply if the request was "lawful and appropriate."
"Asked what he would do if the president ordered him to fire Mueller, Rosenstein said, "I'm not going to follow any orders unless I believe those are lawful and appropriate orders."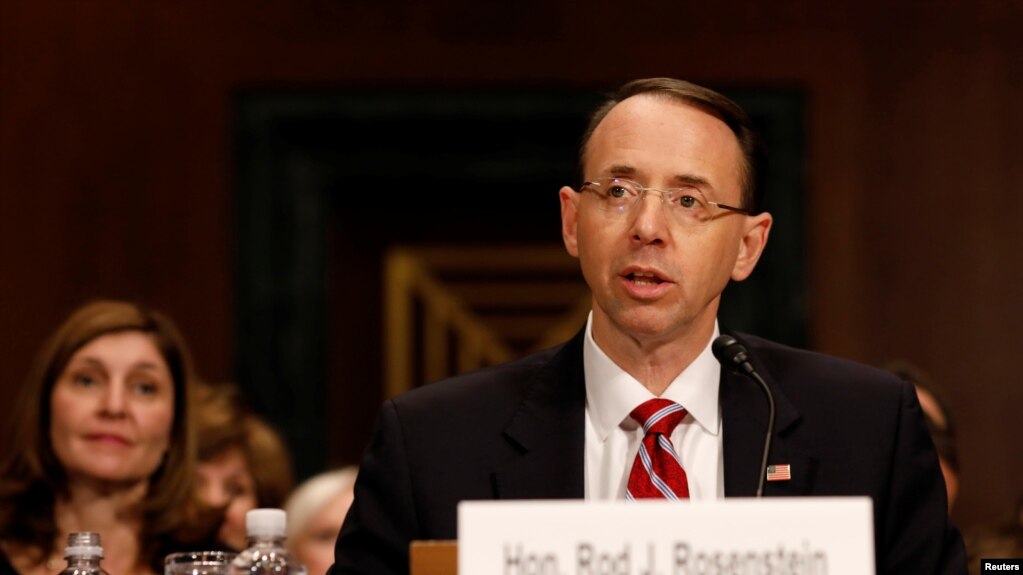 "If there were good cause, I would consider it," Rosenstein testified. "If there were not good cause, it wouldn't matter to me what anybody says."
"House Speaker Paul D. Ryan (R-Wis.) told reporters Tuesday he had confidence in Mueller, and dismissed reports that Trump might fire Mueller as "rumors."
"Lawmakers also asked Rosenstein whether it was appropriate for Sessions to be involved in the firing of Comey given Sessions's recusal from the Clinton email investigation, which he offered because of his role on the Trump campaign. Rosenstein wrote a memo to Sessions on Comey, which was then used by the administration to justify firing the director for his handling of the Clinton case."
"Sen. Christopher A. Coons (D-Del.) asked Rosenstein: Why would the deputy attorney general have written a memo to Sessions that was "exclusively" about a matter from which Sessions was recused?"
"I don't think that's a question for me to answer," Rosenstein responded. He later noted that it was up to Mueller to determine whether the issue might be part of his investigation, and he thought Mueller "ought to review that."
"In addition, lawmakers wanted Rosenstein to spell out the scope of Sessions's other recusal, specifically with regard to the Russia investigation, which Sessions announced after reports emerged that he had not fully disclosed meetings with the Russian ambassador."
"I know what we're investigating, and he doesn't," Rosenstein said to Sen. Brian Schatz (D-Hawaii.).
Politico.com has published a full transcript of Mr. Jeff Sessions testimony.