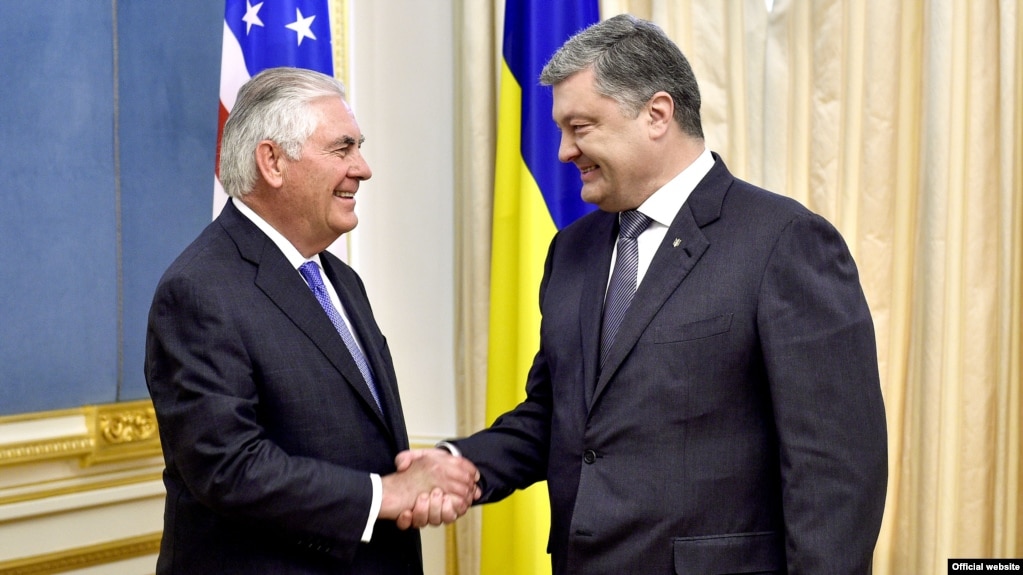 On July 9, 2017, the US Secretary of State Rex Tillerson traveled to Kiev, Ukrain to meet with the Ukrainian President Petro Poroshenko. While this event did not garner widespread coverage in the USA, it was headline news in Ukraine, as what the US Secretary Tillerson said was a great relief to its citizens.
Quick Review
In 2010, it was Paul Manafort's job to make sure a pro-Russian candidate, Viktor Yanukovych won the presidency of Ukrain, and Mr. Yanukovych did become president. Unfortunately, Mr. Yanukovych made a campaign promise to push for Ukraine to become part of the European Union (EU). When the Ukrainians figured out that their president was nothing more than a Russian stooge who wanted no part of the EU, they booted him out in 2014. But this is when the Russian President Vladimir Putin acted by invading the Crimea, Ukrainian area where there is a very important strategically Russian Naval Base located. Russia proceeded to peremptorily annex Crimea, Ukraine to Russia which drew outrage from the world community.
And then this is when the US with NATO enacted sanctions against Russia for its unprovoked incursion into Ukraine.
It is around this time that President Putin withdrew Russia from being part of the G8 Nations which are now the G7. Ever since, he has been maneuvering to rid Russia from the financial shackles of those imposed sanctions and to SOMEHOW retaliate against the EU and NATO.
Throughout the presidential campaign, Trump had been dismissive of calls for supporting the Ukraine government as it fights an ongoing Russian-led intervention.
It was Trump staffers in the room, where delegates were putting together its 2016 platform in the month of July. Remember that they were there to oversee the process. By working with pro-Trump delegates, the Trump staffers were able to intervene to have the platform wording regarding Ukraine watered down to where the GOP would no longer be pledging to give Ukraine, the weapons it has been asking for from the United States. This was the only change requested by the president's team.
Throughout his presidential campaign and while he has been ensconced in the White House, the republican Presidential Donald Trump' has repeatedly stated a desire for better US relations with Russia.
And Kiev has been watching nervously as Trump has continued to cover for and to praise Vladimir Putin, as he intermittently floats the idea of lifting sanctions against Russia.
It didn't help that soon after President Trump moved into the White House (2/2/17), there was an United Nations emergency meeting about a recent increase in violence in Crimea, where the new US UN ambassador, Nikki Haley issued a harsh condemnation calling on Moscow to de-escalate violence in eastern Ukraine and saying that US sanctions against Moscow would remain in place until it withdraws from Crimea.
Parts of east Ukraine were on the brink of a humanitarian crisis as the worst violence for a year in the conflict between Kiev and Russia-backed separatists had left up to 19 dead and thousands of people without water and heating in freezing temperatures.
The conflict in Ukraine has raged for nearly three years and cost more than 10,000 lives. In 2015, a ceasefire was agreed to in Minsk, and although little progress has been made since, large-scale clashes had been rare over the past year.
For almost three years the United States has been working closely with our European partners to support a peaceful resolution to the conflict through implementing  all the conditions of the Minsk agreements.
So, it was a major relief for Ukrainians when the Secretary Rex Tillerson met with Ukrainian leaders on 7/9/17 and stated, "that the Kremlin must take the first step to ease tensions in the Crimea and that sanctions against Moscow will remain until it does so."
Here is the rest of the story…
The following details are from a Radio Free Europe 7/9/17 publication, "Tillerson Delivers Blunt Message to Russia During Ukraine Visit."
"U.S. Secretary of State Rex Tillerson delivered a blunt message to Russia during a trip to Ukraine on July 9, saying the Kremlin must take the first step to ease tensions in the Crimea and that sanctions against Moscow will remain until it does so."
"Ukrainian President Petro Poroshenko called Tillerson's visit to Kyiv a "powerful" signal of U.S. support for his country since it came right after this week's Group of 20 (G20) summit in Hamburg."
"At a joint press conference in the Ukrainian capital on July 9 following their talks, the two men announced that the newly named U.S. special envoy for the war in eastern Ukraine, Kurt Volker, will stay on in Kyiv for several days to push for implementation of the Minsk agreements on ending the conflict."
"Tillerson said the United States was disappointed with the lack of progress in implementing the 2-year-old Minsk agreements and placed the lion's share of the blame on Russia."
"It is necessary for Russia to take the first step to de-escalate the situation in the east part of Ukraine," Tillerson said."
"We do call on Russia to honor its commitments that were made under the Minsk accords and to exercise influence over the separatists whom they do hold complete control over," Tillerson said. "And we call on [Russia] again to immediately call on their proxies to cease the violence that is ongoing in east Ukraine."
"He said that when U.S. President Donald Trump and Russian President Vladimir Putin met on July 7 on the sidelines of the Group of 20 summit in Germany, they discussed "what is to be done about the Russian behavior of non-adherence to the Minsk agreements and non-implementation of clear and straightforward steps as to the deoccupation of Ukraine."
"The war in Ukraine, Tillerson said, was "planned and launched from Moscow."
"He also reaffirmed that Washington would not lift sanctions against Russia until Ukraine's territorial integrity was restored. He emphasized that the restoration of Ukrainian territorial integrity and sovereignty was "the primary U.S. goal."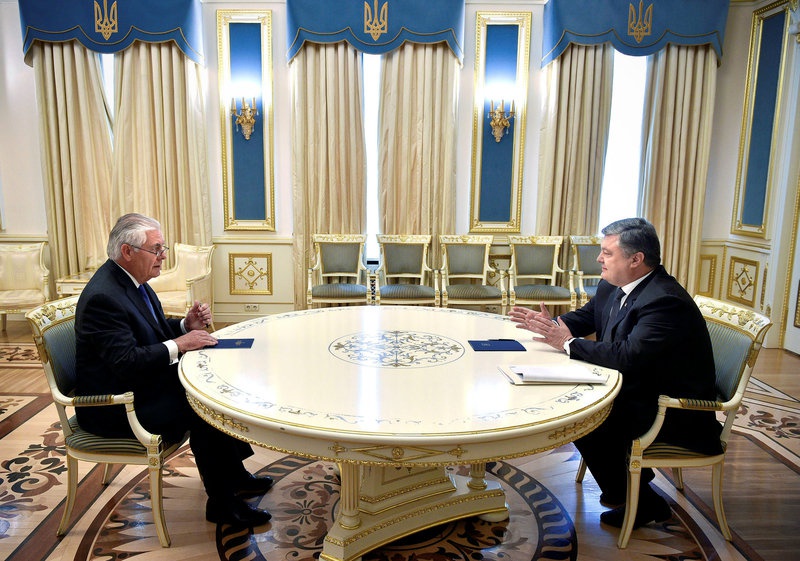 "In a post on Twitter at nearly the same time, Trump said that "sanctions were not discussed" at his meeting on July 7 with Russian President Putin and that "nothing will be done until the Ukrainian & Syrian problems are solved."
Tillerson also urged Kyiv to "continue economic and anti-corruption reforms."