Dear Readers, "We the people" who are part of "the resistance," need to not only keep calling our Senators who are still attempting to pass its newest version of Trumpcare, before US Congressional lawmakers leave for its August holiday, but we also need to be contacting US House representatives about the anti-lifting of Russian sanctions bill that has already passed the Senate by a bi-partisan vote count of 97 to 2, around June 14, 2017. This bill  bolsters existing sanctions and would allow Congress to thwart any presidential effort to curtail current sanctions against Russia without congressional approval.
Because the republican President Donald Trump ended up not holding the Russian President Vladimir Putin accountable for his concerted efforts to meddle in the 2016 US presidential election's processes, during the July 7, 2017 bi-lateral meeting with the backdrop of the G20 Summit, "we the people" need to take steps to do what he refused to do.
The main US Senate phone line 202-225-3121 (202-224-3121) or  YOU CAN FIND PHONE NUMBERS FOR EVERY SENATOR HERE. or U.S. Senate: Senators of the 115th Congress
Find Your Representative · House.gov – U.S. House of Representatives
There is no good reason that the Senate's bill which passed in mid-June with overwhelming bi-partisan support is it still being stalled in the US House of Representatives in mid-July, just because the White House wants to water down the Senate's bill.
As of right now, the republicans and democrats are blaming each other for the hold-up on the Senate's bill.
Here is one of the latest reports on this issue…
On June 21, 2017, Julie Hirschfeld and Matt Flegenheimer of the New York Post penned following report, "White House Tries to Get G.O.P. to Water Down Russia Sanctions Bill."
Excerpts:
"The White House is quietly lobbying House Republicans to weaken a bill overwhelmingly passed by the Senate (June 14) that would slap tough new sanctions on Russia for its meddling in the 2016 election and allow Congress to block any future move by President Trump to lift any penalties against Moscow."
"The effort is designed to head off an awkward and politically damaging veto fight between the Trump administration and the Republican-controlled Congress on Russia at a time when Mr. Trump is laboring under the shadow of multiple investigations about his campaign's potential collusion with Moscow."
"House Republicans, normally hawkish on Russia, face a choice between demonstrating a hard line against Moscow in the face of its misconduct and sparing their own president a potentially embarrassing confrontation."
"On  (June 13), Representative Kevin Brady, Republican of Texas and chairman of the Ways and Means Committee, lodged a procedural objection that effectively halted the measure in the House, and could force it to be redrafted."
"But there is bipartisan support on Capitol Hill for insisting on harsh sanctions on Russia, whose meddling in the 2016 election has only reinforced many lawmakers' disdain for its president, Vladimir V. Putin, and it is not yet clear whether the White House can muster enough support in Congress to change the measure. Democrats are intensifying pressure on House Republicans to quickly clear the bill, part of a package that was appended to sanctions against Iran, that passed the Senate last week by a vote of 98 to 2."
"I hope we don't water them down," Representative Ileana Ros-Lehtinen, Republican of Florida and the chairwoman emeritus of the Foreign Affairs Committee, said of the sanctions."
"But senior (White House) administration officials, who spoke on the condition of anonymity to detail internal discussions, said they had substantial concerns. They insist that they are not trying to weaken sanctions on Russia, but rather are concerned that the legislation usurps the president's authority to impose such penalties, and could undercut both the international coalition that supports the existing sanctions and the administration's ability to credibly signal to Moscow that it is willing to ease them in exchange for changes in behavior."
"The officials said the White House wanted lawmakers to eliminate a congressional review process that would allow the House and the Senate to block the president from lifting sanctions against Russia, or to add a waiver that would permit him to circumvent such an action."
"Last week, Secretary of State Rex W. Tillerson warned lawmakers during an unrelated hearing against imposing new sanctions at all, arguing that it would undermine the administration's efforts to forge new diplomatic channels with Russia."
"The basic message is, if you're going to do this, give us the flexibility to, if we need to, turn up the heat, or if Russia starts to demonstrate signs that it's pulling out of Ukraine or fulfilling some of the requirements of the Minsk agreement around Ukraine, that we have the ability to dial back," said R. C. Hammond, an adviser to Mr. Tillerson, referring to the 2015 cease-fire agreement between Russia and Ukraine.
The Trump administration's position is not an unusual one. Presidents, who have authority under the International Emergency Economic Powers Act to unilaterally impose sanctions in response to national threats, often bristle against attempts by Congress to review or block such moves."
"But for Mr. Trump, the dispute is complicated by the swirl of inquiries regarding his campaign's potential collusion with Russia and his highly charged response to those investigations, including his firing of James B. Comey, the F.B.I. director who had been leading one of the inquiries."
"On (June 13), in what many observers interpreted as a move to demonstrate toughness on Russia to skeptical lawmakers, the Treasury Department added to the existing sanctions, imposing restrictions on over three dozen individuals and organizations that have participated in the country's incursion in Ukraine."
"The move prompted an angry reaction from the Russians, who abruptly canceled a meeting this week in St. Petersburg between Deputy Foreign Minister Sergey Ryabkov and Thomas A. Shannon, the under secretary of state for political affairs."
"The bill would impose new sanctions on Russia and require congressional review if the president sought to ease those or existing ones, culminating in a joint resolution to block such action if Congress disagreed. It would also cement sanctions imposed by Mr. Obama."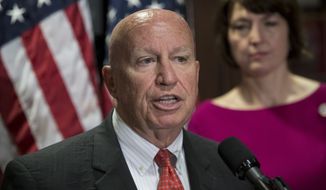 "Mr. Brady on Tuesday flagged what is known as a "blue slip" issue with the legislation, saying it violated a constitutional provision that holds that only the House can originate bills that raise government revenue. He said the move was not a "partisan issue," and House leaders framed it as a mere procedural hiccup."
"The Senate bill cannot be considered in the House in its current form, said AshLee Strong, a spokeswoman for Speaker Paul D. Ryan. "The speaker has been a strong proponent of sanctions and believes we need to do more to hold Iran and Russia accountable," she said. "We will determine the next course of action after speaking with our Senate colleagues."
"Senator Bob Corker, Republican of Tennessee and chairman of the Foreign Relations Committee, said he did not think the House was trying to stall. "We are all working together to try to resolve that issue," he said."
"Democrats accused House Republicans of less innocent motivations."
"Make no mistake about it," said Senator Chuck Schumer of New York, the Democratic leader. "The 'blue slip' threat is nothing more than a procedural excuse by House Republicans who dredged it up to cover for a president who has been far too soft on Russia."