It seems that the republican President Donald Trump has an affinity with his nemesis, the New York Times, as he agreed to another interview with its reporters. During the interview, the president appears to be drawing a red line if the FBI's Special Counsel Robert Mueller III delves too far into his personal finances.
This interview is set with the back drop of his having just been informed that the FBI will be ordering the president's financial records from Deutsche Bank, as well as his being noticed that his son, Donald Trump Jr.  finances would also be under scrutiny.
During the interview, he is mostly disparaging the FBI and the DOJ, especially the Attorney General Jeff Sessions. The thrashing was so harsh, that Mr. Sessions may end up tendering his letter of resignation.
Here is the rest of the story…
On July 9, 2017, Peter Baker, Michael E. Schmidt and Maggie Haberman of the New York Times penned the following report, "In Interview, Trump Expresses Anger at Sessions and Comey, and Warns Mueller.
Excerpts:
"President Trump said on  (7/19/17) that he never would have appointed Attorney General Jeff Sessions had he known Mr. Sessions would recuse himself from overseeing the Russia investigation that has dogged his presidency, calling the decision "very unfair to the president."
"In a remarkable public break with one of his earliest political supporters, Mr. Trump complained that Mr. Sessions's decision ultimately led to the appointment of a special counsel that should not have happened. "Sessions should have never recused himself, and if he was going to recuse himself, he should have told me before he took the job and I would have picked somebody else," Mr. Trump said."
"In a wide-ranging interview with The New York Times, the president also accused James B. Comey, the F.B.I. director he fired in May, of trying to leverage a dossier of compromising material to keep his job. Mr. Trump criticized both the acting F.B.I. director who has been filling in since Mr. Comey's dismissal and the deputy attorney general who recommended it. And he took on Robert S. Mueller III, the special counsel now leading the investigation into Russian meddling in last year's election."
"Mr. Trump said Mr. Mueller was running an office rife with conflicts of interest and warned investigators against delving into matters too far afield from Russia. Mr. Trump never said he would order the Justice Department to fire Mr. Mueller, nor would he outline circumstances under which he might do so. But he left open the possibility as he expressed deep grievance over an investigation that has taken a political toll in the six months since he took office."
"Asked if Mr. Mueller's investigation would cross a red line if it expanded to look at his family's finances beyond any relationship to Russia, Mr. Trump said, "I would say yes." He would not say what he would do about it. "I think that's a violation. Look, this is about Russia."
"The investigation dominated the conversation. He said that as far as he knew, he was not under investigation himself, despite reports that Mr. Mueller is looking at whether the president obstructed justice by firing Mr. Comey."
"Describing a newly disclosed informal conversation he had with President Vladimir V. Putin of Russia during a dinner of world leaders in Germany earlier this month, Mr. Trump said they talked for about 15 minutes, mostly about "pleasantries." But Mr. Trump did say that they talked "about adoptions." Mr. Putin banned American adoptions of Russian children in 2012 after the United States enacted sanctions on Russians accused of human rights abuses, an issue that remains a sore point in relations with Moscow."
"Mr. Trump acknowledged that it was "interesting" that adoptions came up since his son, Donald Trump Jr., said that was the topic of a meeting he had with several Russians with ties to the Kremlin during last year's campaign. Even though emails show that the session had been set up to pass along incriminating information about Hillary Clinton, the president said he did not need such material from Russia about Mrs. Clinton last year because he already had more than enough."
"The interview came as the White House was trying to move beyond the Russia story and regain momentum following the collapse of health care legislation in the Senate."
"Over the course of 50 minutes, the often-fiery Mr. Trump demonstrated his more amiable side, joking about holding hands with the president of France and musing about having a military parade down a main avenue in Washington. "
"But Mr. Trump left little doubt during the interview that the Russia investigation remained a sore point. His pique at Mr. Sessions, in particular, seemed fresh even months after the attorney general's recusal."
"Jeff Sessions takes the job, gets into the job, recuses himself, which frankly I think is very unfair to the president," he added. "How do you take a job and then recuse yourself? If he would have recused himself before the job, I would have said, 'Thanks, Jeff, but I'm not going to take you.' It's extremely unfair — and that's a mild word — to the president."
"The president added a new allegation against Mr. Comey, whose dismissal has become a central issue for critics who said it amounts to an attempt to obstruct the investigation into Russian meddling in last year's election and any possible collusion with Mr. Trump's team."
"Mr. Trump recalled that a little more than two weeks before his inauguration, Mr. Comey and other intelligence officials briefed him at Trump Tower on Russian meddling. Mr. Comey afterward pulled Mr. Trump aside and told him about a dossier that had been assembled by a former British spy filled with salacious allegations against the incoming president, including supposed sexual escapades in Moscow. The F.B.I. has not corroborated the most sensational assertions in the dossier."
"In the interview, Mr. Trump said he believes Mr. Comey told him about the dossier to implicitly make clear he had something to hold over the president. "In my opinion, he shared it so that I would think he had it out there," Mr. Trump said. As leverage? "Yeah, I think so,'' Mr. Trump said."
"But Mr. Comey and other intelligence officials decided it was best for him to raise the subject with Mr. Trump alone because he was going to remain as F.B.I. director. Mr. Comey testified before Congress that he disclosed the details of the dossier to Mr. Trump because he thought that the media would soon be publishing details from it and that Mr. Trump had a right to know what information was out there about him."
"Mr. Trump rebutted Mr. Comey's claim that in a one-on-one meeting in the Oval Office on Feb. 14, the president asked him to end the investigation into his former national security adviser, Michael T. Flynn. Mr. Comey testified before Congress that Mr. Trump kicked the vice president, attorney general and several other senior administration officials out of the room before having the discussion with Mr. Comey."
"I don't remember even talking to him about any of this stuff," Mr. Trump said. "He said I asked people to go. Look, you look at his testimony. His testimony is loaded up with lies, O.K.?"
"Mr. Trump was also critical of Mr. Mueller, a longtime former F.B.I. director, reprising some of his past complaints that lawyers in his office contributed money to Mrs. Clinton's campaign. He noted that he actually interviewed Mr. Mueller to replace Mr. Comey just before his appointment as special counsel."
"He was up here and he wanted the job," Mr. Trump said. After he was named special counsel, "I said, 'What the hell is this all about?' Talk about conflicts."
"The president also expressed discontent with Deputy Attorney General Rod J. Rosenstein, a former federal prosecutor from Baltimore. When Mr. Sessions recused himself, the president said he was irritated to learn where his deputy was from. "There are very few Republicans in Baltimore, if any."
"He complained that Mr. Rosenstein had in effect been on both sides when it came to Mr. Comey. The deputy attorney general recommended Mr. Comey be fired but then appointed Mr. Mueller, who may be investigating whether the dismissal was an obstruction of justice. "Well, that's a conflict of interest," Mr. Trump said."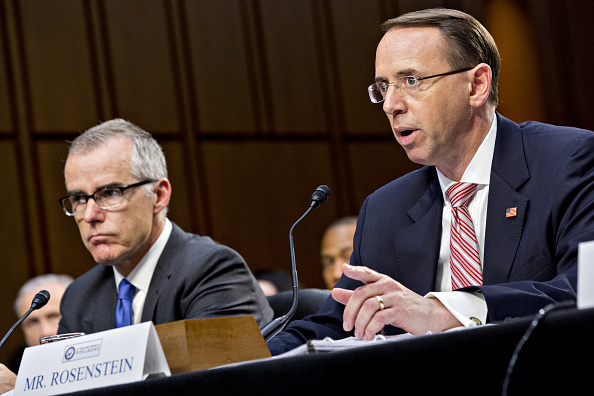 "As for Andrew McCabe, the acting F.B.I. director, the president suggested that he too had a conflict. Mr. McCabe's wife, Jill McCabe, received nearly $500,000 in 2015 during a losing campaign for the Virginia state Senate from a political action committee affiliated with Gov. Terry McAuliffe, a close friend of Hillary and Bill Clinton."
"In his first description of his dinnertime conversation with Mr. Putin at the Group of 20 summit meeting in Hamburg, Mr. Trump downplayed its significance. He said his wife, Melania, was seated next to Mr. Putin at the other end of a table filled with world leaders."
"He said. "I went down just to say hello to Melania, and while I was there I said hello to Putin. Really, pleasantries more than anything else. It was not a long conversation, but it was, you know, could be 15 minutes. Just talked about things. Actually, it was very interesting, we talked about adoption."
"I actually talked about Russian adoption with him,'' he said, meaning Mr. Putin. "Which is interesting because it was a part of the conversation that Don had in that (6/9/16) meeting."
"But the president repeated that he did not know about his son's meeting at the time and added that he did not need the Russians to provide damaging information about Mrs. Clinton."