Here's the conflict of interest problem for Anthony Scaramucci as he transitions into his role as the White House's Communications Director. His company SkyBridge Capital LLC is in the process of being sold to HNA (best known as the owner of Hainan Airlines Co) which has ties to the Chinese government's leaders, for $180 million. This translates into a $90 million dollar windfall for Mr. Scaramucci.
But because of HNA's ties to China, this sale requires the approval of the US government which has not been granted as of July 2017. It looks like the republican President Donald Trump can overrule the government's ruling if it is negative. It has just never been done in the past. And he hasn't been formally sworn in, but Mr. Scaramucci has been representing the White House since mid-July 2017. He ended up replacing the White House Spokesperson Sean Spicer who tendered his resignation as soon as he learned Mr. Scaramucci was coming on board.
He has to sell this business to be free from "conflict of interest" complaints. I would say that $90 million dollars is a powerful motivator for him to cater to the whims of President Trump.
As per a 7/21/17 Reuters report by Greg Roumeliotis, "But the sale of SkyBridge has yet to get the green light from the Committee on Foreign Investment in the United States (CFIUS), which reviews acquisitions by foreign entities for potential national security risks."
"Many of the heads of the government departments and agencies comprising CFIUS are political appointees, and it is chaired by Treasury Secretary Steven Mnuchin."
"Scaramucci told Reuters in May (2017) that he expected the sale of SkyBridge to get U.S. regulatory approvals in June (2017)." (As of 7/28/17, there is no approval.)
"Reuters reported this week that CFIUS has become increasingly reluctant to approve deals. The president has the power to veto recommendations made by CFIUS although this has never happened before."
"HNA is among a number of acquisitive Chinese firms currently under a spotlight in China over the potential risks from domestic companies going on overseas buying sprees."
"Scaramucci told Reuters in May that he had, separate from the sale of his business, discussed partnerships with HNA."
On May 18, 2017, Alexandra Stevenson of the New York Times penned the following report, "Anthony Scaramucci, Hedge Fund Showman, Finds Himself in Limbo."
Excerpts:
"Regulars at the World Economic Forum know him as the politically connected insider who organizes an annual wine tasting party in the Swiss Alps."
"President Trump knows him as a major Wall Street fund-raiser with hopes of joining the administration."
"But as Anthony Scaramucci presided over his annual SkyBridge Alternatives Conference, known as SALT, at the Bellagio Las Vegas hotel this week (mid-May 2017), he was not quite any of these things.
"Mr. Scaramucci sold his stake in SkyBridge Capital, his hedge fund of funds business, early this year, leaving him without a financial institution to his name. His hoped-for job in the Trump administration did not materialize. And an effort to disentangle himself from his business wound up raising conflict-of-interest questions."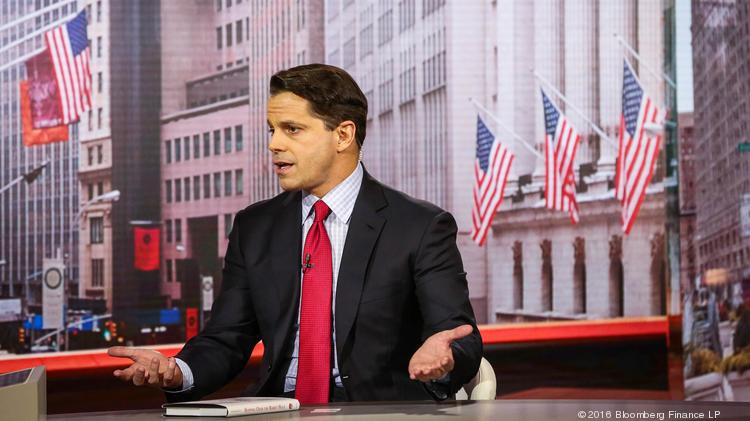 "In what has become industry lore, he transformed SkyBridge from a small seeding business on the brink of failure to a large fund of funds by buying Citigroup's hedge fund business in early 2010, as the bank was trying to shed risky assets."
"A longtime Republican donor, Mr. Scaramucci supported a handful candidates, including Scott Walker and Jeb Bush, in the presidential primaries last year. Along the way, he accused Mr. Trump of being a "hack politician" who had a "big mouth."
"Mr. Trump had equally tart words for hedge fund managers, who he said were "paper pushers" who were "getting away with murder."
"But as Mr. Trump's unlikely candidacy gained steam, Mr. Scaramucci began to defend him. At last year's SALT conference, he hosted Steven T. Mnuchin, then Mr. Trump's campaign finance chairman and now the Treasury secretary."
"Mr. Scaramucci arranged meet-and-greets between Mr. Mnuchin and some of the billionaire hedge fund managers in attendance. The men also shared a meal with Kenneth C. Griffin, the billionaire founder of the Citadel hedge fund and other conference speakers. Mr. Griffin contributed $100,000 to President Trump's inauguration."
"Mr. Scaramucci raised significant sums for the Trump campaign and joined his inaugural committee."
"He said he was offered a job in the White House on Jan. 12. On Jan. 17, he announced that he had sold his stake in SkyBridge to a consortium led by HNA Capital and RON Transatlantic. As part of that sale, the SALT conference affiliated with SkyBridge was spun off to some of his former colleagues."
"The sale of Scaramucci's SkyBridge stake was meant to remove any entanglements that would have prevented him from serving in the administration. But it may have had the opposite effect."
"The timing of the deal raised concerns that the politically connected HNA was currying favor with an incoming White House official."
"HNA has extensive ties to the Chinese political leadership, The New York Times has reported. At the conference, Mr. Scaramucci praised HNA as "one of the more magnificent conglomerates coming out of China" and advised participants to get to know its leaders."
"Mr. Scaramucci has said the deal will close and that he has already been paid for his share."
"Instead, Mr. Scaramucci was back in Las Vegas for his ninth SALT event, a conference he started as a way to market his hedge fund firm. This year, the conference had 1,800 participants and speakers, including Ben S. Bernanke, the former chairman of the Federal Reserve, and William A. Ackman, the activist investor. Entertainment included concerts by the Gipsy Kings and Duran Duran."
"I didn't expect to be here, to be honest," he said on Wednesday at the opening of the conference. "I was offered a job by the administration. The job didn't materialize" he added."
"Jeffrey S. Gerson, a managing director at Morgan Stanley who helped put together the deal that transformed SkyBridge in 2010, said he expected to hear about Mr. Scaramucci's next act soon."
"I've known Anthony Scaramucci for a long time, and I know you'd a fool to bet against him," he said. "Most people would have given up on Wall Street after being fired from a firm like Goldman Sachs, but not Anthony. He pulled himself up by his bootstraps and basically said, 'I'll be the one who decides if I'm successful or not."