Remember previous news reports about the assertions that there had been coordination between right wing media websites like Breitbart and InfoWars and the usage Russian bots with content intended to favor the then republican presidential candidate Donald Trump and to discredit his democratic party contender Hillary Clinton.
There has always been the suspicion that this marriage of convenience which had the goal of sowing discord among the American peoples would be continuing after the US 2016 presidential elections.
The below write-up by Slate describes how there's been a surge in the usage of Russian bots surrounding the August 2017 Charlottesville, VA. events where a right wing rally consisting of numerous hate groups turned violent. There has also lots of coverage on the alt-right/ White nationalist's preferred websites of Breitbart and InfoWars regarding "Antifa" around this same time frame.
Could it be that the Alt-right/ White nationalist media outlets are again coordinating with the usage of Russian bots regarding the Charlottesville, VA. events?
Why is there the morphing of terminology by the right from DisruptJ20 to "Black Bloc" to "Anifa?'
Here's a sampling out of numerous Breibart Headlines referring to "antifa:"

"Berkeley Mayor: Time To Classify Antifa as a Street Gang 8/29/17

Donald Trump Calls Out Antifa for Violence 8/22/17

White House Petition Requesting Antifa Be Labeled a Terrorist Organization 8/21/17

CNN Normalizes Antifa: Leftists Seek Peace Through Violence 8/19/17

Here is the rest of the story…(Prior presidential inauguration 1/20/17)
Here are excerpts from a 1/17/17 Breitbart report, "The Definitive Field Guide to Black Bloc Terrorists (now called "anifa")Who Want to Shut Down Trump Inauguration" by Lee Stranahan sounds the alarm over DisruptJ20/ now called "antfa:"
"With the inauguration of Donald Trump just days away, droves of his supporters are preparing to meet in Washington D.C. to welcome the new President. But there are also darker forces assembling; a gathering of at least 75 anarchist, socialist and communist groups preparing for an event called #DisruptJ20 that has officially called for violent Black Bloc (now called "antifa") protesters to gather at 10:00 am on Friday, January 20th in Washington D.C. at the Logan Circle and the Francis Scott Key Memorial."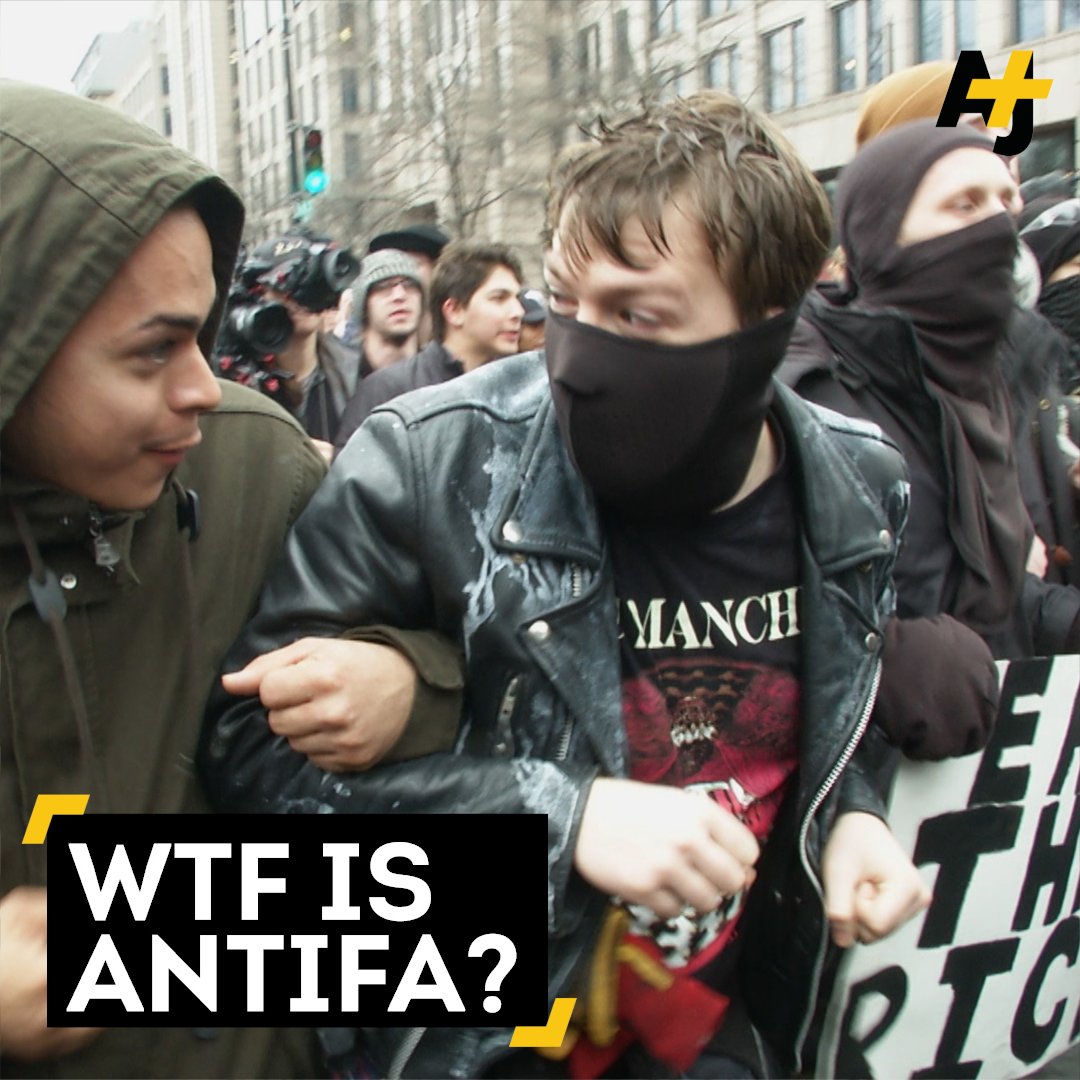 "The group's call to arms is blunt:
Wear all black | January 20th, 10 AM | Logan Circle, DC We are calling for a mobile bloc opposing capitalism and fascism at the inauguration. Meet at Logan Circle at 10 am. Organize with your friends and come prepared to defend each other and everyone else who is standing up to the Trump regime."
"However, despite the plain call for the Black Bloc (now "anifa") to assemble, very few of the patriotic Americans who support Donald Trump have any real idea what exactly the Black Bloc (now called "antifa") is, what they represent or how to to deal with the their planned criminal behavior."
"As part of our ongoing coverage of both the Trump inauguration and our founder Andrew Breitbart's mission to expose the leftists that hate this country and its values, we're going to explain who the Black Bloc (now called "antifa") is in their own damning words, as well as giving inaugural attendees some idea of what to expect from them."
"Please free free to share this important article with anyone you know planning to attend the inaugural events."
"As a long detailed article on the America-hating anarchist website Crimethinc makes clear, the goal of the Black Bloc (now called "antifa) and its distinctive dress is to allow protesters to break the law. They explain:"
"You may have heard of the notorious Black Bloc (antifa), a venerable, if not doddering, anarchist tradition in which a mass of direct action enthusiasts gather, all wearing black clothing and masks, and engage in some level of illegal activity."
"The website actually compares the Black Bloc (now called "antifa")to the Boston Tea Party, and tells readers that "acting in a Bloc is especially useful when some of the participants in the action expect they may break laws."
"The article lays out in stark detail the methods and motives behind the Black Bloc (now called "antifa"); to assist its participants in "getting away with public criminal acts." They write:"
"When everyone in a group looks the same, it is difficult for the police or others to tell who did what. Most criminal activities are better carried off in a less obvious manner, of course, but there are situations in which it is necessary to step outside the limits in public."
"The above Breitbart warning followed this one, New O'Keefe Video: Leftists Planning Stink Bombs at 'Deploraball'http://www.breitbart.com/….Jan 16, 2017. Remember that James O'Keefe who did a doctored video of ACORN and then Planned Parenthood to trump up a case of "fake news." Well, he did one for this DisruptJ20/ antifa before the president's inauguration day. (See,  James O'Keefe – Wikipedia)"
On March 21, 2017, Daniel Harper of New York Post penned the following report, Breitbart and InfoWars are drawn into FBI's Russian bot probe.
"The feds are not only investigating Russian meddling in the US election and possible links to President Trump — they are looking into some right-wing and conspiratorial websites that boosted the new president and were sharply critical of Hillary Clinton."
"In particular, the FBI is trying to determine whether bots that promoted articles on websites like Breitbart News and InfoWars were in some way related to Russia's effort to interfere in the US election, McClatchy reported."
"
The FBI's Counterintelligence Division is leading the probe."
"The social media bots automatically retweeted and otherwise disseminated posts from the sites throughout the election. It is believed the bots were being run out of Russia."
"This may be one of the most highly impactful information operations in the history of intelligence," a former intelligence official told McClatchy."
 On August 24, 2017, April Glaser of Slate penned the following report, "Russian Bots Are Trying to Sow Discord on Twitter After Charlottesville."
Excerpts:
"Although the recent events in Charlottesville happened 5,000 miles from Moscow, Russia didn't sit this one out. As has become almost routine after every polarizing U.S. political event in the past 12 months, online Russian propagandists quickly got involved. This time around, they took to Twitter with an army of bots to promote and share extremist right-wing tweets and disinformation."
"The Alliance for Securing Democracy, a project of the German Marshall Fund that tracks efforts to undermine democratic governments, monitors a collection of 
600 Twitter accounts
 that are known to be linked to Russian influence, including openly pro-Russian users, accounts that take part in Russian disinformation campaigns, and automated bot accounts that parrot Russian messaging. They found these accounts busy at work in the days after Charlottesville. "PhoenixRally," "Antifa," and "MAGA" were among the most common hashtags used by these accounts this week. One of the central themes shared by the Russian-linked accounts after Charlottesville was an accusation, propagated by both the Russian news agency Sputnik and American far-right media personality Alex Jones, that the left-leaning philanthropist George Soros had supported the
counter protesters
."
"
One example of a likely bot was an account under the name Angee Dixson, opened on Aug. 8, the Tuesday before the Charlottesville rally started, as reported by ProPublica. Described in her Twitter bio as a conservative Christian, Angee sent about 90 tweets out a day, in which she vigorously defended President Trump's response to the rally and shared pictures that allegedly showed violence on the part of counterprotesters in Charlottesville. The account has now been shut down."
"BUSTED! Craigslist Ad Exposes Firm Hiring #AltLeft "Protesters" for $25/Hr," read one of Dixson's tweets. (According to Politifact, : The ad called for "actors and photographers" in Charlotte, NC, not Charlottesville, VA, where the rally took place.) That was one of five tweets she sent in one minute, according to the archive link of her account. All those tweets contained links that had been shortened using a URL shortener, which usually requires going to a separate website to enter the URL and generate a new link, and that takes time. The tremendous speed with which Dixson was able to send her tweets indicates that Angee Dixson was most likely an automated bot, not a real human."
"The same Russian social media machine that blanketed Twitter with pro-Trump posts during the 2016 presidential election were reportedly at work after Charlottesville, too. Bots were weaponized during the presidential debates to give a false impression of a groundswell of grass-roots support for Trump. Bots sharing pro-Trump–related content outnumbered pro-Clinton bots by 7 to 1 during the third debate between the Hilary Clinton and Donald Trump, according to 
research from Oxford University's Project on Computational Propaganda
. "
"In April, the cybersecurity firm Trend Micro found that the same Russian government–linked hacking group behind the infiltration of the Democratic National Committee also targeted the Macron campaign with email phishing attempts and malware."
"Bots are becoming a staple of social media as Western countries find themselves embroiled in polarized political debates. Trump's Twitter followers, after all, are about 59 percent bots or fake accounts, according to TwitterAudit, a website that measures the authenticity of Twitter followers."