Ryan Zinke as Secretary of the US Department of the Interior is on board with the republican President Donald Trump's thinking that some past decisions to designate certain US lands as US parks or monument should be be reversed to be used for traditional purposes,  like miming, drilling, ranching, grazing and other activities.
He is one of the president's cabinet members who is under review by federal investigators for the usage of expensive charter and military planes at the expense of US taxpayers.
The following reports includes some recent news about Mr. Zinke as well as details regarding what lands are to be re-designated for so-called traditional uses.
Here is the rest of the story…
As per an October 4, 2017 Washington Post article, Interior Department whistleblower resigns, calling Ryan Zinke's leadership a failure by Darryl Fears, "An Interior Department executive turned whistleblower who claimed the Trump administration retaliated against him for publicly disclosing how climate change affects Alaska Native communities resigned Wednesday (10/4/17)."
"Joel Clement, a scientist and policy expert, was removed from his job by Interior Secretary Ryan Zinke shortly after the disclosure and reassigned to an accounting position for which he has no experience. Clement was among dozens of senior executive service personnel who were quickly, and perhaps unlawfully, reassigned in June, but he was the only person who spoke out."
"Interior's inspector general is probing the reassignments to determine whether the process was legal. By law, executives are to be given ample notice of a job switch. Many of those reassigned say they were given no notice, according to attorneys who are representing some of the employees."
"Clement is now the second reassigned Interior employee known to resign. He said he mulled over resigning for months before submitting a letter to Greg Gould, director of natural resources revenue, late Wednesday morning."
"Keeping a job supervising accountants when they were far more experienced was "cheating the taxpayers," Clement said. He was sent to training clinics and was treated well by his new colleagues, but, "I would feel just guilty stringing them along . . . as they tried to turn me into an audit specialist."
"Rather than accept a job and be "tucked in a corner," Clement vowed to work instead toward Zinke's ouster. [Read Joel Clement's resignation letter]"
"Clement said workers at Interior are outraged by Zinke's comment in a speech slightly more than a week ago that they are disloyal. "I got 30 percent of the crew that's not loyal to the flag," Zinke said, adding that policy-decision positions should be shipped from Washington to Western cities."
"In a separate letter, former top Interior executives under Presidents Richard M. Nixon, Gerald R. Ford, George H.W. Bush, Bill Clinton, George W. Bush and Barack Obama ripped Zinke for his comments about loyalty at Interior."
"As former Interior political appointees who served in both Republican and Democratic administrations, we strongly disagree," the writers said. "The department's career employees swear to defend the Constitution; they do not swear personal allegiance to individual secretaries or to anyone else."
They said the comment was re-mindful of a time "when the infamous Boss Tweed doled out jobs in New York City government to his friends in Tammany Hall."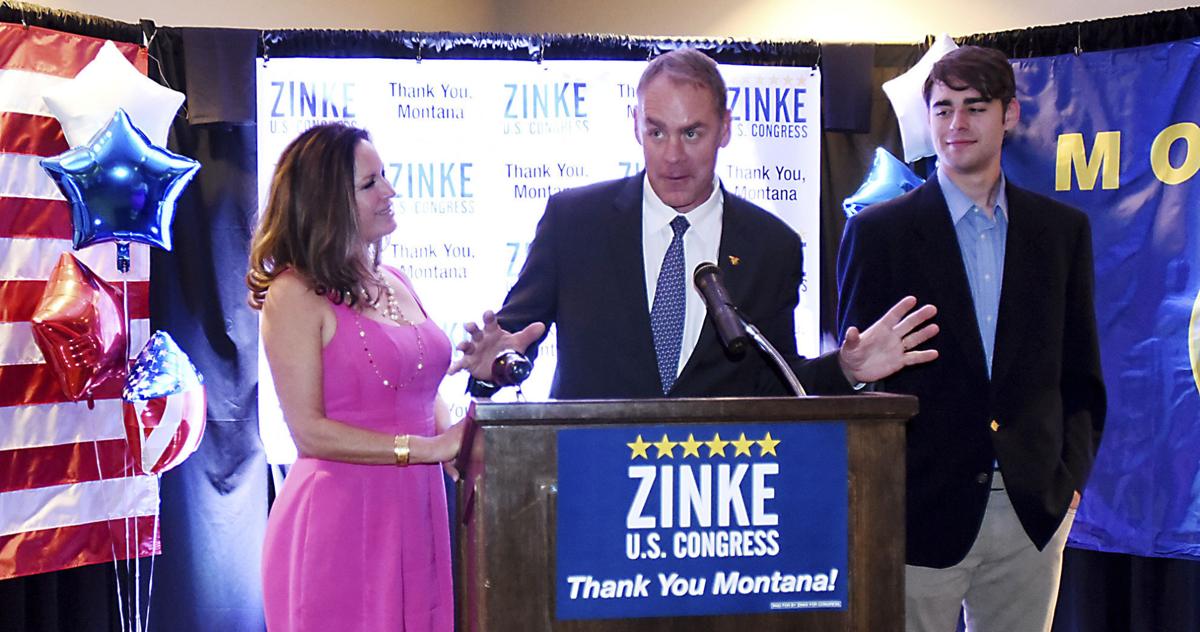 The republican President Donald Trump has wanted some land designated as Monuments to be used for traditional purposes such as mining, drilling, ranching, grazing and other purposes. He ordered the review of 27 monuments by Ryan Zinke of the US Department of the Interior to accomplish this goal.
Source: Reuters: The Trump Effect @ReutersGraphics. The title of the 5/11/17 report posted on the Federal Register,  is "The U.S. Department of the Interior is conducting a review of certain National Monuments designated or expanded since 1996 under the Antiquities Act."
Excerpts:
"Trump issued an executive order in April, directing Interior Secretary Ryan Zinke to "conduct a review of all Presidential designations or expansions of designations under the Antiquities Act made since January 1, 1996, where the designation covers more than 100,000 acres, where the designation after expansion covers more than 100,000 acres," or where it is determined that "the designation or expansion was made without adequate public outreach and coordination with stakeholders.""
"In this sweeping review of how past presidents have used the law to protect millions of acres of public land, the Department of Interior identified 27 national monuments with an eye toward shrinking some of them. The evaluation was completed in August (2017).  "
Land monuments that were reviewed are : Katahdin Woods and Waters; Hanford Reach; Upper Missouri River Breaks; Cascade Siskiyou; Craters of the Moon;  Berryessa; Snow Mountain;  Grand Staircase; Escalante; Basin and Range; Giant Sequoia; Bears Ears; Gold Butte; Canyon of the Ancients; Carrizo Plain; Rio Grande del Norte; Vermilion Cliffs; San Gabriel   Mountains;  Grand Canyon;-Parashant; Sand to Snow Mojave Trails;  Organ Mountains-Desert Peaks; Sonoran Desert; Ironwood Forest.
---
Antiquities Act
"All 27 monuments were designated by executive decree under the 1906 Antiquities Act, which gives presidents authority to preserve federal lands of natural, cultural or scientific significance without congressional action. While previous presidents, including Woodrow Wilson and William Howard Taft have reduced the size of some existing monuments, no president has ever revoked a previous designation."
"Trump said previous administrations abused their right to create monuments under the law by imposing limits on drilling, mining, logging, ranching and other activities in huge areas, mainly in Western states. A designation as a national monument prohibits mining and sets stringent protections for ecosystems on the site."
"The results of the monument review have not yet been made public, but a leaked version showed Interior Secretary Zinke recommended changes for 10 monuments. No changes were recommended for the other 17 monuments that were reviewed by the department."
"The recommended changes, which include the redrawing of boundaries and/or management revisions, would lift restrictions on activities such as logging, grazing, mining and commercial fishing. The 120-day review included a public comment period which garnered more than 2.8 million comments, mostly in favor of preserving the monuments. The White House has not said if it would act on Zinke's recommendations."
Below are the 10 monuments to which Zinke recommended changes:
---
---
---
---
---
---
---
---
"The Navajo Nation said it will sue the Trump administration if it tries to reduce the size of the Bears Ears National Monument."
---
"We are prepared to challenge immediately whatever official action is taken to modify the monument or restructure any aspect of that, such as the Bears Ears Commission," Attorney General of the Navajo Nation Ethel Branch told Reuters.
"Obama designated Bears Ears a national monument under the Antiquities Act shortly before leaving office, at the urging of the Navajo and four other Native American tribes. The move pleased conservationists, but angered Republican lawmakers."
"Zinke toured the monument for four days before announcing in April his recommendation  to shrink Bears Ears. Utah lawmakers want to reduce the monument to one-tenth of its size to make way for expanded economic activities, according to records obtained by the Salt Lake Tribune."