The following described incidents detail why there is concern by many as to the republican President Donald Trump's fitness for his job.
Here's the rest of the story…
On October 10, 2017, Courtney Cube, Kristen Walker, Carol E. Lee and Savannah Guthrie of NBC News penned the following report, "Trump Wanted Tenfold Increase in Nuclear Arsenal, Surprising Military."
Excerpts:
"President Donald Trump said he wanted what amounted to a nearly tenfold increase in the U.S. nuclear arsenal during a gathering this past summer of the nation's highest ranking national security leaders, according to three officials who were in the room."
"Trump's comments, the officials said, came in response to a briefing slide he was shown that charted the steady reduction of U.S. nuclear weapons since the late 1960s. Trump indicated he wanted a bigger stockpile, not the bottom position on that downward-sloping curve."
"According to the officials present, Trump's advisers, among them the Joint Chiefs of Staff and Secretary of State Rex Tillerson, were surprised. Officials briefly explained the legal and practical impediments to a nuclear buildup and how the current military posture is stronger than it was at the height of the build-up. In interviews, they told NBC News that no such expansion is planned."
"The July 20 meeting was described as a lengthy and sometimes tense review of worldwide U.S. forces and operations. It was soon after the meeting broke up that officials who remained behind heard Tillerson say that Trump is a "moron."
"Revelations of Trump's comments that day come as the U.S. is locked in a high-stakes standoff with North Korea over its nuclear ambitions and is poised to set off a fresh confrontation with Iran by not certifying to Congress that Tehran is in compliance with the 2015 nuclear deal."
"Trump convened a meeting Tuesday with his national security team in which they discussed "a range of options to respond to any form of North Korean aggression or, if necessary, to prevent North Korea from threatening the U.S. and its allies with nuclear weapons," according to the White House."
"The president's comments during the Pentagon meeting in July came in response to a chart shown during the meeting on the history of the U.S. and Russia's nuclear capabilities that showed America's stockpile at its peak in the late 1960s, the officials said. Some officials present said they did not take Trump's desire for more nuclear weapons to be literally instructing the military to increase the actual numbers. But his comments raised questions about his familiarity with the nuclear posture and other issues, officials said."
"Two officials present said that at multiple points in the discussion, the president expressed a desire not just for more nuclear weapons, but for additional U.S. troops and military equipment."
"Any increase in America's nuclear arsenal would not only break with decades of U.S. nuclear doctrine but also violate international disarmament treaties signed by every president since Ronald Reagan. Nonproliferation experts warned that such a move could set off a global arms race."
"If he were to increase the numbers, the Russians would match him, and the Chinese" would ramp up their nuclear ambitions, Joe Cirincione, a nuclear expert and MSNBC contributor, said, referring to the president.
"There hasn't been a military mission that's required a nuclear weapon in 71 years," Cirincione said."
"Moreover, the president's comments reveal that Trump, who suggested before his inauguration that the U.S. "must greatly strengthen and expand its nuclear capability," voiced that desire as commander-in-chief directly to the military leadership in the heart of the Pentagon this summer."
"Some officials in the Pentagon meeting were rattled by the president's desire for more nuclear weapons and his understanding of other national security issues from the Korean peninsula to Iraq and Afghanistan, the officials said."
"That meeting followed one held a day earlier in the White House Situation Room focused on Afghanistan in which the president stunned some of his national security team. At that July 19 meeting, according to senior administration officials, Trump asked military leaders to fire the commander of U.S. forces in Afghanistan (General Nicholson), and compared their advice to that of a New York restaurant consultant whose poor judgment cost a business valuable time and money."
"Two people familiar with the discussion said the Situation Room meeting, in which the president's advisers anticipated he would sign off on a new Afghanistan strategy, was so unproductive that the advisers decided to continue the discussion at the Pentagon the next day in a smaller setting where the president could perhaps be more focused. "It wasn't just the number of people. It was the idea of focus," according to one person familiar with the discussion. The thinking was: "Maybe we need to slow down a little and explain the whole world" from a big-picture perspective, this person said."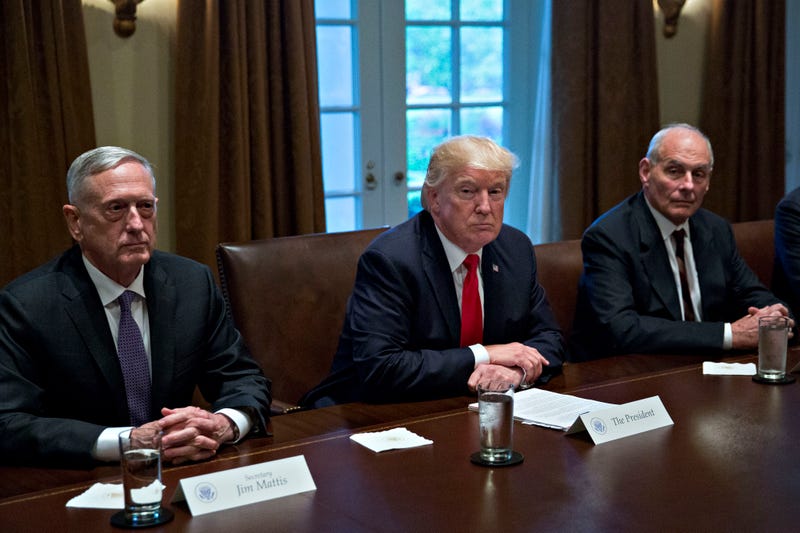 "The Pentagon meeting was also attended by Vice President Mike Pence, Treasury Secretary Steven Mnuchin, Defense Secretary James Mattis, Chairman of the Joint Chiefs General Joseph Dunford, Vice Chairman Gen. Paul Selva, Undersecretary of Defense Patrick Shanahan, Stephen Bannon, who served then as Trump's chief strategist, Jared Kushner who is a senior adviser to the president and Reince Preibus who was then chief of staff. Sean Spicer who was then White House spokesman, and Keith Schiller who was Director of Oval Office Operations at the time, also accompanied Trump to the Pentagon that day."
"Two senior administration officials said the president's advisers outlined the reasons an expansion of America's nuclear arsenal is not feasible. They pointed to treaty obligations and budget restraints and noted to him that today's total conventional and non-conventional military arsenal leaves the U.S. in a stronger defense posture than it was when the nuclear arsenal alone was larger."
"Still, officials said they are working to address the president's concerns within the Nuclear Posture Review, which is expected to be finalized by the end of 2017 or early next year. "He's all in for modernization," one official said. "His concerns are the U.S. stopped investing in this."
Related Article : Tillerson's Fury at Trump Required Intervention From Pence