NOTE: This is an updated version of an earlier post.
Yes, a democrat winning any elected office in the State of Alabama is a long shot. But with a republican candidate like Judge Roy Moore vying for a US senate seat in the December 2017 special elections, how can the democratic party sit back and not support a viable contender like Doug Jones against him.
The good news is that a mid-October 2017 FOX News poll has both the democratic and republican candidates tied at 42% each. Admittedly, an upset in the republican-Trump trenched state of Alabama would be cataclysmic, but that alone makes this an election worth backing by the democratic party.
Here's the rest of the story…
On October 2, 2017, Jonathan Martin and Alexander Burns of New York Times penned the following report, "A Strong Nominee. A Divisive Opponent. But Can Democrats Win in Alabama?"
Excerpts:
"The Republican primary victory last week by Roy S. Moore initially delighted Democrats who saw the inflammatory Alabamian's humiliation of the Republican establishment as prime evidence that the Trump era had intensified the right's unremitting internecine wars."
"But now Democrats are grappling with an all-too-familiar question of their own: how and even whether to confront a Republican Senate candidate whose views they find repugnant but who may be unbeatable in a deeply conservative state — no matter how much money liberal donors pour in to defeat him."
"Democrats here and in Washington believe that their nominee, Doug Jones, is the most formidable candidate they have fielded for the Senate in this state in over two decades. A former United States attorney who prosecuted the men who perpetrated the civil rights-era bombing of this city's 16th Street Baptist Church, Mr. Jones, 63, is that rare Southern politician who possesses law-and-order credentials and is esteemed in the black community."
"Yet well before Alabama voters go to the polls on Dec. 12, Democrats face a critical decision at a moment when all politics is national. Some in the party believe that they simply cannot write off the South if they expect to regain control of Congress — and that they will never recover here if they abandon high-quality candidates such as Mr. Jones."
"But the Democratic brand has become so toxic in states such as Alabama that if the national party rallies behind Mr. Jones and turns his candidacy into a liberal cause célèbre, it could only doom him by pushing Republicans reluctant to support Mr. Moore back to their partisan corner."
"After losing a series of special House elections this year, including next door in Georgia, where the Democrat, Jon Ossoff, raised nearly $30 million only to be defeated after Republicans defined him as a liberal, some party veterans are uneasy about swooning for Mr. Jones."
"
It's a very tricky pass for national Democrats," said David Axelrod, the Democratic strategist and former adviser to President Barack Obama. "Jones is a very, very good candidate, but Alabama is a very, very tough state, maybe the toughest state. And you want to avoid the trap that you fell into in Georgia by building expectations for a race that's going to be difficult to win."
"But in the eyes of many Democrats, opposing Mr. Moore is as much a moral imperative as a political one. As Mr. Axelrod put it, Mr. Moore, who has a decades-long record of making incendiary comments about gays, African-Americans and Muslims, is so offensive to Democrats that it makes him "hard to ignore."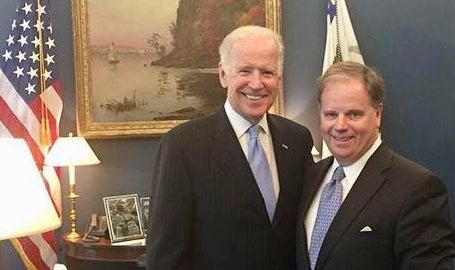 "Senator Tim Kaine of Virginia said it was even more profound. Mr. Kaine does not speak up often at the weekly lunches of Democratic senators, but he did two weeks ago because he wanted to tell his colleagues about Mr. Jones, whom he has grown close with over their shared passion for racial reconciliation. This race, Mr. Kaine said in an interview, requires Democrats to respond to their conscience."
"When you have a person who speaks to a very unique need for healing in the country right now and is facing off against a guy who will not heal our divisions but will fan them, it's a good race to be helpful in," he said, noting he had already given Mr. Jones the maximum legal amount.
Senator Chuck Schumer of New York, the Democratic leader, is engaged in the race and held calls on Tuesday and Wednesday with Senator Chris Van Hollen of Maryland, who runs the Democratic Senate campaign arm, and top aides about Mr. Jones, according to two party officials briefed on the conversations. And Mr. Van Hollen used a Senate Democratic luncheon to urge his colleagues to contribute to Mr. Jones's campaign and promote him on social media.
Henry R. Muñoz III, the finance chairman of the Democratic National Committee, said the party's top fund-raisers conferred about the race at a meeting in Washington last week, reviewing it along with long-anticipated contests for governor in New Jersey and Virginia. Mr. Muñoz said they would convene a session with major donors to discuss the Alabama race.
"People said: O.K., maybe at first blush, you wouldn't look at Alabama as a place we can win," Mr. Muñoz said of the meeting last week. "But maybe we can, and it's important that we take a stand."
"Mr. Muñoz, who is gay, said Mr. Moore was a uniquely offensive candidate and predicted that lesbian, gay, bisexual and transgender donors, among others, would mobilize to stop him. "The phones are burning up," he said. "One of the things that the L.G.B.T. community is good at is organizing itself and organizing itself financially."
"Still, Mr. Jones is in a Goldilocks-like position of seeking just enough national attention to raise money for television ads, but not so much that it defines his campaign. He has raised over $820,000 from all 50 states since Mr. Moore's win on Tuesday, according to his campaign."
"Officials from the Democratic Senatorial Campaign Committee and the Democratic National Committee are already in Alabama, and the D.N.C. is holding weekly meetings dedicated to the race here. Two of the party's leading pollsters are expected to take surveys here this week."
"Former Vice President Joseph R. Biden Jr. is coming here to stump for Mr. Jones on Tuesday. James Carville, the longtime Bill Clinton strategist, has talked to the former president about the race. And African-American leaders are eager to help."
"At his first event of the general election, at Niki's West, a Birmingham restaurant, campaign aides passed out fliers to a multiracial crowd showing Mr. Jones speaking with voters outside the 16th Street Baptist Church, alongside a list of policy commitments like fighting voting restrictions "as harmful as Jim Crow laws."
"Yet Mr. Jones's campaign brochure also illustrated why he faces an uphill campaign: Listed above his opposition to "voter suppression" was a vow to "defend a woman's right to choose." It is exceedingly difficult for Democrats to win in the Deep South while pledging vocal support for abortion rights."
"Representative Terri A. Sewell, who is Alabama's lone Democrat in Congress and holds a majority-black seat reaching from Birmingham through the most heavily African-American rural counties, predicted that her district would be motivated to turn out for Mr. Jones."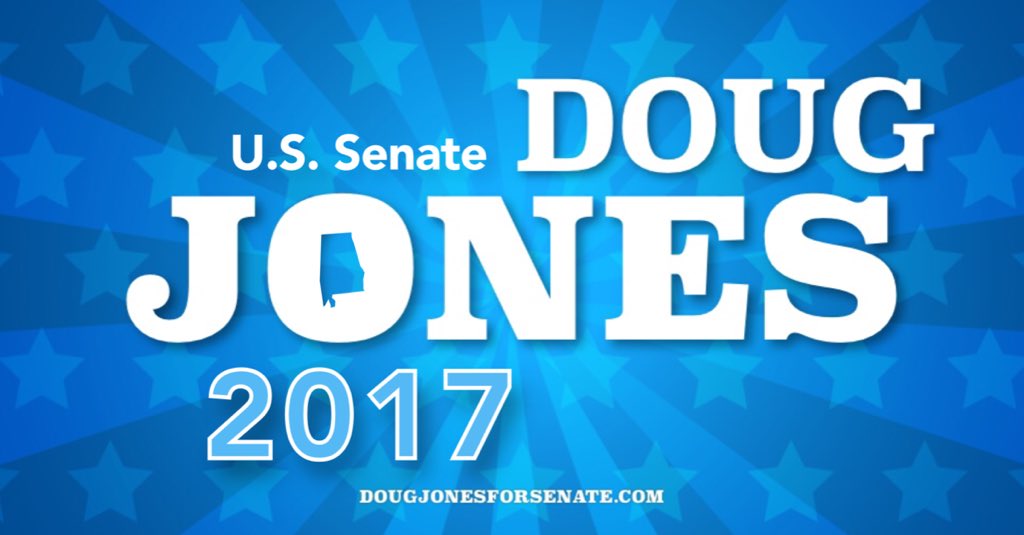 "I do believe that Roy Moore harkens us back to the days of a George Wallace," Ms. Sewell said, invoking the state's segregationist former governor. She predicted the race would draw prominent figures to Alabama: "I would not be surprised if you saw the likes of John Lewis and Clinton and others."
Mr. Jones was more ambivalent about national Democrats joining him in Alabama, aside from Mr. Biden, whom he described as a friend.
This is one of the South's most Republican states. It lacks a large liberal city such as Atlanta and has a smaller proportion of African-Americans than Mississippi or Louisiana. Republicans control every statewide office, and a Democrat has not won a United States Senate race for a quarter-century.
"And while Mr. Moore, who has been removed twice from the state bench, may embarrass many independents and business-oriented Republicans here, Democrats are plagued by a simple math problem: Few white voters are willing to support their nominees."
"Matt McDonald, a Mobile-based lawyer, is one of those Republican-leaning voters who supports Mr. Jones. Mr. McDonald also plans to write Mr. Jones "a nice check" because, he said, the Democrat would best represent the state and improve its economic prospects."
"But he said there was no broad stirring in the corporate community to mount a Stop Moore campaign."
"It'll be heartbreaking because everyone will think it's doable," he said. "But I've seen this movie."
Dax Swatek, a lobbyist and a Republican, pointed out that in Tuesday's runoff against Senator Luther Strange, Mr. Moore alone garnered about 100,000 more votes than the total turnout for the Democratic primary last month.
"Yet even if Mr. Jones is destined to fall short, this race may be too symbolically significant for Democrats to let pass by."
"Democrats have a good Southern candidate, and I'm going to help him," said Mr. Carville."
"And, Mr. Carville added, "if you can't run against Roy Moore, then what kind of party you got?"