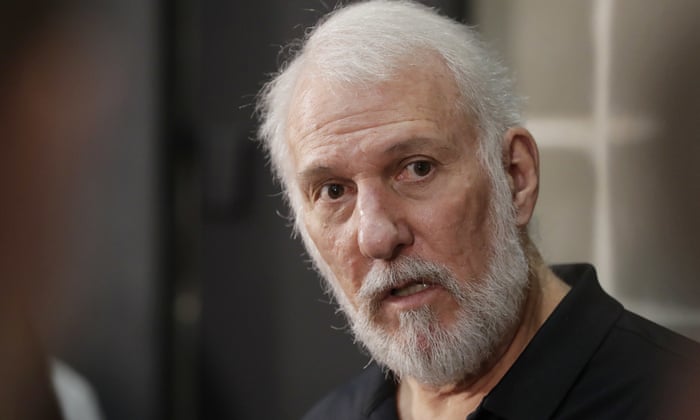 The famous NBA San Antonio Spurs coach, Gregg Popovich is challenging the republican Donald Trump's version of patriotism. He is obviously supportive of the NFL players right to protest in order to place the spotlight on the reality that peoples of color have been systematically treated unfairly by law enforcement and the judicial system.
The highly respected legendary coach Gregg Popovich, in response to the president withdrawing a White House invite to Stephen Curry, says race in America remains "the elephant in the room."
Per The Express-News:
"Our country is an embarrassment in the world," Popovich said."

Popovich chuckled when asked about President Donald Trump rescinding the reigning NBA champion Golden State Warriors' invitation to the White House."

"I thought it was comical that it was rescinded because they weren't going to go anyway," Popovich said. "It's like a sixth grader is going to have a party in his backyard and he finds out somebody might not come, so he disinvites them. Although it's disgusting, it's also comical."

"Popovich once again called race "the elephant in the room" and said that white privilege needs to be talked about."

""Unless it is talked about constantly it is not going to get better," Popovich said. "…There has to be an uncomfortable element in the discourse for anything to change."
Per the NY Times:
"Surreal," Curry said.

One day after Curry told reporters that he would rather not accept an invitation to visit the White House because of his objections to the current administration's policies and rhetoric, Trump tweeted that he was revoking any invitation because of Curry's remarks.

"I don't know why he feels the need to target certain individuals rather than others," Curry, a two-time N.B.A. most valuable player, said at a news conference after the team's first practice of the season. "I have an idea of why, but it's kind of beneath the leader of a country to go that route. It's not what leaders do."

"We're not trying to divide and separate this country," Curry said. "We're trying to bring everyone together and speak about love and togetherness and equality."
Here is the rest of the story…  
On October 17, 2017, The Guardian published the following article, "Gregg Popovich calls Donald Trump a "soulless coward" after Obama comments."
Excerpts:
"On the opening day of the NBA season the San Antonio Spurs coach, Gregg Popovich, has launched his latest broadside at Donald Trump."
(The following YouTube is dated November 11, 2016.)
"Popovich, who has won five NBA championships with the Spurs, was incensed after the US president falsely claimed Barack Obama and other presidents  didn't contact the families of soldiers killed in action. Popovich, is an air force veteran and considered a career with the CIA before committing to basketball."
"Trump's comments came after the deaths of US servicemen in Niger, and Popovich was angry enough to contact the Nation's Dave Zirin to go on the record about the subject. Zirin is known for his coverage of sports and social issues."
"I've been amazed and disappointed by so much of what this president had said, and his approach to running this country, which seems to be one of just a never-ending divisiveness," Popovich told Zirin. "But his comments today about those who have lost loved ones in times of war and his lies that previous presidents Obama and Bush never contacted their families are so beyond the pale, I almost don't have the words."
(The following YouTube is dated September 25, 2017.)
"Popovich also spoke of his contempt for Trump's inner circle. "This man in the Oval Office is a soulless coward who thinks that he can only become large by belittling others. This has of course been a common practice of his, but to do it in this manner– and to lie about how previous presidents responded to the deaths of soldiers – is as low as it gets," Popovich added."
"We have a pathological liar in the White House, unfit intellectually, emotionally, and psychologically to hold this office, and the whole world knows it, especially those around him every day. The people who work with this president should be ashamed, because they know better than anyone just how unfit he is, and yet they choose to do nothing about it."
"Popovich has been a constant critic of the US president. " 
"It's got nothing to do with the Democrats losing. It's got to do with the way one individual conducts himself. And that's embarrassing, it's dangerous to our institutions and what we all stand for, what we expect the country to be. But for this individual, he's in a game-show. And everything that happens begins and ends with him – not our people or our country."
"Other NBA players and coaches have been critical of Trump. LeBron James has called the president "a bum", while the coach of the NBA champion Golden State Warriors, Steve Kerr, said Trump's election was a blow for "respect and dignity".