I am going to sound a bit like General John F. Kelly with the words, isn't there anything sacred anymore. It seems sacrilegious and beyond shocking for there to have been another mass shooting in the First Baptist Church in Sutherland Springs,  Texas, about 30 miles outside of San Antonio on a Sunday (11/5/17) where several attendees have been fatally shot and wounded.
The suspect was chased by by a hero who lived close to the church first who shot at the suspect as he ran off in a truck. The good neighbor and a driver in a truck that he flagged down chased the shooter into a neighboring county where he killed himself.  FBI had been observed at the scene. Later ATF officers showed up.
The main witness was a cashier who was working at a gas station located across the street. She said she heard about twenty shots being fired around 11:30 am local time.
UPDATE ON 11/6/17: 
DEVIN KELLEY
As per a 11/5/17 Heavy.com report by Jessica McBride, "
Devin P. Kelley, 
who was 
court martialed from the U.S. Air Force, 
was identified 
as the gunman who walked into the First Baptist Church in Sutherland Springs, Texas, on Sunday morning and murdered at least 26 people, wounding many more in the tiny, rural community near San Antonio."
"The shooter's name was reported through sources by The New York Times and CBS News; the latter gave his name as Devin Patrick Kelley, 26, of New Braunfels, Texas and said the Air Force court martial occurred only three years ago. Although the motive was not yet clear, the gunman's background includes religious school work, but he also liked pages devoted to atheism. The shooter, who is dead, left behind disturbing social media posts, including a Facebook page that showed off a rifle, calling it a "bad b*tch."
It turns out that Mr. Kelley had a bad conduct discharge from the Air Force after he had undergone a court martial for having committed serious domestic abuse/ assault against his wife and child. He served over a year in a Navy brig which should mean that he had been indicted with the civilian equivalent of a felony.
He and his first wife were divorced in 2012 but his ex-girlfriend had made similar accusations of him being a domestic and child abuser, a stalker and just plain sick.
Some news reports have indicated that Mr. Kelly's first wife's Mother attended that same church but she was not present on the day of his shooting spree. He had been sending her harassing texts.
The question is how did Mr. Kelley have access to a semi-automatic weapon in 2016 with his record? It looks like he purchased guns in 2014, 2015, 2016 and 2017.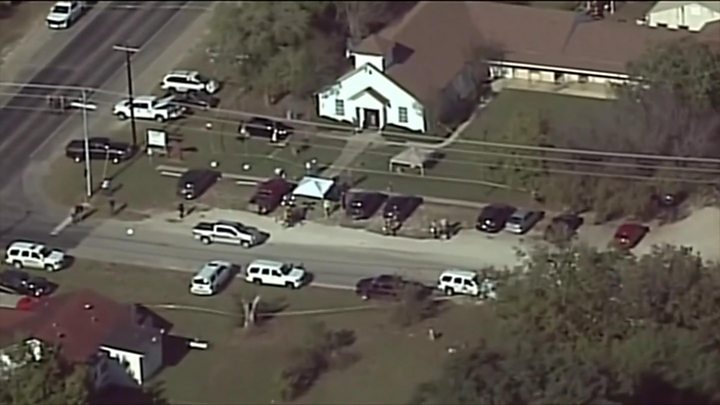 According to the latest news, it was a brave neighborhood gentleman who confronted and shot the assailant whereupon, Mr. Kelley dropped his rifle and fled with his truck. He then called his Dad to tell him he was shot. Later he used a gun against himself.
The ages of the victims range from 18 months old to over 70 years of age. The pastor's own 14 year old daughter was one 26 attendees who was fatally shot. This is a tremendous loss for a community of 600-700 peoples.
According to the news reports, his past history for domestic abuse does not appear on the background records' ssystem that gun owners check before selling a gun to a consumer.
Here's the rest of the story…
On November 5, 2017, Christopher Mele of the New York Times penned the following report, "Texas Church Shooting Leaves More Than 20 Dead, Official Says."
Excerpts:
"More than 20 people were killed after a gunman walked into a church in a rural community about 30 miles east of San Antonio and opened fire on Sunday, an official said."
"The official, Paul W. Pfeil, a Wilson County, Tex., commissioner, said he did not have a total count of the number of dead in the shooting, which occurred at the First Baptist Church of Sutherland Springs, but he said it was "more than 20."
"Albert Gamez Jr., another Wilson County commissioner, told CNN that he was told by the police that the gunman was chased into the next county and was killed, but it was not clear whether the police shot him or he killed himself."
"Mr. Gamez said he was told by an emergency medical technician that 27 people were dead and 24 others were injured."
"He said the victims were still inside the church. Sutherland Springs is a small community where everyone knows one another, he said."
"He added: "You never expect something like this. My heart is broken."
"The service at the church last Sunday, which was posted on YouTube, began with a rendition of a song called "Happiness Is the Lord."
"Then the pastor, Frank Pomeroy, told his parishioners — 20 to 30 were visible in the video — to walk around the room and "shake somebody's hand."
"Videos posted online show lyrics to the hymns appearing on television screens with parishioners playing electric guitars and a sign language interpreter translating the songs."
"Devin Keen, a constable in Wilson County, said "there were kids involved" in the shooting at the church."
"Sheriff Joe Tackitt of Wilson County told The Wilson County News that a man had entered the church and begun firing."
"Megan Posey, a spokeswoman for Connally Memorial Medical Center in Floresville, Tex., said that she did not know exactly how many patients the hospital had received, but that it was continuing to receive more."
"We're sending more officers on the streets to help secure Connally Memorial while they're bringing the casualties to the hospital," Constable Keen said."
"Joseph Silva, 49, who lives about five miles northeast of Sutherland Springs, said the police had instructed his family and neighbors to stay indoors."
"In a phone interview on Sunday afternoon, he described Sutherland Springs as "a one-blinking-light town."
"There is a gas station and a post office," he said. "That's about all there really is."
"Mr. Silva said he had been approached by a woman who said she had two loved ones at the church who were shot."
"There are a number of individuals just weeping and just wanted to know what's happened to their loved ones," he said. "Everybody is pretty grief-stricken. Everyone's worried."
"The First Baptist Church of La Vernia, Tex., about seven miles away, wrote on Facebook that it would open its doors from 5 to 7 p.m."
"Today an unthinkable tragedy occurred in our community," the church wrote. "There will be Pastors and leaders present to pray with you or to talk, and the altar will be open for us to fall at the feet of Jesus."
"President Trump, who was in Japan on a trip to several Asian countries, offered his support.