The republican President Donald Trump's US Commerce Secretary Wilbur Ross have known each other for over 25 years. His last job was as vice-chairman of Bank of Cyprus with ties to Alfa Bank. It was Mr. Ross who moved Deutsche Bank's CEO Joseph Ackermann over to head up Bank of Cyprus in 2014. It was the Bank of Cyprus number one shareholder who purchased the president's home in Palm Beach in 2008 for an inflated price at about $40 million dollars over its market value. This occurred around the same time that the president owed $40 million dollars overdue payment to Deutsche Bank.
As per 2/28/17 Medium report by Anna Lind-Guzik, here is an overview:
"Cyprus was a notorious tax haven for Russian businessmen until the European debt crisis in 2013 led the bank to collapse. Russian businessmen lost billions fast. Putin refused to help and Germany was reluctant to bail out the Russian deposits. It wanted to force Russians out of the European bank and so during restructuring, deposits were converted into shares. Ironically, this gave majority ownership of the bank over to Russian plutocrats. As the Cypriot president, Nicos Anastasiades, said in June 2013, "They wanted to throw out the Russians but in the end, they delivered our main bank to the Russians."
"This is where Wilbur Ross comes in. Having already made money during the European debt crisis through a takeover of the Bank of Ireland, Ross led a 1 billion euro takeover of the Cypriot bank during the summer of 2014, including a buyout of most, but not all of the Russian plutocrats. Viktor Vekselberg, one of Russia's richest men, became the second-largest shareholder in the bank through his Bahama-based conglomerate, Renova Group."
"Ross recruited Josef Ackermann, former CEO of Deutsche Bank, Putin associate and a director at Renova Group, to join Bank of Cyprus's board. Deutsche Bank is Trump's largest creditor and was recently found guilty of enabling a $10 billion Russian money laundering scheme, funneling money from Moscow to offshore accounts in Cyprus(!), among other places."
"Besides Ackermann, Bank of Cyprus's board includes Ross as vice-chairman, a position he shared until 2015 with former KGB agent and businessman Vladimir Strzhalkovsky. After Strzhalkovsky's resignation, Renova Group executive Maksim Goldman stepped up as vice-chairman."
BBC News has some more news about Wilbur Ross. Here's the rest of the story…
On November 5, 2017 of BBC News published the following report,  "Paradise Papers: Commerce chief Wilbur Ross's links with sanctioned Russians."
Excerpts:
A top member of Donald Trump's administration has business links with Russian allies of "President Vladimir Putin who are under US sanctions, the Paradise Papers have revealed."
"Commerce Secretary Wilbur Ross has an interest in Navigator Holdings, which earns millions a year transporting oil and gas for Russian energy firm Sibur."
"Two major Sibur shareholders are under some form of US sanctions."
"Secretary Ross recuses himself from any matters focused on transoceanic shipping vessels," (a Wilbur Ross) spokesman told BBC Panorama, adding that the secretary "works closely with Commerce Department ethics officials to ensure the highest ethical standards".
"Another Sibur shareholder is President Putin's son in law, Kirill Shamalov."
"He holds a 3.9% stake in the firm. Gennady Timchenko, who has been individually sanctioned by the United States, as have at least 12 companies connected to him, and Leonid Mikhelson, whose main company, Novatek, is also sanctioned, are major shareholders."
"Sibur itself and Mr Shamalov are not under sanctions, although Mr Shamalov's father, Nikolai, is."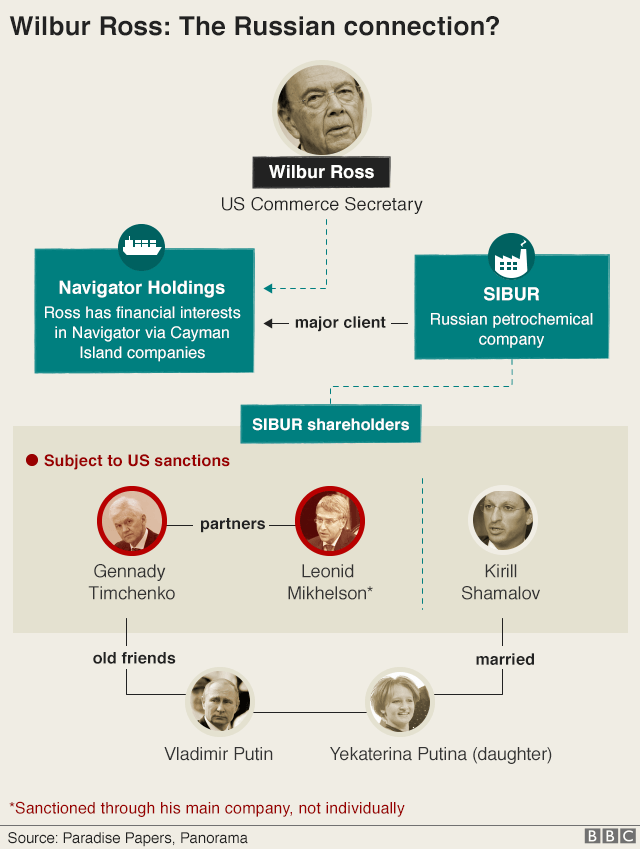 "The commerce department spokesman said Mr Ross had never met the three Russian shareholders."
"The US imposed some sanctions after Russia annexed Crimea in 2014. Others were imposed last year for alleged interference in the US presidential election."
"The revelations will again raise questions about the Russian connections of Donald Trump's team. His presidency has been dogged by allegations that Russians colluded to try to influence the outcome of the election. He has called the allegations "fake news". A special counsel is investigating the matter."
"Wilbur Ross and Donald Trump have known each other for more than a quarter of a century. Mr Ross played a key part in a prepackaged bankruptcy deal – deal agreed between a company and its creditors – for Mr Trump's Atlantic City casino, the Taj Mahal, in the 1990s."
"Trump biographer David Cay Johnston told BBC Panorama: "If it hadn't been for Wilbur Ross, Donald Trump would not be in the White House."
Major client
"WL Ross & Co, which was founded by Wilbur Ross, first invested in Navigator Holdings in 2011."
"An investigation has revealed details of how Mr Ross retains a financial interest in Navigator Holdings via a number of companies in the Cayman Islands."
"Some of these Cayman companies were disclosed by Mr Ross when he became commerce secretary, but under the disclosure rules he did not have to declare his interest in Navigator Holdings."
"Its annual report in 2016 showed 31.5% was still held by entities in which Mr Ross has a stake, although the value of Mr Ross's personal holding remains unclear."
When Trump met Ross
"Back in 1990, after a high-profile financial battle, Donald Trump opened his third casino in Atlantic City – the Taj Mahal, dubbed the "eighth wonder of the world".
"It didn't go well. Mr Trump financed it with $675m raised through junk bonds at an interest rate of 14%. He struggled to make the payments."
"Step in Wilbur Ross. Then at Rothschild Inc, he was representing the angry bondholders but liked Donald Trump's style."
"Trump biographer David Cay Johnston said: "Wilbur Ross was a key negotiator in Donald Trump not having to go through bankruptcy and not being swept into the dustbin of history because he saw the value in the Trump name."
"Mr Ross said at this year's Concordia Annual Summit: "When you meet people who are under tremendous financial pressure… you really get to see what they are made of, and he was made of much stronger stuff than a lot of owners of troubled businesses."
"One prepackaged bankruptcy later and The Donald was on his way out of debt and heading up the Forbes rich list."
"Wilbur Ross became a board member of Navigator in 2012 but the commerce department said he was not on the board when Navigator signed its charter deal with Sibur that year."
"But Mr Ross was still a board member during the period from March to November 2014, when the US was sanctioning Russians over the annexation of Crimea, including Mr Timchenko and Mr Mikhelson's company, Novatek."
"During that period Navigator continued to increase its business with Sibur. The energy firm accounted for 9.1% of Navigator's total revenues in 2015, compared with 5.3% in 2014, Navigator's own filings show."
"Mr Ross left Navigator's board in November 2014 but his seat was taken by Ross group partner Wendy Teramoto, who served on it until 2017."
"Figures from 2016 showed Sibur was still among Navigator's top five clients, predominantly exporting Russian gas to Europe and potentially providing significant income to sanctioned Putin allies."
"This year, Navigator doubled the fleet it is using on Sibur exports to four. Sibur has provided Navigator with $68m (£49m) in revenue since 2014."
But Daniel Fried, who oversaw the introduction of US sanctions against Russia under President Barack Obama, told Panorama that it would be a mistake for any American official to do business with Sibur.
"I would advise any client who came to me to stay well away from Sibur or anybody else who has been sanctioned or has a relationship with sanctioned individuals… on the grounds, at least, of reputational risk."
"But Mr Ross appears to have maintained a close relationship with the shipping company."
"On the night that he was nominated as commerce secretary by President Trump, Mr Ross went to a restaurant in New York where he was congratulated on his promotion by the senior management of Navigator Holdings, Bloomberg reported."
"Mr Ross reportedly told the CEO of Navigator: "Your interest is aligned to mine. The US economy will grow, and Navigator will be a beneficiary."
"Another key Navigator customer has been PDVSA, the Venezuelan state oil company. It was targeted by US sanctions this year."
"The commerce department said Mr Ross had "been generally supportive of the Administration's sanctions of Russian and other entities".

"The papers are a huge batch of leaked documents mostly from offshore law firm Appleby, along with corporate registries in 19 tax jurisdictions, which reveal the financial dealings of politicians, celebrities, corporate giants and business leaders."
"The 13.4 million records were passed to German newspaper Süddeutsche Zeitung and then shared with the International Consortium of Investigative Journalists (ICIJ). Panorama has led research for the BBC as part of a global investigation involving nearly 100 other media organisations, including the Guardian, in 67 countries. The BBC does not know the identity of the source."
"Paradise Papers: Full coverage; follow reaction on Twitter using #ParadisePapers; in the BBC News app, follow the tag "Paradise Papers"