I couldn't believe the news. The republican President Donald J. Trump made a decision that actually made sense and was in the best interests of the average American tax payer when he ordered to abolish his controversial commission studying voter fraud, a problem that ALL credible voting experts discounted as being a legitimate issue.
This made so much sense that I had to check for the real underlying reason that prompted this president's moment of clarity.
It turns out that this commission was inundated with lawsuits, including one by a member of the commission, itself.
Here is the rest of the story…
On January 3, 2017, John Wagner of the Washington Post penned the following report, "Trump abolishes controversial commission studying voter fraud."
Excerpts:
"President Trump on Wednesday(1/3/17) announced that he is disbanding a controversial voter fraud commission launched last year in the wake of his baseless claim that he lost the popular vote to Democrat Hillary Clinton in 2016 because of millions of illegally cast ballots."
"The commission met only twice amid a series of lawsuits seeking to curb its authority and claims by Democrats that it was stacked to recommend voting restrictions favorable to the president's party."
"In a statement, White House press secretary Sarah Huckabee Sanders blamed the ending of the commission on the refusal of many states to provide voter data sought by the commission and the cost of ongoing federal lawsuits."
"The bipartisan panel, known the Presidential Advisory Commission on Election Integrity, had been nominally chaired by Vice President Pence and led by Kansas Secretary of State Kris Kobach, a Republican who has aggressively sought to prosecute voter fraud in his state."
"In the statement, Sanders said Trump had signed an executive order asking the Department of Homeland Security to review voter fraud issues and "determine next courses of action."
On November 10, 2017, P.R. Lockhart of VOX penned the following report, Trump's "election integrity" commission faces a new controversy: a lawsuit from one of its own."("A Democrat on Trump's voter commission asked for updates. He was ignored. Now he's suing.")
Excerpts:
"The presidential commission tasked with proving that voter fraud is a major problem in American elections is being sued by one of its own members."
"On Thursday, Maine Secretary of State Matthew Dunlap, one of four Democrats appointed to the 11-member Presidential Advisory Commission on Election Integrity, filed a lawsuit in federal court alleging that the commission is intentionally keeping information away from him and other Democrats on the panel. In the lawsuit, Dunlap charges that the commission, which is chaired by Vice President Mike Pence, is in violation of the Federal Advisory Committee Act of 1972, a measure that requires presidential advisory committees to share information with its members and maintain a politically balanced roster."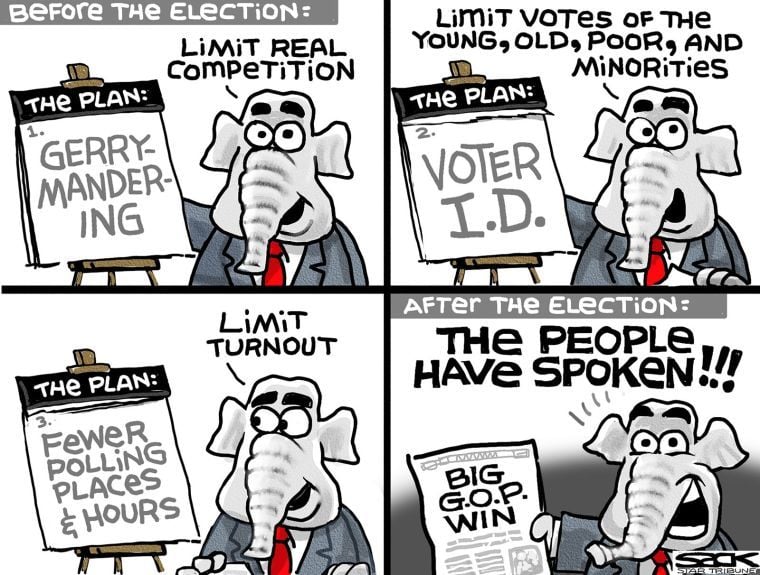 "The Commission has, in effect, not been balanced because Secretary Dunlap and the other Democratic commissioners have been excluded from the Commission's work," the lawsuit states. "The Commission's operations have not been open and transparent, not even to the commissioners themselves, who have been deprived access to documents prepared by and viewed by other commissioners."
The voter commission was formed by an executive order issued by President Donald Trump earlier this year "in order to promote fair and honest Federal elections." As ProPublica notes, the panel has only met twice since being created, but has racked up a number of lawsuits in its short time of operation (Dunlap's suit is the ninth official lawsuit against the commission), many of them concerned with the commission's lack of transparency and fears that voter information will be compromised. In October, Dunlap expressed concerns that the commission was prematurely wrapping up its activities after its second meeting, telling the Washington Post, "For all I know, we may never meet again."
After Dunlap's lawsuit was announced, Kansas Secretary of State Kris Kobach, a Republican currently serving as the commission's vice chair, said in a statement that the lack of updates about the commission was not due to deliberate avoidance, but was instead due to a pause in the commission's activity as it deals with several lawsuits. "Secretary Dunlap's lawsuit is baseless and paranoid," Kobach said. "He assumes that correspondence regarding Commission business was occurring, but not being shared with him. Dunlap's assumption is incorrect."