We ladies who are married or who ever have been married know when a man says he needs some executive time, it probably means that he plans to sit on the throne for awhile while he reads the sports pages or whatever.
Remember .when the republican presidential candidate would accuse his democratic candidate Hillary Clinton of being a couch potato while she was watching lots of television. He took time to question with a suspicious attitude her physical and mental health status. Can you believe that there was a moment when he even dared to assert that she had not been faithful to her husband (See above video).
As per Britannica, "Projection is a form of defense in which unwanted feelings are displaced onto another person, where they then appear as a threat from the external world. A common form of projection occurs when an individual, threatened by his own angry feelings, accuses another of harbouring hostile thoughts.I suspect.
It appears that the president likes to schedule lots of executive time to spend hours on end to watch cable news to where he then responds to whatever he is observing by tweeting. His work hours are said to be from 11:00 am to about 6:00 pm. Peoples in the know say that they can tell when the president is working whenever they see a marine guard on duty and this has been occurring around 11:00 am.
Here is the rest of the story…
On January 7, 2018, Jonathan Swan of AXIOS penned the following report, "1 big thing: Scoop: Trump's secret, shrinking schedule."
"President Trump is starting his official day much later than he did in the early days of his presidency, often around 11am, and holding far fewer meetings, according to copies of his private schedule shown to Axios. This is largely to meet Trump's demands for more "Executive Time," which almost always means TV and Twitter time alone in the residence, officials tell us."
"The schedules shown to me are different than the sanitized ones released to the media and public."
"The schedule says Trump has "Executive Time" in the Oval Office every day from 8am to 11am, but the reality is he spends that time in his residence, watching TV, making phone calls and tweeting. Trump comes down for his first meeting of the day, which is often an intelligence briefing, at 11am."
"That's far later than George W. Bush, who typically arrived in the Oval by 6:45am. Obama worked out first thing in the morning and usually got into the Oval between 9 and 10am, according to a former senior aide."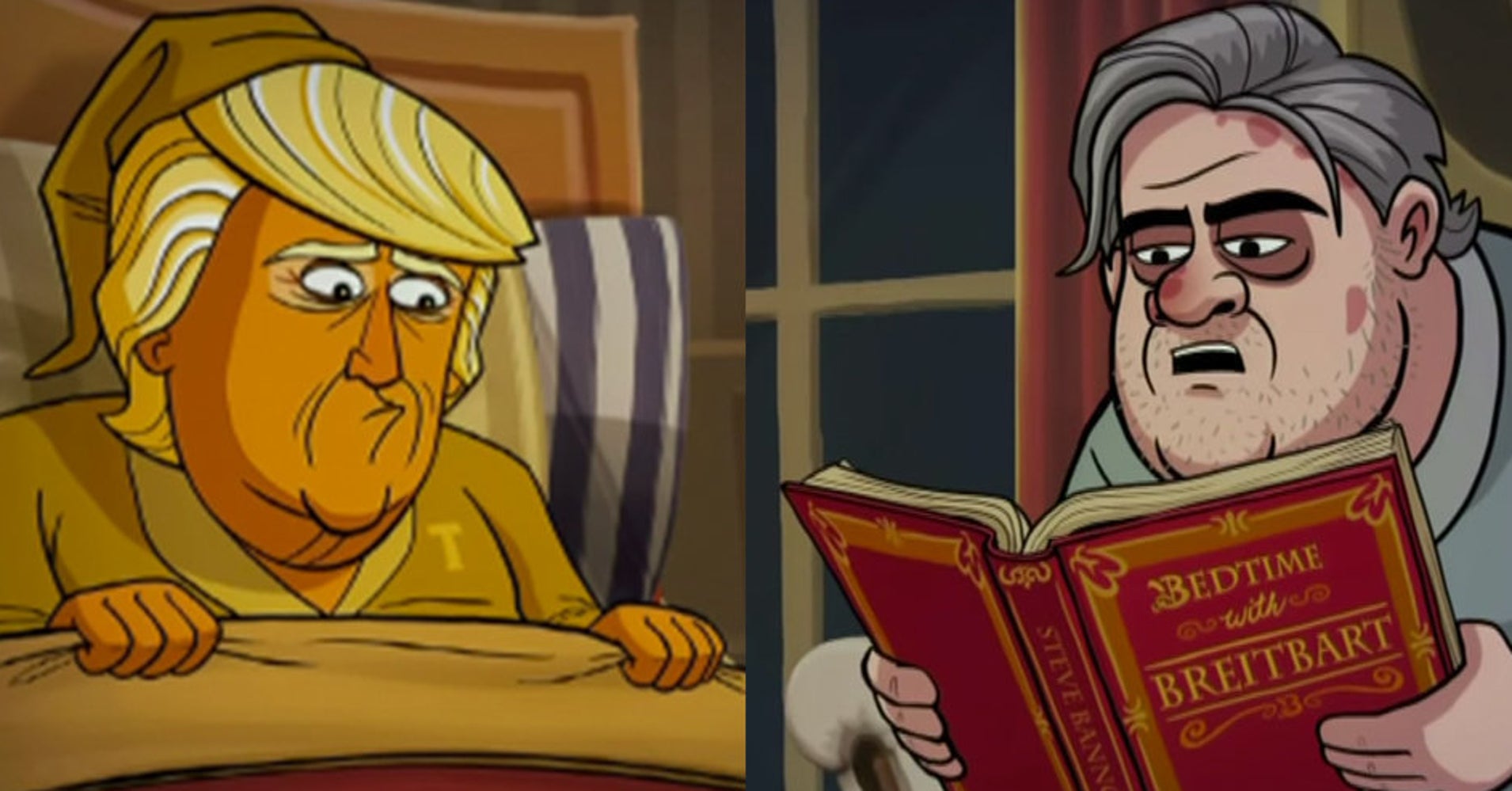 "Trump's days in the Oval Office are relatively short – from around 11am to 6pm, then he's back to the residence. During that time he usually has a meeting or two, but spends a good deal of time making phone calls and watching cable news in the dining room adjoining the Oval. Then he's back to the residence for more phone calls and more TV. Take these random examples from this week's real schedule:"
"On Tuesday, Trump has his first meeting of the day with Chief of Staff John Kelly at 11am. He then has "Executive Time" for an hour followed by an hour lunch in the private dining room. Then it's another 1 hour 15 minutes of "Executive Time" followed by a 45 minute meeting with National Security Adviser H.R. McMaster. Then another 15 minutes of "Executive Time" before Trump takes his last meeting of the day — a 3:45pmmeeting with the head of Presidential Personnel Johnny DeStefano — before ending his official day at 4:15pm."
"Other days are fairly similar, unless the president is traveling, in which case the days run longer. On Wednesday this week, for example, the president meets at 11am for his intelligence briefing, then has "Executive Time" until a 2pm meeting with the Norwegian Prime Minister. His last official duty: a video recording with Hope Hicks at4pm."
"On Thursday, the president has an especially light schedule: "Policy Time" at 11am, then "Executive Time" at12pm, then lunch for an hour, then more "Executive Time" from  1:30 pm."
"Trump's schedule wasn't always like this. In the earliest days of the Trump administration it began earlier and ended later. Trump would have breakfast meetings (e.g. hosting business leaders in the Roosevelt Room). He didn't like the longer official schedule and pushed for later starts. The morning intelligence briefing ended up settling around 10:30am."
"Aides say Trump is always doing something — he's a whirl of activity and some aides wish he would sleep more — but his time in the residence is unstructured and undisciplined. He's calling people, watching TV, tweeting, and generally taking the same loose, improvisational approach to being president that he took to running the Trump Organization for so many years. Old habits die hard."
"White House Press Secretary Sarah Huckabee Sanders wrote:"
""The time in the morning is a mix of residence time and Oval Office time but he always has calls with staff, Hill members, cabinet members and foreign leaders during this time. The President is one of the hardest workers I've ever seen and puts in long hours and long days nearly every day of the week all year long. It has been noted by reporters many times that they wish he would slow down because they sometimes have trouble keeping up with him."
The AXIOS report is supported by an updated 4/4/17 Atlantic article by Elaine Godfrey who penned the following report,  "Trump's TV Obsession Is a First."
Excerpts:
"No president has consumed as much television as the current one, or reacted as quickly or directly to what they were seeing.
"President Trump loves Fox & Friends. At 6:24 a.m. on Monday, Trump gushed on Twitter about the "amazing reporting" on the morning talk show. A week earlier he instructed the nation to "watch @foxandfriends now" for their exemplary Russia coverage. He tweeted about the program, hosted by Steve Doocy, Ainsley Earhardt, and Brian Kilmeade, seven times in March alone, and recently brought it up in an interview with Fox News' Tucker Carlson, telling him cheerfully, "I like that group of three people."
"Even after becoming president, Trump reportedly manages to fill his days with "plenty of television," and from his tweets, it's often possible to discern when—and what—he's watching. In January, Axios broke down the president's media diet:"
Most mornings, Trump flicks on the TV and watches "Morning Joe," often for long periods of time, sometimes interrupted with texts to the hosts or panelists. After the 6 a.m. hour of "Joe," he's often on to "Fox & Friends" by 7 a.m., with a little CNN before or after. He also catches the Sunday shows, especially "Meet the Press." "The shows," as he calls them, often provoke his tweets. The day of our interview with him, all of his tweet topics were discussed during the first two hours of "Morning Joe."
"Based on their breakdown and this visual guide made by The Washington Post, Trump watches an average of five hours of television every day. That's almost the same amount the average American aged 50-64 watches daily, according to Nielsen. Trump's habits don't quite match up with those of his cohort—Americans in Trump's age bracket (65+) watch roughly seven hours of TV a day. But many of them are retired, and Trump is the president of the United States. No former president seems to have spent this much time glued to his television set."
"But "it's a real problem to have a president that has that kind of obsession," said Russell Riley, a presidential scholar at University of Virginia Miller Center. "The most valuable commodity in Washington is the president's time, bar nothing. A president who elects to invest a lot of his time in tracking his own media coverage is, to some extent, debasing his own currency."
"During their presidencies, Bill Clinton, George W. Bush, and Barack Obama were "besieged by media criticism," Riley said. Instead of watching the talking heads, they preferred to use television as an escape. "The media tends to be mainly incumbent unfriendly, and that's the role of media in a democratic society, to be oppositionist," Riley said. "They understood that part of being presidential was having thick skin and ignoring what was going on."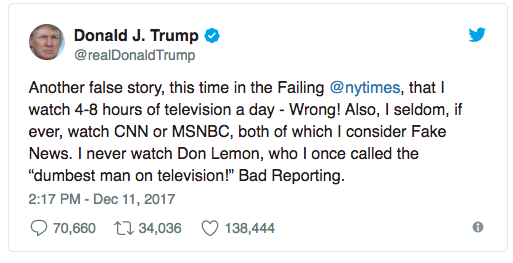 "Not so for Trump. The president has brought his campaign-trail feud with the media to the White House, continuing to watch the political pundits on television, responding with praise for some and insults for others. Aides have reportedly attempted to minimize Trump's TV-watching, but, so far, it hasn't worked. "He was elected because he was a reality TV star," Riley told me. "It is a bit less surprising, then, that he would have a hard time tearing himself away." MSNBC and Fox News are cashing in on Trump's viewing habits, reportedly hiking up ad rates in February "as companies and outside groups try to influence Trump and his top lieutenants" through ads on his favorite networks."
(Comparisons to President Reagan have little merit) "Mainly, Reagan was a reader. "He literally invented Tom Clancy," Shirley told me, adding that 
The Hunt for Red October
, Clancy's breakout novel, became successful "really just because Reagan happened to be reading it." The president also kept a daily diary and sent handwritten letters to colleagues and constituents nearly every day." 
"America's recent commanders-in-chief didn't attempt to keep up. They knew "there were more important things for a president to do than watching television," Riley said. "What I'm hearing is this is not a lesson that President Trump has yet come by."
Here is a link to entire article: Fox News, Twitter, and President Trump's Cable News Addiction