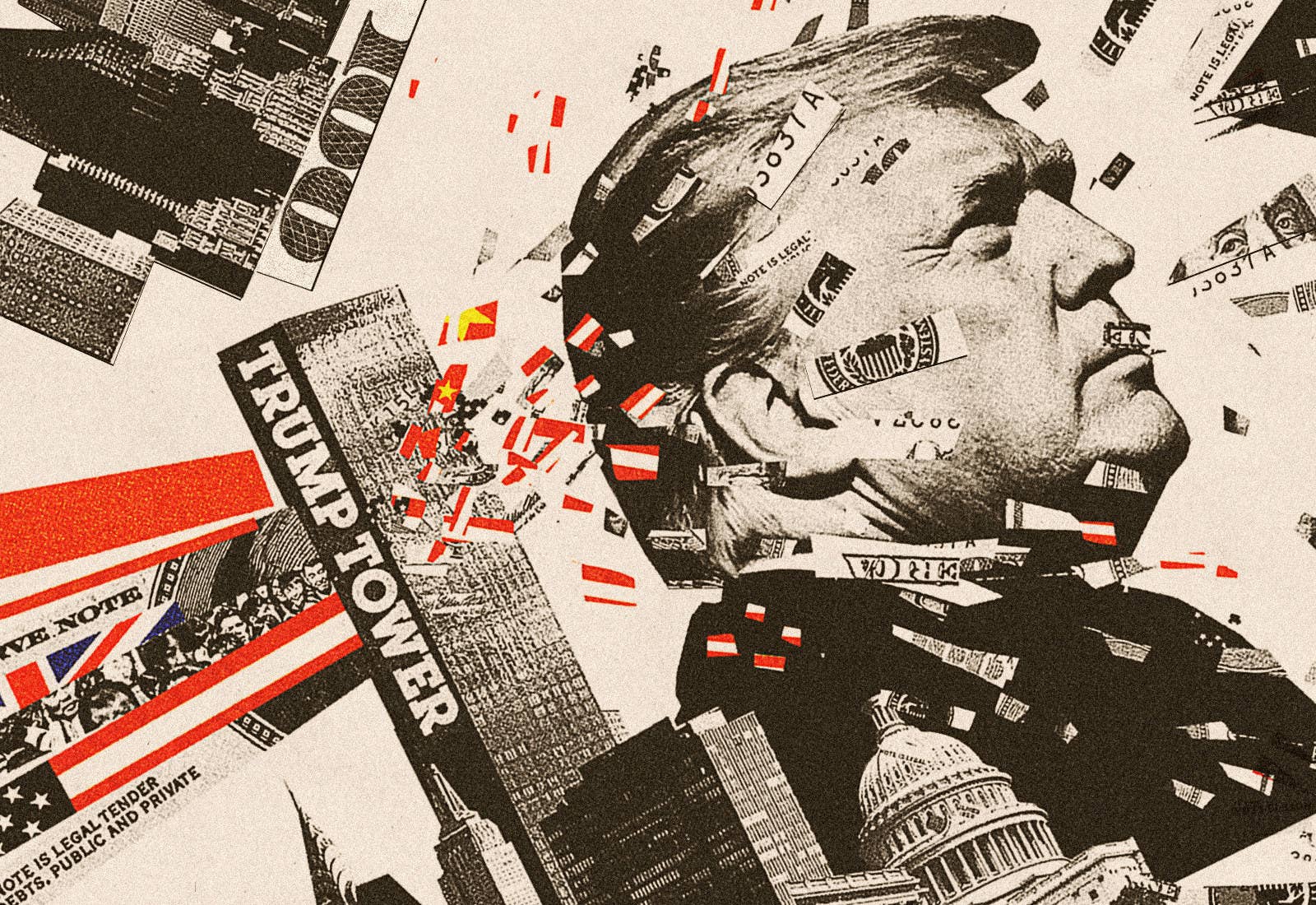 BuzzFeed's research indicates that more than 1,300 Trump condominiums were bought not by people but by shell companies or LLCs, and that the purchases were made without a mortgage, avoiding inquiries from lenders. Some of these properties were resold within a 6 month's time frame. When the properties are valued in the millions of dollars, then experts consider these factors to be possible signs of money laundering.
For me, another factor would be the number of Russian oligarchs who purchased the president's condos who exhibit all of the above signs. I suspect that this is just one money trail that is being followed by the FBI.  According to BuzzFeed, Trump condo sales reportedly are under scrutiny by the FBI's Special Counsel Robert Mueller, whose team includes Justice Department prosecutor Kyle Freeny, a money-laundering expert.
Here's the rest of the story…
On January 12, 2018, Thomas Frank of Buzzfeed penned the following report, "Secret Money: How Trump Made Millions Selling Condos To Unknown Buyers."("A BuzzFeed News review of every sale of a Trump-branded condominium in the United States provides the first comprehensive look at how many went to unidentified buyers who paid cash, an indication of possible money laundering.")
More than one-fifth of Donald Trump's US condominiums have been purchased since the 1980s in secretive, all-cash transactions that enable buyers to avoid legal scrutiny by shielding their finances and identities, a BuzzFeed News investigation has found.
Records show that more than 1,300 Trump condominiums were bought not by people but by shell companies, and that the purchases were made without a mortgage, avoiding inquiries from lenders.
"Those two characteristics signal that a buyer may be laundering money, the Treasury Department has said in a series of statements since 2016. Treasury's financial-crimes unit has, in recent years, launched investigations around the country into all-cash shell-company real-estate purchases amid concerns that some such sales may involve money laundering. The agency is considering requiring real-estate professionals to adopt anti-money-laundering programs."
"All-cash purchases by shell companies do not by themselves indicate illegal or improper activity, and they have become more common in recent years in both Trump buildings and other luxury home sales across the United States. Developers such as Trump have no obligation to scrutinize their purchasers or their funding sources."
"But federal investigations "continue to reveal corrupt politicians, drug traffickers and other criminals using shell companies to purchase luxury real estate with cash," Treasury's former financial-crimes chief Jennifer Shasky Calvery said at a Capitol Hill hearing in 2016."
"Treasury's Financial Crimes Enforcement Network (FinCEN) broadcast that concern in an August 2017 advisory to the real-estate industry warning that all-cash real-estate purchases by shell companies are "an attractive avenue for criminals to launder illegal proceeds while masking their identities."
"Trump condo sales that match Treasury's characteristics of possible money laundering totaled $1.5 billion, BuzzFeed News calculated. They accounted for 21% of the 6,400 Trump condos sold in the US. Those figures include condos that Trump developed as well as condos that others developed in his name under licensing deals that pay Trump a fee or a percentage of sales."
"But a months-long BuzzFeed News examination of every Trump condominium sale in the US shows that such sales surged in the late 2000s and early 2010s, when some Trump businesses were in financial trouble and when Donald Trump Jr. made his now-famous remark about the Trump Organization seeing "a lot of money pouring in from Russia."
"The surge was driven by the opening of 11 Trump condo buildings between 2008 and 2010 as Trump shifted his real-estate business from developing high-rises to licensing them. Nine were Trump-licensed, and they drew hundreds of shell companies that paid an average of $1.2 million in cash for a condo. In six of the licensed buildings, cash-paying shell companies bought at least a third of the condos, records show."
"It's not clear how much Trump received from the sale of Trump-licensed condos, but when Trump announced his candidacy in 2015, he said his "real estate licensing deals" and other brands were worth $3.3 billion."
"At the Trump SoHo Hotel Condominium New York in Manhattan, 77% of the sales were to shell companies that paid cash. One of the project's Russia-born developers was convicted of money laundering in the 1990s. A pending lawsuit calls Trump SoHo a "monument to spectacularly corrupt money-laundering and tax evasion," though it says in a footnote that "there is no evidence that Trump took any part in, or knew of, their racketeering."
"Hundreds of the secretive Trump condo sales contain additional characteristics that FinCEN and experts warn may be indicative of money laundering."
"More than $205 million in sales were to corporations based in foreign jurisdictions known for keeping corporate records and banking information secret. The corporations were based mostly in the British Virgin Islands and Panama, two places the Treasury Department has linked to money laundering."
"Corporations registered in Delaware, which FinCEN says provides "the least transparency" with corporate records of any state, bought an additional 75 Trump condos in all-cash sales that totaled $129 million. "If the corporation is set up in places where there's some level of confidentiality, which includes Delaware, that's another red flag," John Madinger, a retired Treasury official and IRS special agent who investigated financial crimes, said about property sales."
"Eighty-three percent of the secretive sales occurred in markets that FinCEN is investigating for possible money laundering in real estate sales. In those markets – Manhattan, South Florida, and Honolulu – FinCEN is examining every luxury-home sale to a shell company that paid cash."
"At least 28 shell companies resold their Trump properties within six months of buying them in cash. The National Association of Realtors says that immediate resales can indicate money laundering, "especially if the resale price is significantly higher or lower than the original purchase price."
"At the Trump International Hotel and Tower in Manhattan, a shell company bought a nine-room condo for $2.26 million on Sept. 10, 1997, and sold it 8 weeks later to another shell company – for $3 million, a 33% gain."
"In Miami-Dade County, Florida, a shell company bought a two-bedroom condo in a Trump-licensed building on Aug. 12, 2010, for $956,768. The company sold the condo to another shell company for $525,000 that same day."
"Half of the secretive sales – with a total value of $769 million – were made to a particularly opaque type of shell company called a limited-liability company, or LLC, which FinCEN says is "inherently vulnerable to abuse."
"Thirty-nine secretive sales were for more than $5 million in current dollars – an amount that one anti-money-laundering advocate says should prompt a seller to scrutinize the buyer. All but 4 of the sales were in buildings that Trump developed, earning him $241 million."
"It's not that common for someone to buy expensive real estate with cash, and if it's a shell company, you want to find out who the buyer is and the sources of their funds," said Shruti Shah, vice president of programs and operations at the Coalition for Integrity, an anti-corruption group. "It could be illicit money from foreign corruption, drug trafficking, human trafficking."
"With their soaring glass facades, top-flight amenities and bold Trump logos, the condo buildings are the most visible symbol of the president's multi-billion-dollar business empire".
"Nine of the buildings are in Manhattan, 7 are in South Florida, and 1 each is in Chicago; Honolulu; Las Vegas; Jersey City, New Jersey; Stamford, Connecticut; and White Plains, New York."
 NYC Properties