Since when is it okay for the republican President Donald Trump and his sycophants in the White House and the US Congress to target a highly reputable FBI agent with malice just because his wife is a democrat who happened to have run for an elected post but lost.
Ever since the FBI agent came within the purview of the president, his work life has been made a living hell to the point where he has announced plans to retire as soon as he is eligible in 2018.
Apparently, it is now okay for the president to ask an employee, who he voted for in the last election.
Here is the rest of the story…
On January 23, 2018, Ellen Nakashima, Josh Dawsey and Devlin Barrett of the Washington Post penned the following report, "Trump asked the acting FBI director whom he voted for during Oval Office meeting."
Excerpts:
"Shortly after President Trump fired his FBI director in May, he summoned to the Oval Office the bureau's acting director for a get-to-know-you meeting."'
"The two men exchanged pleasantries, but before long, Trump, according to several current and former U.S. officials, asked Andrew McCabe a pointed question: Whom did he vote for in the 2016 election?"
"McCabe said he didn't vote, according to the officials, who like others interviewed for this article requested anonymity to speak candidly about a sensitive matter."
"Trump, the officials said, also vented his anger at McCabe over the several hundred thousand dollars in donations his wife, a Democrat, received for her failed 2015 Virginia state Senate bid from a political action committee controlled by a close friend of Hillary Clinton."
"McCabe, 49, who had been FBI deputy director for a little more than a year when James B. Comey was fired, is at the center of much of the political jockeying surrounding the investigation into potential coordination between Trump associates and the Kremlin. He has for a number of months been the subject of Trump's ire prompting   angry     tweets suggesting that the Russia probe is politically motivated by Democrats sore about losing the election."
"McCabe, who has spent more than two decades at the bureau, found the conversation with Trump "disturbing," said one former U.S. official. Inside the FBI, officials familiar with the exchange expressed frustration that a civil servant — even a very senior agent in the No. 2 position — would be asked how he voted and criticized for his wife's political leanings by the president."
"One person said the Trump-McCabe conversation is of interest to special counsel Robert S. Mueller III."
"The encounter is also the latest example of Trump erupting at a senior official, whether it is at Attorney General Jeff Sessions for recusing himself from the Russia probe, or White House counsel Donald McGahn for not doing more to quash the investigation early on."
"The Oval Office meeting happened shortly after Trump fired Comey following failed efforts by the president to get the FBI director to back off from the Russia probe. Before the May 9 dismissal, Trump had also sought a loyalty oath from Comey and was annoyed that the FBI director would not state publicly at the time that Trump was not personally under investigation."
" One White House official said Trump expressed his concerns to McCabe about his politics but consented to the official's becoming acting FBI director on the advice of others and because "there were no immediate better choices." Although the job had fallen to McCabe by default, Trump could have picked a different acting director."
 "
McCabe's wife, Jill McCabe, received nearly $500,000 in donations from a political action committee controlled by then-Virginia governor Terry McAuliffe, a close friend of Bill and Hillary Clinton who chaired Hillary Clinton's unsuccessful 2008 run for president."
"At the time of the donations, McCabe was assistant director of the FBI's Washington Field Office, and he recused himself from investigations involving Virginia political figures. A lawyer by training who specialized in counter-terrorism work, McCabe became Comey's deputy in February 2016, by which time the election his wife lost had been over for three months."
"But critics have questioned why he went on to oversee two critical cases related to Clinton — a probe into her use of a private email server while she was secretary of state and an investigation into donations made to the Clinton Foundation. At the end of October 2016, as the election neared and the FBI faced intense public scrutiny over McCabe's role, he recused himself from the Clinton probes."
"McCabe's conduct is now the subject of an investigation by the Justice Department's inspector general, and a report is expected sometime in the spring."
"Trump had a second meeting with McCabe in the Oval Office to interview him for the position of FBI director. That meeting was brief, as it was clear Trump had no intention of giving McCabe the job, said the first White House official."
"A year into his presidency, it is clear Trump still harbors a deep dislike of McCabe. Another White House official said Trump frequently complained about the FBI official, labeling him a Democrat. Over the past seven months or so, Trump has repeatedly tweeted criticisms of McCabe, erroneously saying McCabe headed the Clinton investigation while his wife was taking Clinton money for her state Senate campaign."
"When The Washington Post reported in December that McCabe planned to retire from the FBI in March once he becomes fully eligible for his pension, the president quickly tweeted out a fresh criticism of McCabe, again citing the campaign donations to his wife."
"In August, a former Justice Department senior official, Christopher A. Wray, became FBI director. In recent months, he has been under increasing political pressure to remove top officials linked to Comey."
"Sessions has pressed Wray to replace McCabe, as well as James A. Baker, until recently the general counsel. It is customary for a new director to bring in his own team. The political controversy surrounding Comey and those of his leadership team who remain at the bureau has increased the pressure on Wray."
"Dana Boente, the U.S. attorney in the Eastern District of Virginia who is acting head of the Justice Department's national security division, has been selected to be the FBI's next general counsel, according to people familiar with the matter. He replaces Baker, who was reassigned late last year."
"Boente is a veteran federal prosecutor who has led multiple U.S. attorneys' offices around the country and has risen to prominence in a variety of acting roles in the Trump administration. When Trump fired acting attorney general Sally Yates over her refusal to defend his travel ban, Boente took over and said he would defend the measure."
"When Sessions was sworn in as attorney general, Boente became the deputy attorney general, and after that, the acting head of the national security division."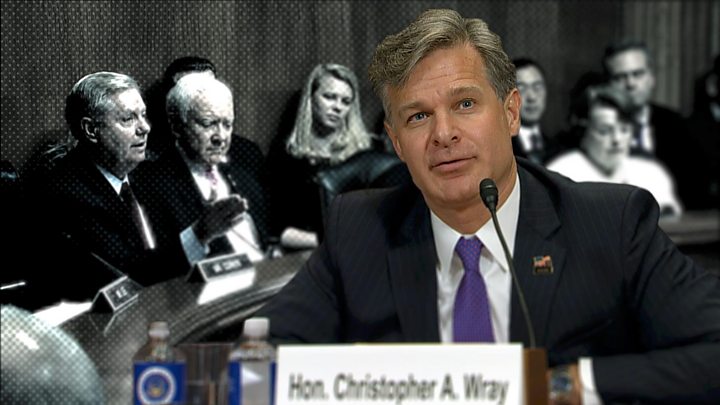 "Wray also will replace his chief of staff, James Rybicki, with Zachary J. Harmon, a colleague from the law firm where Wray was a partner before joining the bureau. Harmon is a former federal prosecutor who heads the anticorruption practice at King & Spalding."
"Harmon also worked in the deputy attorney general's office in the administration of George W. Bush and helped the FBI rebound from the Robert Hanssen spy scandal. Hanssen, an FBI agent, was accused of leaking secrets to Russia over 22 years until his arrest in 2001."
"Asked whether there needs to be a staff shake-up at the FBI, White House spokeswoman Sarah Huckabee Sanders said Tuesday, "We have 100 percent confidence in Director Wray. If anybody will make that decision, it's the director. We'll leave that in his hands."
[Sessions tries to impress Trump with moves at Justice. It hasn't worked.]