Most US states allow men and women who have served their incarceration and parole time to regain their rights to vote. There are three states left that have not given this right back to Americans who have paid their debt to society without strict restrictions. This is a big deal.
As per a 3/16/16 Reuters report by Ian Simpson, "Of the 5.8 million Americans banned from voting, 2.2 million are African-American, according to the group. In three states – Virginia, Florida and Kentucky – more than a fifth of black residents outside of prison are barred from casting a ballot. About 13 percent of the U.S. population is African-American."
"The United States has a patchwork of state laws governing felons' voting rights, many dating from the 19th century. They range from two states – Maine and Vermont – that allow prison inmates to vote, to the lifetime bans."
"As per ProCon.org November 2017 update:
20 states: Vote restored after prison term, parole, and probation
4 states: Vote restored after prison term and parole
14 states & DC: Vote restored after prison term
2 states: May vote from prison"
Three states now require the individuals to petition to the court for the restoration of voting rights after all offenses which are Florida, Iowa, and Kentucky. Virginia was in this group but in April 2016, the rules changed for this state when Gov. McAuliffe issued an executive order restoring voting rights to Virginians with felony convictions who had completed the terms of their prison time  and any period of supervised release (probation or parole).
As per Wikipedia, "As of 2008 over 5.3 million people in the United States were denied the right to vote due to felony disenfranchisement. In the national elections in 2012, the various state felony disenfranchisement laws together blocked an estimated 5.85 million felons from voting, up from 1.2 million in 1976. This comprised 2.5% of the potential voters in general. The state with the highest number of disenfranchised voters was Florida, with 1.5 million disenfranchised."
Re-enfranchising felons has drawn political bedfellows from both sides of the aisle, with the American Civil Liberties Union aligned with Mark Holden, and the general counsel for Koch Industries, the conglomerate of the conservative political donors Charles and David Koch.
For Florida, famous for its close elections, the re-enfranchising of felons could swing the state more blue (democratic) if they were to regain their right to vote. It could have made the difference in the 2000 presidential elections when Al Gore lost to George Bush.
In Florida, for the year of 2018 there will be a ballot referendum to re-enfranchise felons. But a federal court also recently intervened by ending Florida's ban on former felons right to vote."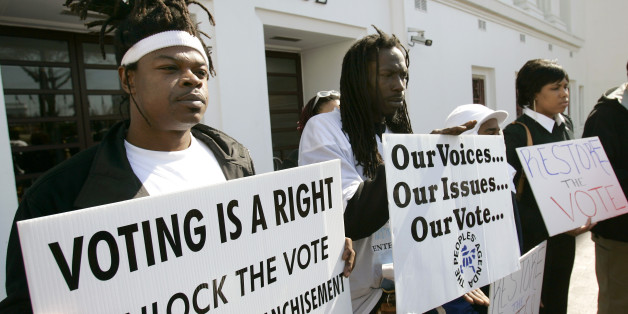 Here is the rest of the story…
On February 2, 2018, NewsTalk published the following report, "Federal Judge Knocks Down Florida's Voting Ban For Ex-Felons"
Excerpts:
"In a ruling that could have reverberations on this year's crucial elections, a federal judge Thursday (2/1/18) ruled that Florida's current ban on former felons voting is unconstitutional and needs to be changed as soon as possible."
"U.S. District Judge Mark Walker issued a blistering ruling that says the state's current process to restore voting rights — which can take years — is flawed. The lawsuit was filed last year against Gov. Rick Scott by a voting rights organization on behalf of several people who had completed their prison sentences but had their request for voting rights turned down."
"Walker, who was appointed by President Barack Obama, said he will decide soon what Florida should do to fix the process. His 43-page ruling blasted Scott and state officials for the current system in place."
"A person convicted of a crime may have long ago exited the prison cell and completed probation," Walker wrote. "Her voting rights, however, remain locked in a dark crypt. Only the state has the key — but the state has swallowed it."
"John Tupps, a spokesman for Scott, defended the process and suggested that an appeal was likely."
"The governor believes that convicted felons should show that they can lead a life free of crime and be accountable to their victims and our communities," said Tupps. "While we are reviewing today's ruling, we will continue to defend this process in the court."
"The ruling comes just months before Florida voters will be asked to alter the current ban. Backers of a constitutional amendment last week won a place on the November 2018 ballot. If sixty percent of voters approve, most former prisoners would have their rights automatically restored."
"For decades, Florida's constitution has automatically barred former felons from being able to vote once they leave prison. The state's clemency process allows the governor and three elected Cabinet members to restore voting rights, although the governor can unilaterally veto any request."
"Walker said in his ruling that the automatic ban is legal, but added the process can't be arbitrary, or swayed by partisan politics. He noted for example that Scott and the Cabinet restored voting rights to a white man who had voted illegally but told Scott that he had voted for him. Walker also pointed out that others who acknowledged voting illegally — but were black — had their applications turned down."
"Florida's current process for restoring voting rights to felons who have completed their sentences is a slow one. It requires a hearing, and applicants are often denied. Shortly after taking office in 2007, then-Republican Gov. Charlie Crist convinced two of the state's three Cabinet members to approve rules that would allow the parole commission to restore voting rights for non-violent felons without a hearing. Within a year, more than 100,000 ex-felons were granted voting rights."
"But Gov. Rick Scott and Attorney General Pam Bondi pushed to end automatic restoration of voting rights as one of their first acts upon taking office in 2011. Most former felons have to wait at least five years before they can even apply to have their rights restored. Over the last seven years less than 3,000 former prisoners have had their rights restored."
"Today a federal court said what so many Floridians have known for so long — that the state's arbitrary restoration process, which forces former felons to beg for their right to vote, violates the oldest and most basic principles of our democracy," said Jon Sherman, an attorney with the Fair Elections Legal Network. "While the court has yet to order a remedy in this case, it has held in no uncertain terms that a state cannot subject U.S. citizens' voting rights to the limitless power of government officials."
"Florida's ban on ex-felon voting — along with a voting list purge that took some non-felons off voting rolls — likely cost then-Vice President Al Gore the 2000 presidential election. Republican George W. Bush won Florida that year, and thus the White House, by 537 votes in an election that took five weeks to sort out."
"Before the 2000 election, then-Secretary of State Katherine Harris hired a company to purge felons from the state's voting lists. But the process was flawed and many eligible voters were removed from rolls because of mistaken identity. Others were convicted of misdemeanors and not felonies."