As per a 2/15/18 CNN report by Elliott McLaughlin and Madison Park, "On social media, Nikolas Cruz did not appear to be a peaceful man. He made quite clear his desire to perpetrate the exact type of violence of which he now stands accused."
"Before he allegedly committed one of the worst mass shootings in US history at a Parkland, Florida, high school on Wednesday (2/14/18), police officials say Cruz wrote social media posts so threatening he was twice reported to the FBI."
"He hurled slurs at blacks and Muslims, and 
according to the Anti-Defamation League
, had ties to white supremacists.
He said he would shoot people with his AR-15 and singled out police and anti-fascist protesters as deserving of his vengeance. Just five months ago, he stated his aspiration to become a "professional school shooter."
 "Yet on the morning of 
the massacre, 
the family that took the 19-year-old into their home didn't notice anything terribly strange about the young man's behavior, the family's attorney said Thursday. "(He was driven by a Uber driver to the Parkland HS.)
"The only thing abnormal was that he didn't get up for his adult GED class. Normally, the father would take him to class on the way to work, but when they tried to wake Cruz up Wednesday, he said something like, "It's Valentine's Day. I don't go to school on Valentine's Day," according to the lawyer."
"They just blew it off," attorney Jim Lewis said. "This is some 19-year-old that didn't want to get up and go to school that day, and (they) left it at that."
"The family took Cruz in last year after his adoptive mother died. Cruz was depressed, Lewis said. The family's son knew Cruz, so they opened their home, got him into a GED class and helped him get a job at a Dollar Tree, the lawyer said." (Dad had died in 2004.)
"He seemed to be doing better," Lewis said."
"Lewis characterized the texts as, "How you doing? What's going on? Yo, you coming over later?" That kind of stuff. Nothing to indicate anything bad was going to happen."
"Cruz had a gun. The family knew that, but they had established rules. He had to keep it in a lockbox in his room. Cruz had the key to the lockbox, the attorney said."
"This family did what they thought was right, which was take in a troubled kid and try to help him, and that doesn't mean he can't bring his stuff into their house. They had it locked up and believed that that was going to be sufficient, that there wasn't going to be a problem. Nobody saw this kind of aggression or motive in this kid, that he would ever do anything like this," Lewis said."
"Prior to the mass shooting that left 17 adults and children dead at Marjory Stoneman Douglas High School, Cruz had exchanged texts with the son, who was a student there."
On February 15, 2015 of BBC News penned the following report, "Florida shooting: FBI and teachers warned about Nikolas Cruz"
Excerpts:
"The FBI has confirmed that it was warned about the teenager who allegedly carried out a mass shooting at his former school in Florida."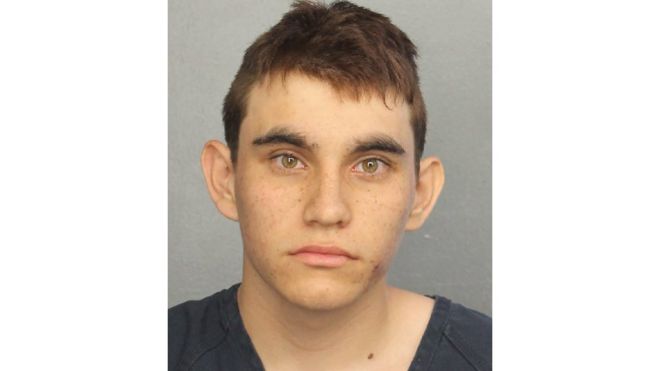 ""Nikolas Cruz, who has been charged with 17 counts of premeditated murder, reportedly left a comment on a YouTube video last year stating: "I'm going to be a professional school shooter."
"A user alerted authorities to the post."
Teachers were also warned about Mr Cruz, who was not allowed on campus with a backpack, US media report."
"The FBI said it had investigated the YouTube comment but had been unable to fully identify the person who posted it."
"Seventeen people were killed and many more were injured in the attack at Marjory Stoneman Douglas High School in Parkland, Florida. Several people are in a critical condition."
"Expressing his condolences on Thursday, US President Donald Trump said he was "making plans to visit" Parkland."
What were the warnings?
"After seeing a comment on a YouTube post last year by Mr Cruz, 19, user Ben Bennight contacted the FBI and spoke to representatives for about 20 minutes."
"Mr Bennight said the FBI contacted him again following the school shooting in Parkland."
"The FBI confirmed on Thursday that they were made aware of the comment, adding that they had conducted "checks" but were unable to identify the person behind it."
"Meanwhile maths teacher Jim Gard told the Miami Herald newspaper that school authorities had emailed teachers about Mr Cruz's behaviour."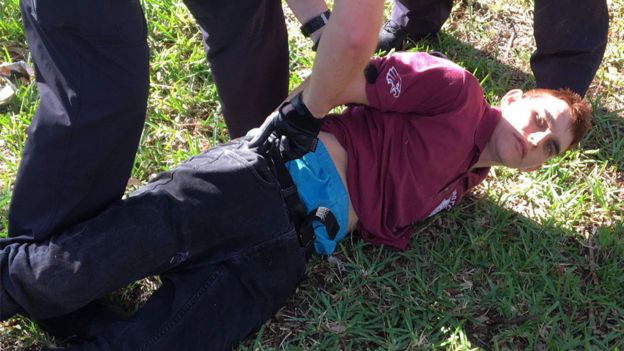 "We were told last year that he wasn't allowed on campus with a backpack on him," Mr Gard told the Miami Herald.
"There were problems with him last year threatening students, and I guess he was asked to leave campus."
"It is unclear why Mr Cruz was expelled from the school. Former schoolmate Joshua Charo said Mr Cruz had been found with bullets in his backpack."
"I can't say I was shocked," Mr Charo said after the shooting."
"He seemed like the kind of kid who would do something like this."
"Other students echoed that opinion. "Everyone predicted it," one told local station WFOR."
"But police said they had not been warned of a possible attack by Mr Cruz."
What else do we know about the suspect?
"Broward County Sheriff Scott Israel said Mr Cruz's social media profiles were "very, very disturbing".
"Two separate Instagram accounts, now deleted, purport to show Mr Cruz posing with guns and knives."
"Mr Cruz allegedly used an AR-15 rifle in the attack, which he had reportedly bought legally."
"ABC reported that Mr Cruz has links with a white supremacist group, Republic of Florida." (I have not been able to verify this assertion. There are racist views on his laptop but nothing about belonging to a specific group.)