I have been convinced for over a year now that the republican President Donald Trump is indeed a Russian asset. In addition, his sycophant republicans in the US Congress are aware of this, otherwise why would they have passed a veto proof law barring the president from ending current US sanctions against Russia without congressional review? (See: Dear Republicans, Are You Colluding With A Russian Asset )
They now have confirmation. In August 2017, the legislators in both houses of the US Congress passed the above bill which included instructions for the president's administration to enact even more sanctions against Russia, as a direct punishment for Russia's interference in the 2016 presidential election. This law, which passed with overwhelming bipartisan support in Congress and which President Trump signed into law required the administration to identify which Russian entities would be penalized with new sanctions by October 1. As of March 2018, President Trump's administration has not acted. There is no excuse for this delay except one.
The measure, known as the "Countering America's Adversaries Through Sanctions Act (CAATSA)", required the administration to list "oligarchs" close to the Russian President Putin's government and to issue a report detailing possible consequences of penalizing Russia's sovereign debt.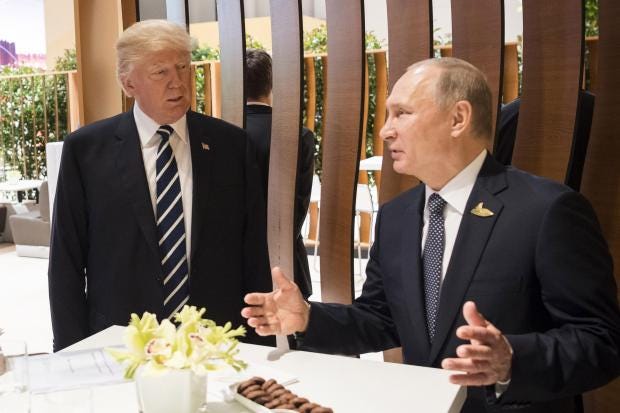 The republican led US Congress has yet to address the president's lack of due diligence regarding its directive to enact additional sanctions against Russia, nor has it taken any steps to enact legislation to at least insure that all the US voting machines, including electronic ones, allow for a paper trail for auditing purposes as in bill S.2261, written to protect the integrity of the US voting infrastructure.
I'm convinced that these same republicans are now knowingly abetting a Russian asset living in the White House. This could explain all their recent strategies and tactics implemented to disparage the FBI and its work produce pertaining to the Trump-Russia probe being led by the Special Counsel Robert Mueller III. They have to be worried about what this investigation will reveal.
According to recent news reports, the Special Counsel Mueller has possession of a personal letter sent to Russia's President Vladimir Putin by President Trump in 2013. This has significance for me, in that I have to question how this item ended up being in the hands of the FBI. This was the year when Mr. Trump held the Miss Universe Contest in Moscow. The tie in to later events has to do with the pop star Emin's British born agent Rob Goldstone who also set up the now infamous June 2016 Trump Towers meeting.
Here's the rest of the story…
On March 9, 2018, Shane Harris, Rosalind S. Helderman, and Karoun Demirjian of the Washington Post penned the following report, "In a personal letter, Trump invited Putin to the 2013 Miss Universe pageant"
"Donald Trump was so eager to have Vladi­mir Putin attend the 2013 Miss Universe pageant in Moscow that he wrote a personal letter to the Russian president inviting him to the event, according to multiple people familiar with the document."
"At the bottom of the typed letter, Trump scrawled a postscript adding that he looked forward to seeing "beautiful" women during his trip."
"Trump's letter to Putin, which was described by people with knowledge of its contents, shows how interested he was in attracting the personal attention of the Russian president. The real estate magnate, who owned the Miss Universe pageant, wrote the note at a time when he was looking to expand his brand to Russia."
"The letter, the first known attempt at direct outreach by Trump to Putin, has been turned over to investigators probing Russia's interference in the 2016 campaign. It is unclear whether Trump's missive was ever delivered to the Russian president — and if so, whether Putin responded."
"In a June 18, 2013, tweet, Trump wrote: "Do you think Putin will be going to The Miss Universe Pageant in November in Moscow — if so, will he become my new best friend?"
"The pageant was part of a years-long effort to bring the Trump name to Russia. Trump has repeatedly sought to build a tower in Russia since the late 1980s, without success."
"But in 2013, a new opportunity emerged through another business he owned: the Miss Universe pageant."
"Trump was approached by billionaire Moscow developer Aras Agalarov and his pop star son, Emin, who said they would pay to bring Miss Universe to the Russian capital."
Trump was eager for Putin to attend the event, but the Russian president canceled a planned appearance at the last minute, Aras Agalarov told The Washington Post in a 2016 interview."
"That was a very complicated situation then, because I promised Trump he would meet Putin," Agalarov said.
"Instead, Putin sent a "friendly" letter and a gift of a Russian lacquered box, he said. "So he was leaving with very warm feelings," Agalarov said. "He was very happy."
"During the pageant, Trump suggested that Putin was following the event and Trump's role in it. "I do have a relationship, and I can tell you that he's very interested in what we're doing here today," Trump told MSNBC while in Moscow."
"Investigators for special counsel Robert S. Mueller III have asked witnesses questions about the Miss Universe pageant and Trump's interest in having Putin attend the event, according to people familiar with the inquiry."
"Mueller's team also has examined Trump's relationship with the Agalarovs, which extended beyond the 2013 pageant."
"In June 2016, a music promoter representing Emin Agalarov emailed one of Trump's sons, Donald Trump Jr., and asked if he would meet with a Russian lawyer who the promoter said could give him damaging information about Democratic presidential candidate Hillary Clinton."
"If it's what you say I love it especially later in the summer," Trump Jr. responded. Days later, he met with the lawyer at Trump Tower in New York. A U.S.-based employee for the Agalarovs (Rob Goldstone) also attended, as did Donald Trump's son-in-law Jared Kushner and then-campaign chairman Paul Manafort. Trump Jr. has said that no information about Clinton was provided at the meeting."
"Over the years, Donald Trump has offered inconsistent stories about whether he met Putin before he became president."
"In October 2013, a month before the Miss Universe pageant, he told late-night host David Letterman that Putin was a "tough guy" and that he had "met him once."
"During a Republican primary debate in November 2015, Trump said that he knew Putin "very well."
"But in July 2016, he told a CBS affiliate in Miami, "I've nothing to do with Russia, nothing to do, I never met Putin, I have nothing to do with Russia whatsoever."
"By that time, Russia was widely suspected of stealing emails from the Democratic National Committee, which had been published by WikiLeaks."
"I don't know who Putin is," Trump said at a news conference the same day. "He said one nice thing about me. He said I'm a genius. . . . I never met Putin."