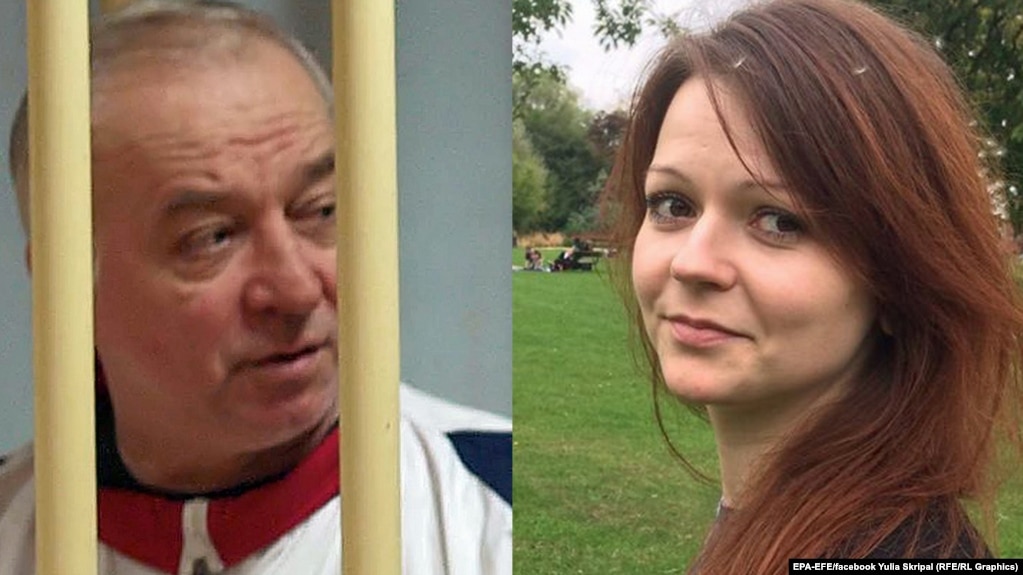 It is going to take the UK officials to show the GOP in the USA, how to react appropriately when your country has been attacked by Russia. In this case, around the 4th of March 2018, 2 individuals living in the UK were attacked by Russian operatives with a chemical weapon which is alleged to be formulated in Russia. On the 12th day of March 2018, the UK's Prime Minister has given Russian Officials until the end of day on the 13th to respond to her accusation, that an "unlawful use" of force by the Russian state was executed against the United Kingdom to where a strong response is required.
In the USA, our entire elections' infrastructure in 2016 was under a full throttle attack by Russia, and according to our own US Intelligence officials, is still under attack, but the silent response by the GOP and the White House is deafening.
At what point, do our US republican legislators in the US Congress just write the letter -C- on their foreheads, "Coward." Oh, what the heck. Let's go for turn-coat, traitor, renegade, betrayer, and a bunch of "Benedict Arnolds." Why aren't republican legislators doing everything possible to prevent future similar type attacks from any foreign entity and/ or nefarious actors in 2018 and 2020?
For justication for my name-calling, please see: House Republicans find no evidence of collusion as they wrap up/ USA Today 
Here is the rest of the story…  
On March 12, 2018, Alex Ward of VOX penned the following report, "The UK prime minister says Russia tried to assassinate an ex-spy on UK soil"
Excerpts:
"UK Prime Minister Theresa May on Monday (3/12/18) said it was "highly likely" that Russia was behind a mysterious chemical attack on a former Soviet double agent last week — a strike that threatens to increase tensions between London and Moscow."
"Here's what happened: On March 4, Sergei Skripal, a former Soviet and Russian spy, was found unconscious on a bench alongside his daughter Yulia. According to May, he was poisoned with a nerve agent known as "Novichok," perhaps at an Italian restaurant or pub in Salisbury, southern England, where he lives."
"Novichok is part of a group of nerve agents considered to be the most lethal in the world, and the Russian government has been producing it for decades."
"In a statement, May requested that Russia help her government understand exactly what happened. If Moscow doesn't comply, the UK will consider the poisoning to be "an unlawful use of force by the Russian state against the United Kingdom," May told the British Parliament."
 "
In the meantime, UK Chancellor Philip Hammond indicated that Britain might 
impose sanctions on Russia
 because of the attack. If that happens, London could mimic the US's 
Magnitsky Act
 sanctions, the 2012 measure that allows Congress members to place travel restrictions and financial penalties on foreign officials who abuse human rights."
"If this happens, May would probably target Russian oligarchs, access to British banks, and perhaps even military officials with ties to the chemical program, experts told me."
"It's also possible that the effects of the attack will spread. British authorities are recommending that around 500 people wash their clothes, rinse off their glasses, and clean their cellphones with baby wipes because they may have been exposed to the nerve agent at the restaurant or pub."
"Both Skripal and his daughter are still in the hospital and are reportedly in dire condition."
"Even before May's announcement, experts I spoke to thought Moscow was at fault. "This is a classic Kremlin playbook [move]," Rachel Rizzo, a European security expert at the Center for a New American Security think tank, told me."
"Russia, meanwhile, denies any involvement in the attack, calling May's account a "fairy tale." A Kremlin-sponsored TV show has even claimed that Britain poisoned Skripal as a way to undermine Russia's hosting of the World Cup in June and July."
"But that seems unlikely. Russia has a history of targeting people in the UK that the Russian government believes are enemies of the state."
Who is Sergei Skripal?
"Skripal may be one of the most important turncoats you've never heard of."
"He was a member of a Russian intelligence service, known as the GRU, who was convicted in 2006 of handing over the names of 300 Russian agents to the British. Skripal admitted to helping UK spies for at least a decade."
"But in 2010, the US and Russia swapped the largest number of spies since the end of the Cold War, and Skripal was among them. He then settled into a fairly modest life in a Salisbury cul-de-sac. Some unconfirmed reports suggest Skripal received official warnings that his life was in danger before the March 4 attack, but he apparently changed nothing about his lifestyle."
"Other unconfirmed reports say Skripal had a large amount of money in his bank account, and that there are phone records connecting him to a British spy in Estonia, perhaps the agent that recruited him to work for the UK."
"It's unclear if Skripal ever spoke out against Putin or the Russian government, and it's especially unclear why Russia would target him now. But Evelyn Farkas, a former top Pentagon official focused on Russia, thinks Skripal may have been on a Russian list for some time: "This looks to me like he's on a list of former spies and former Kremlin cronies who Moscow likes to eliminate as a sign that you have to stay loyal."
"That list, sadly, is seemingly quite long."
"We've seen this happen before, and we'll see it happen again"
"The attack on Skripal isn't an isolated incident. Russia has a longstanding campaign to identify and kill Russian dissidents living in the UK."
"US intelligence links at least 14 deaths in the UK to Russia, including outspoken oligarchs and journalists. "We know the Russians have an active program of killing people in the UK that they don't like," a British intelligence officer told Steven Hall, a former CIA official focused on Russia, according to BuzzFeed News."
"The Skripal case has already drawn comparisons to one of those murders: that of Alexander Litvinenko, a former Russian spy and defector to the UK. In 2006, two Russian agents put polonium-210 — a highly radioactive chemical — in Litvinenko's tea at a London hotel bar. It took weeks for Litvinenko to die, and he blamed Putin for orchestrating the attack."
"You may succeed in silencing one man," Litvinenko said from his hospital bed, "but the howl of protest from around the world will reverberate, Mr. Putin, in your ears for the rest of your life." Russia continues to deny any involvement."
"There are other cases as well. In 2013, Boris Berezovsky, then a Russian oligarch, died on a bathroom floor in his home outside London. Berezovsky was a Putin critic — at one point, he called for a coup against Putin — who blamed the Kremlin for Litvinenko's death. Berezovsky eventually tried to go back to Russia, but he died before Putin granted his request to return."
"That is why analysts suspected Russia from the start. "We've seen this happen before, and we'll see it happen again," Rizzo told me. "The question is: What does the West do about it?"
Will the US push back on Russia?
"As the UK lines up its response, it's unlikely that President Donald Trump will do much to counter Russia's aggression against one of America's top allies, because, as Farkas told me, "We really see Trump behaving abnormally when it comes to Russia."
"Recall that Trump's campaign is currently under investigation by special counsel Robert Mueller for possibly colluding with Russia during the 2016 presidential election."
"So it's unclear if Trump will join Britain in punishing Russia with sanctions, or what exactly the measure will be. But it's clear May feels her fellow citizens were attacked — and she will likely do something about it."