What kind of professional individual with a law degree would brag by self describing himself as a fixer, in the image of Ray Donavan. He is none other than the republican President Donald Trump's personal attorney Michael Cohen who has worked for him for over a decade.
I am convinced that he is a one of the key players who will help the FBI connect the dots with its Trump-Russia probe being led by Special Counsel Robert Mueller III.
I already have blogged on the  McClatchy report, a very reputable institution which has shared that the feds do have proof that Mr. Cohen was in Prague, Czechoslovakia via the Germany route during the late summer time frame of 2016. He has vehemently denied this for months even under oath in front of US Congress Intel Committee members.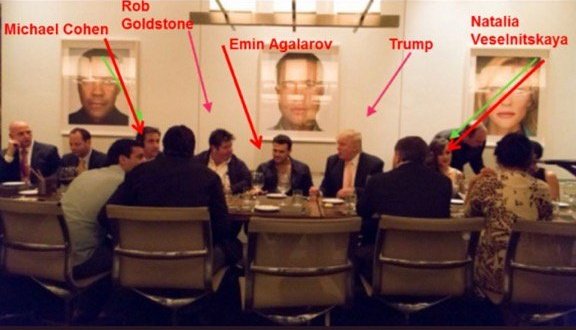 This piece of information is important because Mr.Cohen used this lie about a key fact to thrash the Christopher Steele's dossier created by a highly reputable retired MI6 agent with years of experience on Russian matters who was hired by the Fusion GPS executive and former Wall Street investigative reporter, Glenn Simpson.
See: Michael Cohen Prague visit? Why the allegation is so important-VOX
Before reading the below article, it is important to know that Ukraine had been a part of the Russian federation until 1991. Many from this region speak Russian and retain much of its culture. It would not be unusual for those from Ukraine to be mistaken for being Russian.
As per Wikipedia, "Ukraine officially declared itself an independent state on August 24, 1991, when the communist Supreme Soviet (parliament) of Ukraine proclaimed that Ukraine would no longer follow the laws of USSR and only the laws of the Ukrainian SSR, de facto declaring Ukraine's independence from the Soviet Union."
As per a 1/9/18 NBC News story by Alex Johnson tells the story of how vociferously Mr.  Cohen has worked to distance himself from the Steele Dossier describing denying his presence in Prague in 2016 to where he filed a lawsuit against BuzzFeed in January 2018 for having published it. "He has consistently and strongly  denied any personal role in Russia's involvement in the 2016 election, both publicly and when he appeared before the House and Senate intelligence committees in October."
"NBC News reported that Cohen told the committees that his reputation had been damaged by the "entirely and totally false" accusations in the "lie-filled dossier" about the Trump campaign, which was prepared by Christopher Steele, a former British intelligence agent, for Fusion GPS, an opposition research firm."
"Let me be totally clear that the allegations raised against me in the public square and raised largely by BuzzFeed, Fusion GPS and others in the press are based upon misinformation, unnamed or unverifiable sources," Cohen said. "Their actions are so malicious, despicable and reckless, one can only presume that their motives were intentional."
"In the action, Cohen highlights several allegations in the dossier that he says are provably false. For example, the dossier claimed that Cohen's wife is Russian and that her father is a leading property developer in Russia, allowing Cohen to carry on a possibly criminal relationship with the Russian government."
"The suit says Cohen's wife was born in Ukraine, immigrated to the United States more than 40 years ago and "has never been to Russia." Her father, it says, has been to Russia only once."
As per 8/30/17 Newsweek report by Nina Burleigh, "Here are 10 memorable facts about Mr. Cohen:
1. "He has a law degree from Thomas M. Cooley Law School in Michigan, and he and his wife got rich in the (what some would refer to as sleazeball) world of New York City taxicab medallions."
2. "Cohen packs heat: The New York Times has reported that he carries a licensed pistol in an ankle holster."
3. "He has deep personal connections to Ukraine. He is married to a Ukrainian, as is his younger brother, Bryan. The brothers dabbled in Ukrainian business, and his name is on two family financial companies in Ukraine incorporated in 1998. He and his younger brother were directors of International Ethanol of Ukraine, according to 2006 filings, Bloomberg reported."
4. "Cohen once threatened to ruin a 26-year-old Miss USA contender who claimed the Trump-owned contest was rigged. "It's going to be my privilege to serve it to you on a silver platter like I did that idiot from Pennsylvania in Miss USA, because I think you're dumber than she is," Cohen told a reporter. "Sheena Monnin, another one that wanted to defame Mr. Trump and ended up with a $5 million judgment. That's going to be nothing compared to what I do to you." Monnin's father confirmed the threats."
MICHAEL COHEN HAS BEEN MARRIED OVER 23 YEARS WITH AN ADULT DAUGHTER AND SON5. "As of last year, Cohen didn't believe spousal rape is illegal. (It is illegal in all 50 states.) Responding to a call about Ivana Trump's claim in a divorce case deposition that Trump raped her, the lawyer replied: "[U]nderstand that by the very definition, you can't rape your spouse. You cannot rape your spouse. And there's very clear case law."
6. "Cohen likes to threaten journalists. "I will make sure that you and I meet one day while we're in the courthouse. And I will take you for every penny you still don't have," he said to a Daily Beast reporter who called him about the rape claim. "So I'm warning you, tread very fucking lightly, because what I'm going to do to you is going to be fucking disgusting. You understand me? You write a story that has Mr. Trump's name in it, with the word 'rape,' and I'm going to mess your life up…for as long as you're on this frickin' planet… You're going to have judgments against you, so much money, you'll never know how to get out from underneath it," he added. He also re-tweeted threats to Megyn Kelly: After she grilled Trump on his treatment of women, he called her a liar and retweeted "Let's gut her," as well as others calling her a "snake" and a "psycho."
Link to entire report: Michael D. Cohen: 10 Fun Facts About the President's … – Newsweek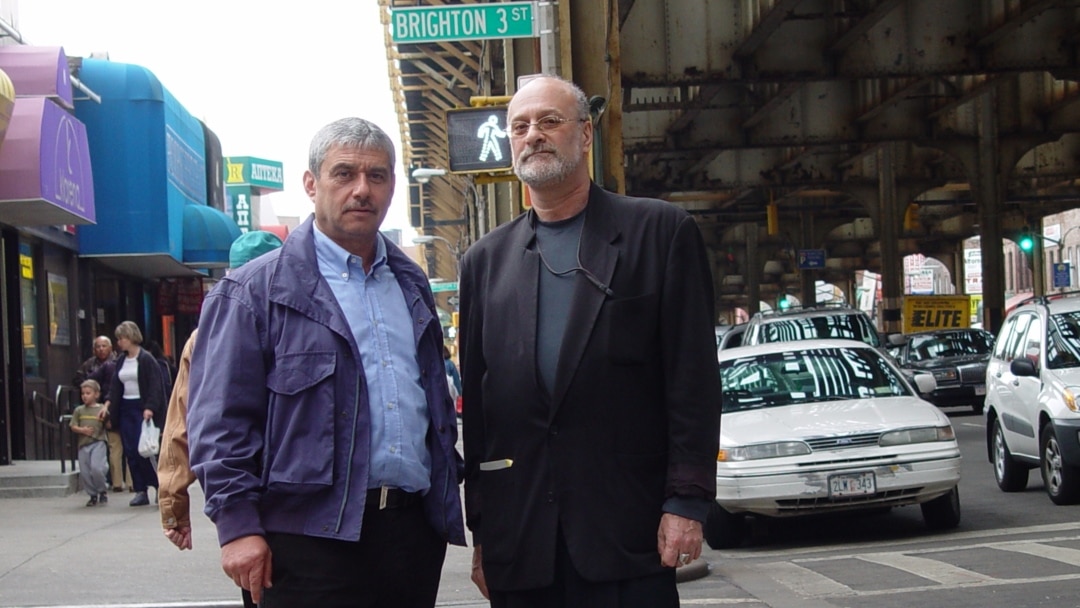 On April 10, 2018, Seth Hettena for the Rolling Stone penned the following report, "A Brief History of Michael Cohen's Criminal Ties"
Excerpts:
"From the Russian mob to money launderers, Trump's personal attorney has long been a subject of interest to federal investigators"
"Cohen joined the Trump Organization in 2006, and eventually became Trump's personal lawyer, a role once occupied by Roy Cohn, Senator Joseph McCarthy's heavy-lidded hatchet man during the Red Scare who advised Trump in the 1980s. Michael Cohen's bare-knuckled tactics earned him the nickname of "Tom," a reference to Tom Hagen, the consigliore to Mafia Don Vito Corleone in The Godfather. He grew up on Long Island, the son of a physician who survived the Holocaust in Poland, and like Tom Hagen spent a childhood around organized crime, specifically the Russian Mafiya. Cohen's uncle, Morton Levine, was a wealthy Brooklyn doctor who owned the El Caribe Country Club, a Brooklyn catering hall and event space that was a well-known hangout for Russian gangsters. Cohen and his siblings all had ownership stakes in the club, which rented for years to the first Mafiya boss of Brighton Beach, Evsei Agron, along with his successors, Marat Balagula and Boris Nayfeld. (Cohen's uncle said his nephew gave up his stake in the club after Trump's election.)"
"I spoke to two former federal investigators who told me Cohen was introduced to Donald Trump by his father-in-law, Fima Shusterman, a naturalized U.S. citizen from Ukraine who arrived in the U.S. in 1975. Shusterman was in the garment business and owned a fleet of taxicabs with his partners, Shalva Botier and Edward Zubok – all three men were convicted of a money-laundering related offense in 1993. "Fima may have been a (possibly silent) business partner with Trump, perhaps even used as a conduit for Russian investors in Trump properties and other ventures," a former federal investigator told me. "Cohen, who married into the family, was given the job with the Trump Org as a favor to Shusterman." ("Untrue," Cohen told me. "Your source is creating fake news.")"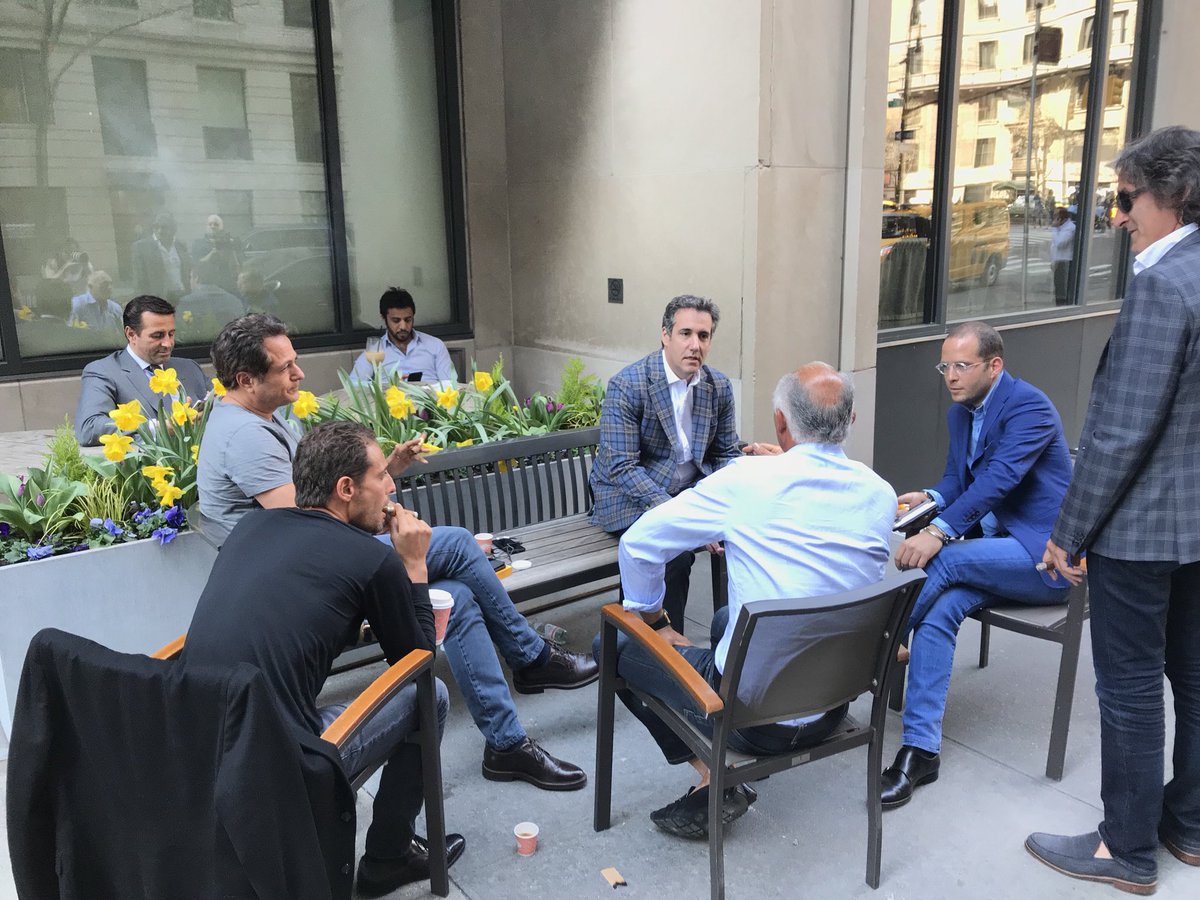 "Shusterman, who owned at least four New York taxi companies, also set his son-in-law up in the yellow cab business. Cohen once ran 260 yellow cabs with his Ukrainian-born partner, the "taxi king" Simon V. Garber, until their partnership ended acrimoniously in 2012. Glenn Simpson, the private investigator who was independently hired to examine Trump's Russia connections during the real estate mogul's presidential run, testified before the House Intelligence Committee that Cohen "had a lot of connections to the former Soviet Union, and that he seemed to have associations with organized crime figures in New York and Florida – Russian organized crime figures," including Garber."
A curious episode in Cohen's life came in 1999 when he received a $350,000 check from a professional hockey player named Vladimir Malakhov, who was then playing for the NHL's Montreal Canadiens. According to Malakhov, the check was a loan to a friend. The friend, however, swore in an affidavit that she never received the money and never even knew the check had been written until it was discovered years later in a Florida lawsuit. So what happened to the money? One interesting lead was an incident involving Malakhov, who was approached in Brighton Beach and shaken down for money by a man who worked for the Russian crime boss, Vyacheslav Ivankov. "Malakhov spent the next months in fear, looking over his shoulder to see if he was being followed, avoiding restaurants and clubs where Russian criminals hang out," according to testimony an unnamed Russian criminal gave to the U.S. Senate in 1996. Cohen, who said he didn't know Malakhov or anyone else in the case, offered his own theories as to the origin and fate of the check in a 2007 deposition with Malakhov's attorneys."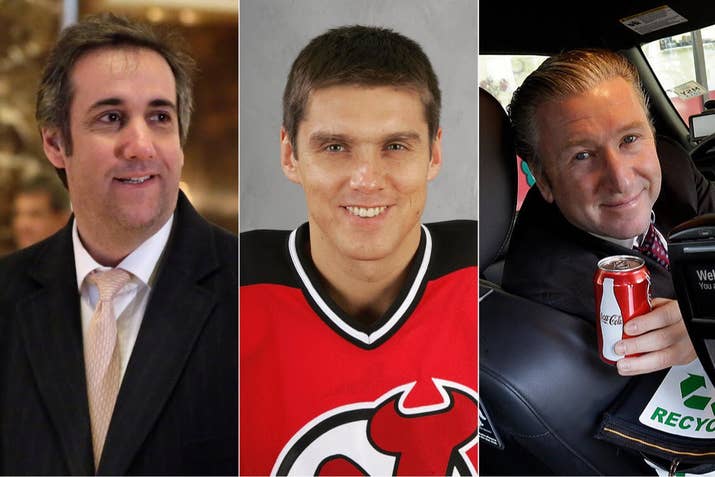 From left; Michael Cohen, the president's personal attorney; Vladimir Malakhov, a former NHL player; and Symon Garber, Cohen's partner and a taxicab magnate.
Q. "You don't recall why this check was written to you for $350,000 in 1999 and how these funds left your trust account in any way, shape or form?"
A: "Clearly Vladimir Malakhov had to have known somebody who I was affiliated to and the only person I can—and I mentioned my partner's name, Simon Garber, who happens also to be Russian."
Regardless of what he did or didn't know Cohen was able to purchase a $1 million condo at Trump World Tower in 2001, persuading his parents, his Ukrainian in-laws and Garber to do the same in other Trump buildings. Cohen's in-laws Fima and Ania Shusterman bought three units in Trump World Tower worth a combined $7.66 million (one of which was rented to Jocelyn Wildenstein, the socialite known as "Catwoman" for undergoing extreme facial plastic surgery to please her cat-loving husband). Cohen later purchased a nearly $5 million unit in Trump Park Avenue. In a five-year period, he and people connected to him would purchase Trump properties worth $17.3 million."
During Trump's presidential run, reporters noticed a curious thing about Cohen. Questions about Trump's business or his taxes went to his chief legal officer or another staffer, but Cohen handled questions about Russia. "One of the things that we learned that caught my interest," Simpson testified to Congress in November 2017, "serious questions about Donald Trump's activities in Russia and the former Soviet Union went to Michael Cohen, and that he was the only person who had information on that subject or was in a position to answer those questions."
Link to lengthy entire report: A Brief History of Michael Cohen's Criminal Ties – Rolling Stone