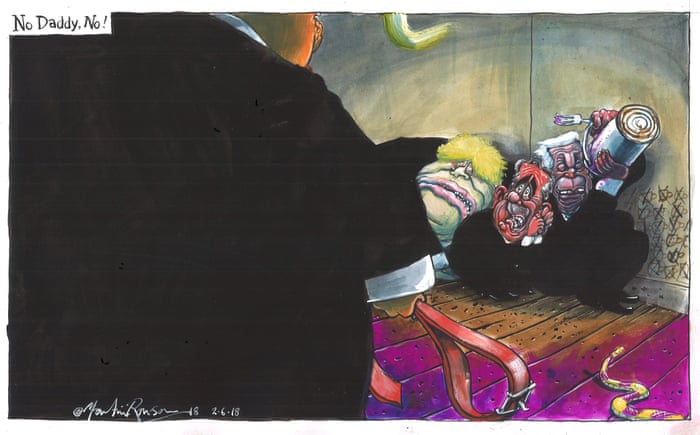 Let's get this straight. the republican Donald Trump is right on in singling out China for being a bad actor regarding its trade with the USA and other countries. This is a major reason that several countries came together to form a trade agreement TPP to tackle China's trade policies. By the time President Trump recognized this reality, his administration was advised that it was too late to join in the band wagon. Remember it was President Trump who decided to unilaterally withdraw from the TPP (Trans- Pacific Partnership) agreement.
Leaders from Mexico, Canada, Japan and other nations officially signed TPP on Thursday (8th of March 2018) at a ceremony in Santiago, Chile. The TPP countries are Australia, Brunei, Chile, New Zealand, Peru, Singapore, Vietnam, Japan, Malaysia, Canada and Mexico.
While the China's trade practices need to be addressed, the imposition of tariffs should be the last resort, not the first.
See: China's Threat to the U.S. – The Atlantic
But the major question that I have, is why is the president NOT just targeting China with tariffs on aluminum and steel products but instead, he has decided to also impose these tariffs on our neighbors and allies, Canada, Mexico and the EU (European Union). The president's administration is implementing a 25% tariff on steel and a 10% tariff on aluminum for imports from all these countries.
As per the March 3, 2018 Washington Post report, "Trump has accused China of forcing U.S. steel and aluminum companies to fold by inundating the market with cheaper materials. But Canada is the largest exporter of steel and aluminum to the United States, supplying $7.2 billion of aluminum and $4.3 billion of steel to the United States last year."
"Jean Simard, president of the Aluminum Assn. of Canada, said that his industry has been integrated into the U.S. economy for more than 50 years and that the Pentagon considers Canadian aluminum production a strategic military supply."
"There's no rationale," Simard said. "It doesn't make sense. It's just protectionism."
"We're by far the largest supplier to the U.S., with annual output of 3.2 million metric tons of aluminum coming from 10 Canadian smelters and 90% of that output heading south of the border. Canada supplies about half of U.S. aluminum requirements, according to the Aluminum Assn."
"Simard said that 9 of 15 U.S. aluminum smelters have closed in the past four years, but he blames their demise on a surge in Chinese production and the fact that they face high power costs and never have been modernized."
"In 2000, Canada accounted for 10% of global aluminum output and now accounts for 5%. China's share rose from 11% to 55% in the same period, according to the association."
"Not accustomed to being cast as the villain, Canadians are now finding themselves being considered a rival by the U.S. president, pollster Nik Nanos said."
The Canadian Prime Minister Justin Trudeau held a press conference (May 2018) where he detailed how Canada, Mexico and the US had been close to an agreement on an updated NAFTA deal but it was derailed at the last minute by Vice President Mike Pence who insisted on adding a 5 year sunset clause into the mix.
After Trump's announcement to enforce tariffs,  the Canadian Prime Minister Justin Trudeau forcefully responded by imposing his own $16.6 billion dollar tariffs on American goods.
He plans to also file a complaint for review of these tariffs with the (WTO) World Trade Organization where Canada and other countries may very well prevail. The president's justification for imposing these tariffs based on US national security interests simply doesn't pass the smell test upon close scrutiny.
It is important to note that there is no union, steel company, aluminum corporation within the USA in favor of imposing these tariffs on Canada? And so the million dollar question, is why is the president's administration pushing for these tariffs?
I am personally believing that President Trump is acting as a Russian asset when he imposes these tariffs on Canada, Mexico and EU countries. As per the 2017 wish list as depicted below, the president is right on target for Russia's mission #1 and #2.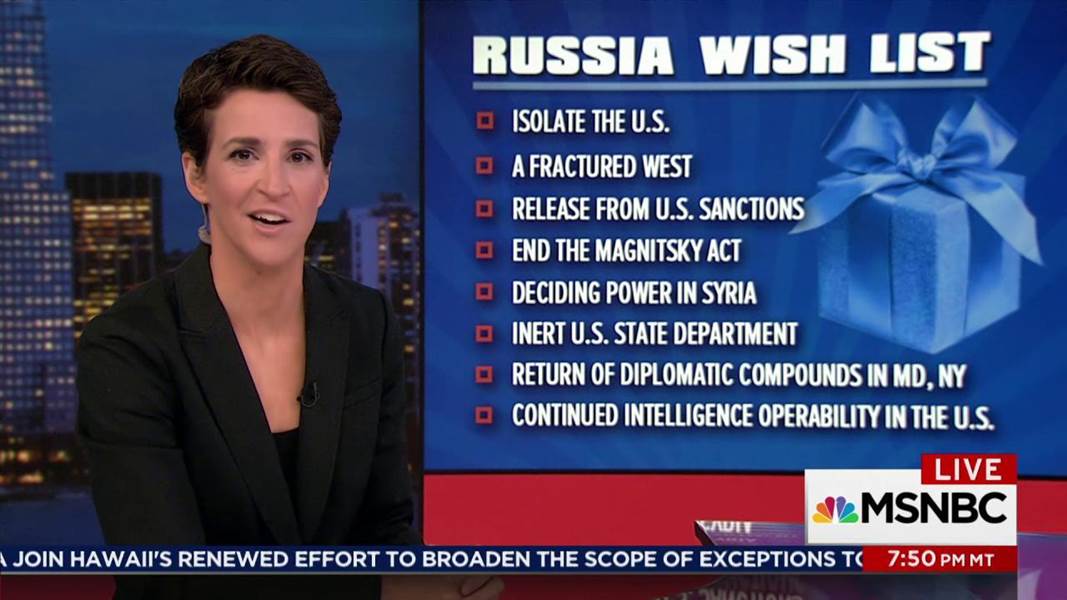 Here's the rest of the story on Peter Navarro who has the president'sear on trade issues…
On August 6, 2017, Zeeshan Aleem of VOX penned the following piece, "I read Trump's trade adviser's anti-China book. It's wilder than you can imagine." ("Peter Navarro doesn't want you to buy anything made in China")
Excerpts:
"Peter Navarro doesn't want you to buy toys that were made in China, because he believes they'll poison your children. He doesn't want you to buy pajamas sewn in China, because he thinks they could catch on fire. He doesn't want you to buy phones that were assembled in China, because he believes they could explode and kill you. In fact, he doesn't want you to buy anything at all from China, because he thinks every dollar the country receives will be spent on trying to destroy the US."
"Navarro isn't the disheveled eccentric you might find lurking on the fringes of a political demonstration, eagerly trying to stuff handmade pamphlets about the perils of globalization into your palm. He's one of the most powerful economic officials in the Trump administration."
"Navarro is the director of the National Trade Council, a newly created office in the White House. He's one of the main figures shaping the administration's trade policy as it struggles to balance the GOP's traditional commitment to free trade with Trump's stated belief that countries like China are gaming the system to improve their own economies at the expense of America's working class."
The stakes in the new administration's raging internal debate about trade are enormously high.
"But if Navarro and (the US Commerce Secretary Wilbur Ross) get their way, the Trump administration could potentially end up severely weakening the World Trade Organization and slapping big punitive tariffs on other countries in a forceful bid to restore American primacy in the trade world. Given that some of those tariffs could spark trade wars, it's not an exaggeration to say millions of American jobs hang in the balance. It's far from clear which side will ultimately prevail, but the president has taken Navarro's side during recent skirmishes in the West Wing over how to move forward on trade."
"Superficially, the two men couldn't appear more different. Navarro is a Harvard-educated economist and tenured professor at the University of California with an eye for policy details. Trump is a brash businessman who loves being on television and proudly brandishes his ignorance of how public policy works."
"But they have more in common than you'd think — indeed, Navarro's personality has been described by people close to him as a carbon copy of Trump's.
"Navarro has a flair for showmanship and adversarial bravado, and he revels in defying the status quo. During his many unsuccessful runs for public office in California prior to coming to Washington, he developed a reputation for being less than fair in his use of smear tactics. "I still have some principles," Navarro wrote in San Diego Confidential in 1998. "But not as many as you might think because I don't have any concern at all about making stuff up about my opponent that isn't exactly true." He's already brought that ethos to the job, accusing vital allies like Germany of suppressing the value of the euro to gain a trade advantage over the US (something that Germany cannot, and is not, doing)."
"They're 2 peas in the pod, I'm telling you," Beckie Mann, who managed Navarro's unsuccessful bid for mayor of San Diego, told Politico magazine while comparing Trump and Navarro."
"But their shared anxiety over China is where they connect most deeply, and it goes back many years. Trump lists Navarro's 2006 book The Coming China Wars as No. 6 on his list of "hundreds of books" he claims he's read about China. Trump was also a big fan of Death By China, Navarro's 2012 documentary that was based on the 2011 book he co-wrote with Greg Autry by the same name. In fact, Trump's praise for the film graces the top of the documentary's official website: "DEATH BY CHINA is right on. This important documentary depicts our problem with China with facts, figures and insight. I urge you to see it."
"But it turns out that Navarro's rabble-rousing in Washington about China and trade so far is fairly mild compared to the full scope of his beliefs about the country. Navarro is terrified by China, which he sees as a "heavily armed, totalitarian regime intent on regional hegemony and bent on global domination." He looks at it through the kind of lens that Washington once considered the Soviet Union."
And he'll be the first to tell you that the US should be ready to go to war with China at any moment.See:
Link to 2017 lengthy article: I read Trump's trade adviser's anti-China book. It's wilder than you can imagine 
See: Justin Trudeau Just Slammed "Insulting and Unacceptable" Trump /Mother Jones