This is big time news. A left leaning candidate Andrés Manuel López Obrador (AMLO) is now the new president of Mexico, based on the results of the 1st of July 2018 Mexican elections. It is too early to know with certainty as to how AMLO will work with USA officials. But we do know 2 facts. First Mexico will not pay for the republican President Donald Trump's south west border wall and that he has been highly critical of the US president.
Here's the rest of the story…
On July 1, 2018, Tom Phillips and David Agren of the Guardian penned the following report, "Mexico election: historic landslide victory for leftist Amlo"
A baseball-loving leftwing nationalist who has vowed to crack down on corruption, rein in Mexico's war on drugs and rule for the poor has been elected president of Latin America's second-largest economy.
"López Obrador's closest rival, Ricardo Anaya from the National Action party (PAN), received around 22% while José Antonio Meade, a career civil servant running for the Institutional Revolutionary party, or PRI, which ruled Mexico for most of last century, came in third with around 16%."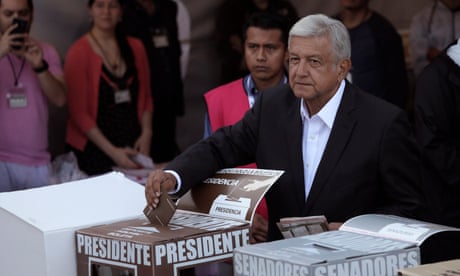 "Addressing the media after those results were announced, López Obrador vowed to repay the trust put in him by millions of Mexicans. "I will govern with rectitude and justice. I will not fail you. I will not disappoint you. I won't betray the people," he said."
"Mexico's president-elect vowed to rule for people of all social classes, all sexual orientations and all points of view. "We will listen to everyone. We will care for everyone. We will respect everyone," he said. "But we will give priority to the most humble and to the forgotten."
"Earlier, with exit polls pointing to an Amlo landslide, his rivals began conceding defeat. "For the good of Mexico I wish him the very best of luck," said Meade."
"Earlier in the day, Amlo, who has for months towered over his opponents in the polls, flashed a victory sign to reporters as he arrived to vote at a Mexico City polling station."
"This is a historic day," he said, calling the vote "a plebiscite in which people will choose between more of the same or genuine change".
"As an estimated 89 million voters descended on polling stations on Sunday it became clear that Mexicans – fed up with political sleaze, soaring violence and poverty – had overwhelmingly voted for change and to reject the only two parties to hold the presidency since the end of one-party rule in 2000.""This country is in a deep hole and he's the only one that can pull us out of it," Manuel Molina, a 34-year-old advertising worker, said as he voted Amlo in Mexico City's Tacubaya neighbourhood."
Delfina Gómez, a close Amlo ally who is running for a seat in Mexico's senate, told the Guardian she believed corruption-weary voters were backing Amlo and Morena because they wanted "a radical transformation in the way politics is done, and in politicians themselves".
"Gómez called Amlo a thrifty, upstanding man who would lead "a government of austerity and honesty": "He finds it shameful that someone might be flaunting their wealth whilst others are dying of hunger."
Amlo has repeatedly pledged to make eradicating corruption the main focus of his presidency, once he is sworn in on 1 December this year. "We will get rid of … this cancer, that is destroying this country," he vowed at his final campaign rally."
"Analysts also expect him to pursue a less aggressive and less militarised approach to Mexico's 11-old 'war on drugs' which has claimed an estimated 200,000 lives and is widely viewed as a calamity. During the campaign, Amlo has argued "you cannot fight violence with more violence, you cannot fight fire with fire" and proposed an amnesty designed to help low-level outlaws turn away from a life of crime."
"Eric Olson, a Mexico and Latin America specialist from Washington's Woodrow Wilson Centre, said he saw Mexico stepping back from regional affairs under its new leader. "Amlo is not an internationalist … we can expect him to play less of an active role in the region on Venezuela, on Nicaragua and other trouble spots."
"Olson also expected tense moments with US president Donald Trump whose family separation policy Amlo recently denounced as arrogant, racist and inhuman. "But it's impossible for the US to walk away from Mexico or for Mexico to walk away from the US. They are joined at the hip and need to work together even if their presidents don't like each other and don't get along." 
THE GUARDIAN/ Photograph: Guillermo Arias/AFP/Getty Images"Carlos Bravo, a politics expert from Mexico City's Centre for Economic Research and Teaching, predicted President Amlo would make fighting poverty a flagship policy, just as former Brazilian president Luiz Inácio Lula da Silva did after his historic 2002 election with projects such as Bolsa Família and Zero Hunger. Under Amlo he foresaw "massive investment in social policy" which Mexico's new president could use to show he was attacking not just poverty and inequality but also the social roots of crime and violence."
"However, Bravo said the "motley coalition" behind Amlo's election triumph was so diverse – featuring former communists, ultra-conservatives and everything in-between – that trying to guess how he might rule was a fool's errand. "Quite frankly, right now there is a lot of uncertainty regarding what the López Obrador government will do."
"Leading members of Latin America's left voiced hope Amlo's election might revive the region's rapidly ebbing 'pink tide'. "It will signal the return of progressive winds to Latin America!" Gleisi Hoffmann, the president of Brazil's embattled Worker's party, predicted."
"Argentina's former president, Cristina Kirchner, tweeted: "Andrés Manuel López Obrador represents hope, not just for Mexico but for the entire region."