On July 13, 2018, the republican President Donald Trump ended up showing his Dr Henry Jekyll side instead of his Mr. Edward Hyde self that has been on display for the past few days.
At their joint press conference, he spoke in very gracious and complimentary terms about his host, Prime Minister Theresa May which was in stark contrast to what he had stated in an interview with a local news outlet, The Sun owned by his buddy, Rupert Murdoch. He specifically countered the Sun report were he was quoted, that if the UK engages in trade agreements with the EU countries that the US would not be in the trade business with the UK. He is now indicating that of course the US would negotiate trade deals with the UK without limiting it to agree on trade deals with other countries including those in the EU (European Union).
The Sun interview, where President voiced criticisms about the Prime Minister's soft Brexit plan, became public on the evening of the 12th of July when President Trump and the First Lady Melania were being hosted by Prime Minister Theresa May and her husband, Phillip, at a black tie dinner with lots of pomp and circumstance at the home of Winston Churchill  at Blenheim Palace. To say that the president couldn't have committed a worse diplomatic faux pas is not an overstatement.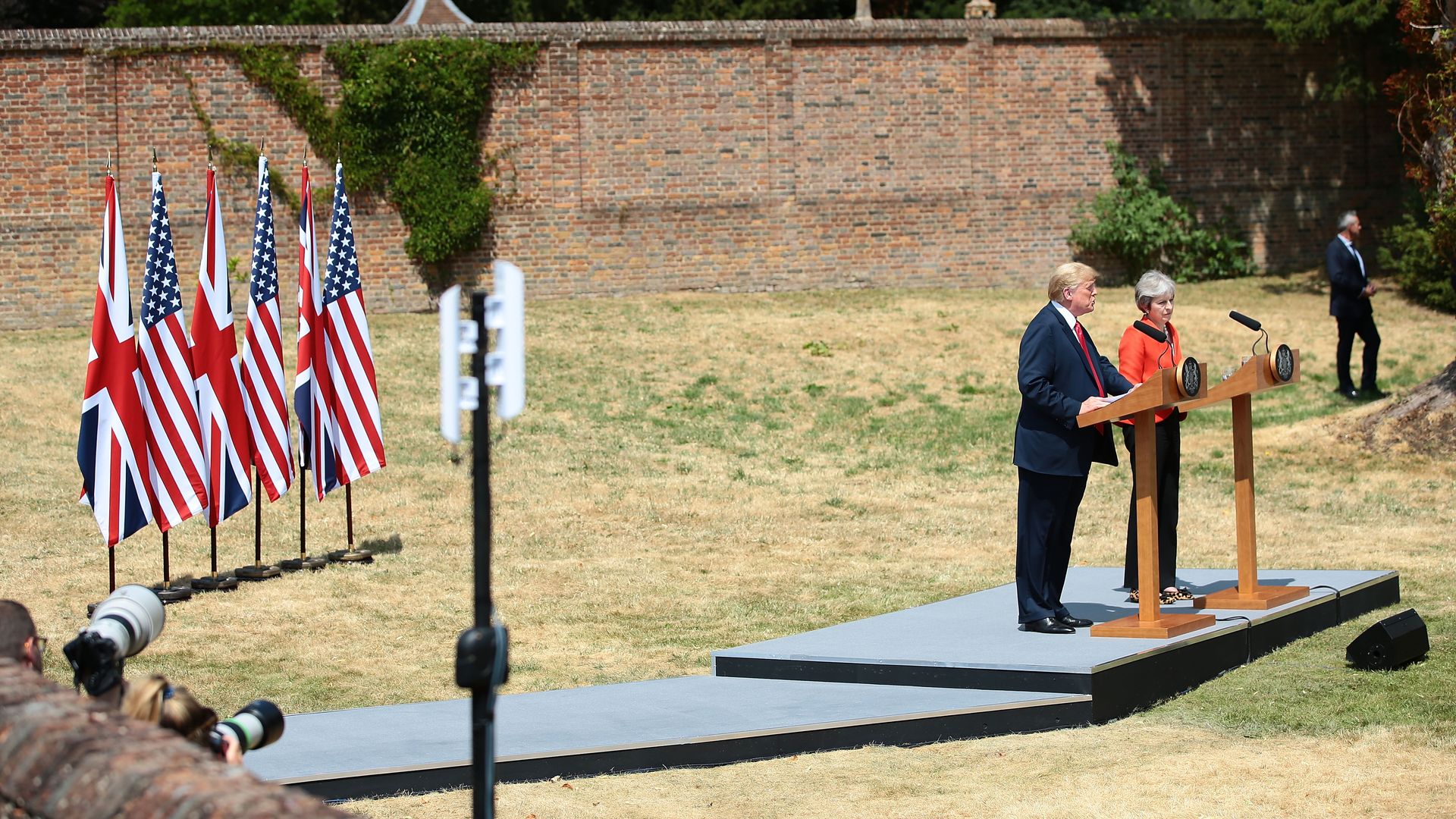 Prime Minister Theresa May and U.S. President Donald Trump attend a joint press conference following their meeting at Chequers. Photo: Jack Taylor/Getty Images.On July 13, 2018, Zachary Basu of Axios penned the following report, "Highlights from Trump and Theresa May's joint press conference" (Jonathan Swan of Axios was one of the reporters who asked one of the questions at the US President Trump-UK's Theresa May joint press conference.) 
Excerpts:
"President Trump, speaking at a joint press conference with U.K. Prime Minister Theresa May Friday, dismissed the notion that his repeated criticism of NATO countries will help boost Russian President Vladimir Putin's position ahead of their upcoming meeting in Helsinki on Monday, adding that the U.S. has "been far tougher on Russia than anybody."
Axios' Jonathan Swan emails from Chequers: Trump "has still not been specific about what he wants to achieve from his meeting with Putin. I asked Trump to tell us the three or four things he wanted to achieve from his meeting with Putin and he just listed topic areas — 'Ukraine,' 'Syria,' 'non-proliferation,' etc. A senior European official told me that when he tried to get an agenda or even goals for the meeting the White House response was very vague."
President Trump and PM May's comments: