He can con that 37% of the voters that consist of Evangelicals, the NRA more ardent followers. members in racist groups, closet racists, anti-immigration zealots, conservative Jewish members, folks who cater to these groups. Its no wonder that his base cannot be budged.
But now I see a light at the end of this tunnel. The 7/16/18 Trump-Putin Helsinki summit was a blessing in disguise as it took off the blinders from many Americans as to what is truly going on. As President prevaricated over the question about whether he believed his US Intelligence agencies' conclusion that Russia attacked the US elections infrastructure in 2016 or Russia's President Putin's denials of his treachery, he overplayed his hand.
President Trump will not last. VP Pence will be history.
The coalition of the decent which includes conservative "Never Trumpers," ex-republicans, recalcitrant republicans, Independents, Democrats, and others like "the Resistance," the "Women's March," "Indivisible," simply have to stick together and vote for the democratic ticket in the Nov. 2018 elections.
Here's the problem in a nutshell. The president admires the leadership of President Putin and wishes he could run the USA to be more like Russia.
Most Americans do not share the president's viewpoint. What he despises, most of us love like the free press, non-politically influenced judicial and law enforcement entities; we welcome diversity, different points of views.
What drives the president and his supporters crazy, most of us believe these same attributes make our country, that shining city on a hill.
We want to be working towards making this a greater country, a place where everyone has a real chance to become the best that they can be. But we advertise our faults and we openly talk about them without having the fear that we'll be thrown in jail. We are free to criticize our leaders without fear of retribution.
If we were to governed by a President Putin copycat (which we are but it's a poor copy), there would be a revolution against him. We don't want to be a part of his kind of governing which may work for Russia, but we reject that style of autocratic style of leadership, outright.
Tweet from The Resistance @ nightlypolitics:
You can support the police while supporting the black lives matter movement. You can be a patriot while respecting the kneeling NFL players. You can support immigrants while wanting a strong border. You cannot support Russia and Putin and call yourself an American
Here's the rest of the story…
On March 14, 2018, Nathaniel Rakich of the FiveThirtyEight penned the following report, "The Pennsylvania 18th Result Tells Us What Everything Has Been Telling Us For A While"("We get it! Republicans are in deep trouble.")
Excerpts:
"Democrat Conor Lamb and Republican Rick Saccone ran neck and neck for most of the evening (at one point, they were separated by only 95 votes), and even The Associated Press went to bed without calling the race. As of 8 a.m. Wednesday, with 100 percent of precincts reporting, Lamb led by 641 votes, or 0.28 percentage points. And he and Democrats had claimed victory."
"The exact margin will likely change, but it's going to be very difficult for Saccone to make up that deficit. The only votes left to be counted are around 200 absentee ballots in Greene County (expected to be announced on 3/21/18 ) as well as a handful of provisional and overseas ballots, which may take days to finalize. There may not even be 641 ballots left to count."
"Nor is a recount likely to change the final result. Although it would be pretty easy for Republicans to request a recount should they want one, recounts typically don't shift election margins by that much. That's true in Pennsylvania, where most voting is done on electronic touchscreens; a recount would only reveal errors in the small population of paper ballots."
"But 
as we've told you from the beginning
, for those of us who don't live in the Pennsylvania 18th, it doesn't really matter who wins if what you're mainly interested in is the 2018 midterms. The takeaway for November's elections will be the same no matter whether Lamb wins by a fraction of a percentage point or Saccone wins by a fraction of a percentage point: Tuesday represented 
yet another huge Democratic overperformance
 in a Trump-era special election."
The Democratic overperformance in Pennsylvania 18
Special elections this cycle, by the constituency's partisan lean and final vote margin
| YEAR | DATE | SEAT | PARTISAN LEAN | VOTE MARGIN | DEM. SWING |
| --- | --- | --- | --- | --- | --- |
| 2017 | April 4 | California 34th† | D+69 | D+87 | +18 |
| | April 11 | Kansas 4th | R+29 | R+6 | +23 |
| | May 25 | Montana At-Large | R+21 | R+6 | +16 |
| | June 20 | Georgia 6th | R+9 | R+4 | +6 |
| | June 20 | South Carolina 5th | R+19 | R+3 | +16 |
| | Nov. 7 | Utah 3rd | R+35 | R+32 | +3 |
| | Dec. 12 | Alabama U.S. Senate | R+29 | D+2 | +31 |
| 2018 | March 13 | Pennsylvania 18th | R+21 | 0* | +22 |
"One special election is not enough to draw midterm conclusions from, but when it fits so clearly into an existing pattern, it's safe to say something's going on. Counting Tuesday's result, Democratic candidates in federal special elections have now outperformed the normal partisan leans of their state or district by an average of 17 percentage points. In recent midterm election cycles, that number has tracked closely with the eventual national popular vote for the U.S. House."
Special elections have tended to predict midterm outcomes
Swing in average special congressional election from weighted presidential lean vs. the national House vote margin in the next midterm since 1994
| CYCLE | AVERAGE SWING | NATIONAL HOUSE MARGIN | DIFFERENCE |
| --- | --- | --- | --- |
| 2014 | R+4 | R+6 | 2 |
| 2010 | R+6 | R+7 | 1 |
| 2006 | D+15 | D+8 | 7 |
| 2002 | 0 | R+5 | 5 |
| 1998 | D+1 | R+1 | 2 |
| 1994 | R+9 | R+7 | 2 |
| Average | | | 3 |
"In other words, the result in Pennsylvania 18 is just the latest indication that Republicans are in trouble. The best predictors of midterm strength we have — President Trump's  approval rating, the generic ballot,  congressional retirements and special elections — all are saying the same thing. In fact, of those, special election results may suggest the rosiest future for Democrats."
"Does the Pennsylvania 18 result tell us anything else about the national political environment? That gets tricky, and I'd be cautious. But the pattern of Lamb's over-performance may conceal other clues. For example, it's still up for debate which political map represents America's true baseline: the Obama-era 2012 map or the Trump-remade 2016 map, under which the white, working-class Midwest turned red and well-educated suburbs trended more Democratic. Perhaps counter-intuitively, the Pennsylvania special election suggests that the 2016 map has some staying power. Lamb out-performed Hillary Clinton's margins by a nearly identical 19 points in white-collar Allegheny County and in Trump-loving, blue-collar Washington and Westmoreland counties. However, Lamb outperformed then-President Obama's 2012 margin by 23 points in Allegheny while doing so by only 9 to 12 points in the district's other three counties. Perhaps because Lamb assumed some socially conservative positions and cozied up to blue-collar workers, the Pennsylvania 18th is often portrayed as just another Midwestern working-class district. In fact, though, it is both wealthier and better-educated than the nation as a whole. As the numbers show, Lamb won this election not in "Trump country," but in the Allegheny County suburbs."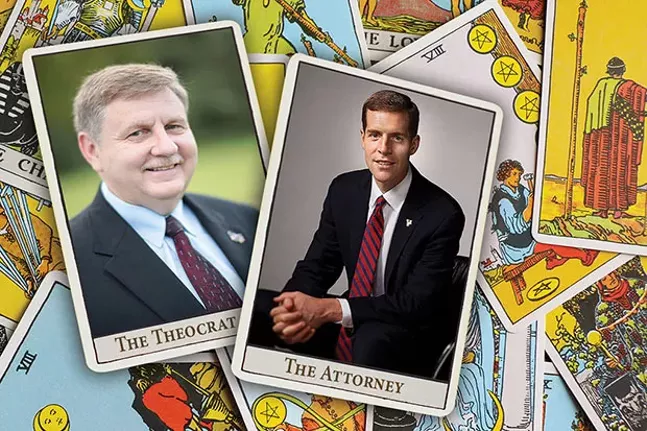 "Finally, Pennsylvania 18 was yet another example of a Democratic turnout advantage — the telltale sign of an enthusiasm gap — helping the party do better than expected in special elections. The number of votes Lamb received was 80 percent of the number of votes Clinton received in this district in 2016 — but Saccone got just 53 percent of the number of votes Trump got. Anecdotally, turnout was also much higher in Democratic precincts than it was in Republican precincts. But, crucially for Democrats, the results hinted that maybe that Democratic turnout advantage is transferable to the higher-turnout environment of a midterm election. The 228,177 votes cast in the special election exceeded the 214,912 votes the 18th District cast in Pennsylvania's 2014 gubernatorial election. In other words, turnout on Tuesday was even higher than it was in the last midterm."
"Now we're digging pretty deep into the numbers, a depth at which you can fall victim to the trap of over interpreting the results of one special election. The big-picture takeaway is this: If Democrats can win districts like Pennsylvania 18, they won't need to stretch and scrape together a House majority. According to FiveThirtyEight's partisan lean measure, 118 Republican-held districts nationwide are less red than the Pennsylvania 18th is. Of course, the entire country is unlikely to shift 22 points to the left in November the way the 18th did — and the country may not even shift the full 17 points implied by the aggregate of special-election results — but Republicans should still be very worried."