I've resisted posting anything about the republican President Donald Trump's former White House aide and reality TV star, including "The Apprentice,"  Omarosa Manigault Newman.
I put her credibility on a par with that of the president. What I can say with certainty, is that Omarosa will be selling a lot of copies of her book "Unhinged," and that the President and her are at the same level of where neither can be shamed.
But Lordy, there are those tape recordings.
UPDATE 8/14/18: President Trump tweeted that that his former advisor. Omaraso was a dog; the president's spokesperson Sarah Huckabee Sanders admitted that she cannot claim that the president never said the "N" word; and Ms. Omaraso is claiming that President Trump had knowledge in real time about Russia's involvement in 2016 US elections.
As per the 8/13/18 Guardian report:
'She was vicious, but not smart,' Trump tweets about ex-aide
President rejects claim he used racial slur, saying word 'not in my vocabulary'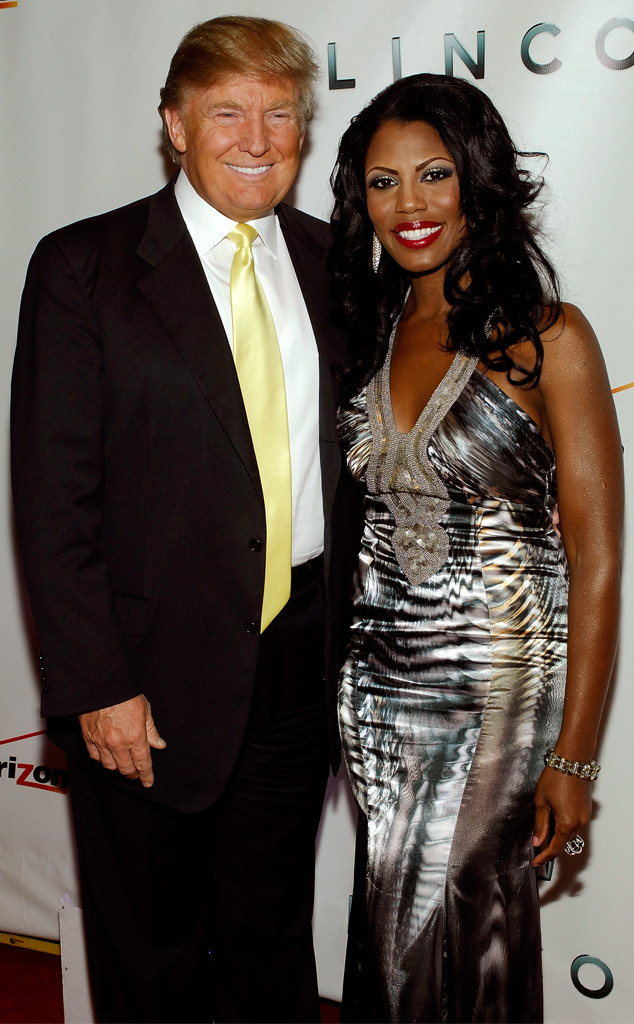 "Wacky Omarosa, who got fired 3 times on the Apprentice, now got fired for the last time. She never made it, never will," Trump tweeted on Monday, admitting that his response to her claims were "not presidential".
"She begged me for a job, tears in her eyes, I said Ok. People in the White House hated her. She was vicious, but not smart. I would rarely see her but heard…."
"Manigault Newman, a former Apprentice reality TV star who became the most prominent African American in the Trump White House, has been promoting her new book Unhinged, which offers a scathing account of life in the West Wing."
"The memoir claims Trump is a "racist" who has used the "N-word", alleging he was caught on mic uttering the slur "multiple times" during the making of his reality TV show The Apprentice. In a series of tweets Monday night, the president hit back at those claims, too, saying: "There are NO TAPES of the Apprentice where I used such a terrible and disgusting word … I don't have that word in my vocabulary, and never have."
"On Monday, Manigault Newman released an apparent recording of an interaction with Trump in 2017 after she was dismissed from the White House."
"Omarosa? Omarosa what's going on? I just saw on the news that you're thinking about leaving? What happened?" Trump says on the tape played on NBC's Today show on Monday.
Here's the rest of the story…
On August 13, 2018, Eugene Robinson of the Washington Post penned the following op-ed piece, "Of course Omarosa has tapes"
Excerpts:
"It's hard to take Omarosa Manigault Newman's word for anything. But Lordy, she has tapes, and they offer vivid proof that Donald Trump's White House is part clown show, part nest of vipers."
"Omarosa achieved single-name fame as a contestant on Trump's show "The Apprentice," where she performed with Shakespearean villainy — lying, cheating, backstabbing, viciously advancing her own interests and sabotaging her rivals. Trump evidently found all of this admirable, because he insisted on bringing her into his administration as a top-level adviser despite her utter lack of experience and qualifications. They deserve each other."
"It is no surprise that she wrote a tell-all book after being fired. It's shocking, however, that she managed to secretly record her dismissal by White House Chief of Staff John F. Kelly — an encounter that took place in the Situation Room, meant to be a super-secure bunker where the nation's most closely guarded secrets can safely be discussed."
"Omarosa's recording of part of that meeting was aired Sunday on NBC's "Meet the Press." In it, Kelly is heard making what sounds very much like a threat:"
"I think it's important to understand that if we make this a friendly departure, we can all be, you know, we can look at your time here in the White House as a year of service to the nation. And then you can go on without any type of difficulty in the future relative to your reputation."
"If that wasn't clear enough, Omarosa subsequently received a generous offer. She could receive $15,000 a month to perform vaguely defined duties for Trump's reelection campaign. But she would have to sign a nondisclosure and nondisparagement agreement pledging not to say detrimental things about President Trump, Vice President Pence or their family members."
"She declined the offer but kept the documents she was asked to sign — and showed them to The Post last week."
"On Monday, appearing on the "Today" show, she revealeda recording of a phone call she said she received from Trump the day after she was fired. "Omarosa, what's going on?" Trump is heard to ask. "I just saw on the news that you're thinking about leaving. What happened?"
"When she tells him she was axed, Trump claims ignorance. "Nobody even told me about it," he says. "You know they run a big operation, but I didn't know it. I didn't know that. Goddammit. I don't love you leaving at all."
"Shortly after that tape was aired, Trump lashed out on Twitter:"
"Wacky Omarosa, who got fired 3 times on the Apprentice, now got fired for the last time. She never made it, never will. She begged me for a job, tears in her eyes, I said Ok. People in the White House hated her. She was vicious, but not smart. I would rarely see her but heard really bad things. Nasty to people & would constantly miss meetings & work. When Gen. Kelly came on board he told me she was a loser & nothing but problems. I told him to try working it out, if possible, because she only said GREAT things about me — until she got fired!"
Link to article: Of course Omarosa has tapes – Washington Post