The Democratic Senator Heidi Heitkamp of North Dakota has been campaigning for reelection but she's running in republican territory where the republican President Donald Trump won in 2016 by 36 points.
To say that she's fighting an uphill battle is an understatement, especially since she has been targeted by republicans as a seat that they can pick up.
It didn't help that Senator Heitkamp took the courageous stance to vote against the confirmation of Judge Brett Kavanaugh to be the next US Supreme Court justice.
It turns out that Senator Heitkamp's Mom was a sexual assault survivor, and so there was no way she was going to vote to confirm Judge Kavanaugh when there was a question mark regarding his having allegedly sexually assaulted the credible witness Dr. Christine Blasey Ford while she was in high school.
The North Dakota power players had been convinced that her goose was cooked when local republican lawmakers had established new voter ID rules requiring that the address on the ID not be a PO Box. It turns out that native Americans who are strong supporters of Senator Heitkamp live in rural areas where PO Boxes are frequently used by them to receive their mail. This voter ID law was challenged in the courts all the way up to the US Supreme Court which ruled against them.
If you thought that Senator Heidi Heitkamp and her Native American supporters would just give up, well think again.
Here is the rest of the story…
On October 12, 2018, Gabriel Pogrund and Felicia Sonmez of the Washington Post penned the following report,  "In Senate battleground, Native American voting rights activists fight back against "voter ID restrictions"
Excerpts:
"Native American voting rights activists in North Dakota have launched an audacious plan aimed at pushing back against a Supreme Court ruling that threatens the reelection of Sen. Heidi Heitkamp (D-N.D.) — and that could decide the fate of the Senate in the process."
The high court decided 6 to 2 Tuesday (10/9/18) to leave in place a state law that requires residents to provide an ID displaying a residential address rather than a P.O. box number to vote. Republican lawmakers who pushed for the measure say the rule is designed to combat voter fraud."
"But tribal officials and Democrats say it appears aimed at making it harder for thousands of Native Americans to vote, particularly those who live on reservations without conventional street names. The law specifically bans the use of P.O. boxes as an alternative form of address, rendering many tribal ID cards invalid."
"Native American activists have responded with plans to create addresses on the spot for those who need them on Election Day."
"Tribal officials will stand outside polling stations on Nov. 6 with laptops and access to rural addressing software and a shared database of voter names. North Dakota is the only state that does not require voter registration, meaning eligible voters can generally show up at the polls and cast a ballot so long as they have proper identification."
"O.J. Semans, chief executive of Four Directions, a national Native American voting rights group, said the strategy was "legally watertight" and necessary to counter the "devastating" court ruling."
"In one of the country's least-populous states — and where Heitkamp, one of the Senate's most endangered Democratic incumbents, eked out a victory of fewer than 3,000 votes in 2012 — the Supreme Court ruling could prove decisive."
"Native Americans were widely credited with delivering Heitkamp's last win, which set in motion a six-year legal war of attrition pitting the GOP-run statehouse in Bismarck against tribal leaders and voting rights groups. Census Bureau records show 46,000 Native Americans live in North Dakota, including 20,000 on tribal reserves. According to court filings, at least 5,000 of those on reservations do not have conventional addresses."
"North Dakota has become a high priority for Republicans as they seek to retain their slim majority in the Senate. In television interviews this week, Trump, who won the state by 36 percentage points in 2016, touted polls showing Rep. Kevin Cramer (R) leading Heitkamp by double digits. Republicans have made Heitkamp's vote against the confirmation of Supreme Court Justice Brett M. Kavanaugh a centerpiece of their effort as the campaign enters its final straight."
"Native American voting right groups described this week's Supreme Court ruling, in which Kavanaugh did not participate, as the latest ploy to depress already-low turnout among tribes."
"It is a partisan and intentional effort at targeting native voters," said Matt Campbell, attorney at the Native American Rights Fund, who represented a group of military veterans as plaintiffs in the case. He cited official figures indicating that in 2012 there were just nine cases of potential voter fraud out of 325,862 votes cast. "Voter fraud is not a problem," he said."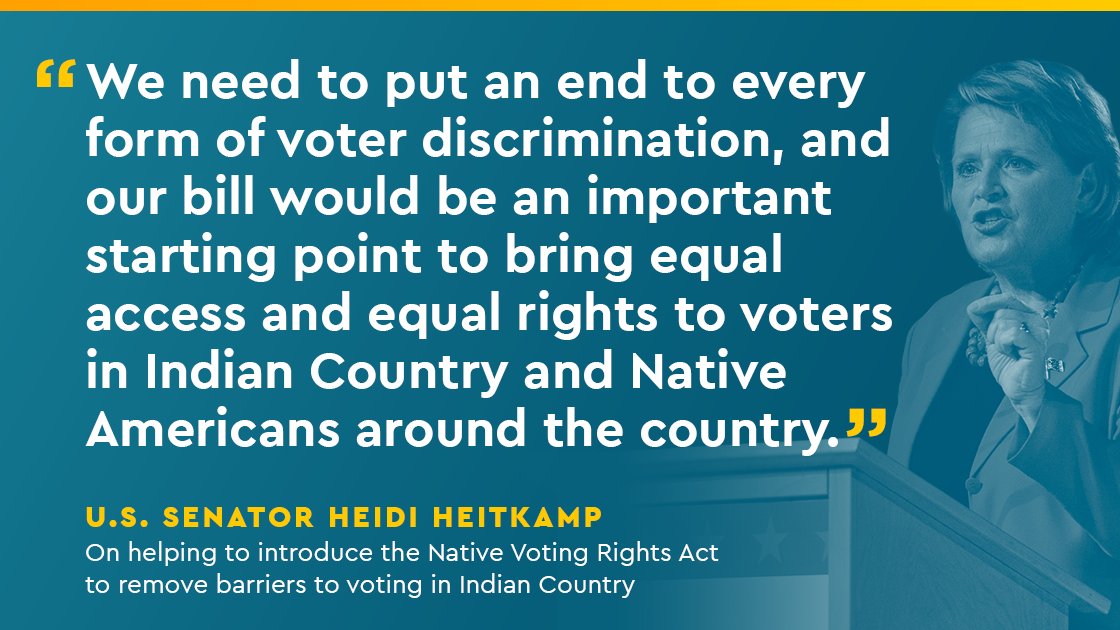 "However, in a reply to Four Directions obtained by The Washington Post, (Al Jaeger, ND secretary of state) warned that the activists' plan could cause confusion among voters. He cited the example of the Turtle Mountain Band of the Chippewa Tribe, which he said was already bound by an agreement delegating authority for erecting road signs and assigning street addresses to Rolette County."
In a 2017 letter to President Trump's now-defunct Commission on Election Integrity, Jaeger also laid out his views on the need for stricter voter ID requirements.
While some individuals argue that there is no evidence of widespread voter fraud, there are others who argue the exact opposite," Jaeger wrote. "Regardless, the truth is that under the current forms of election administration, it is not possible to establish whether widespread voter fraud does or does not exist because it is difficult to determine either way when proof is not required of voters when registering or before voting."
In a dissenting opinion in the Supreme Court case, Justice Ruth Bader Ginsburg warned that the North Dakota ID law presented a "severe" risk of "grand-scale voter confusion." Her opinion noted different ID rules were in place during the state's primary election this spring, meaning some voters might show up at the polls with ID that falls short or simply stay at home in November.
"Reasonable voters may well assume that the IDs allowing them to vote in the primary election would remain valid in the general election," Ginsburg wrote."
"Passed by North Dakota's Republican-majority legislature almost immediately following Heidi's victory in 2012, it's no secret that North Dakota's hyperpartisan voter ID laws target student and Native communities because they prefer Heidi in the U.S. Senate," Krieger said.
"The first flash point in the legal battle over voter ID laws came in 2013 in the wake of Heitkamp's election, when the state legislature argued the system in place at the time facilitated voter fraud. Legislators banned alternatives for those without ID, including affidavits signed under penalty of perjury or tribal officials testifying that a voter was a local resident. They then removed college and military cards from the list of acceptable documents and passed another law requiring that a person's ID contain a current residential address."
"Jim Silrum, North Dakota's deputy secretary of state, a proponent of the efforts to tighten voter rules, said at the time the measure was drafted after "concerned citizens" and state representatives raised fears about the possibility of voter fraud."
Activists say a succession of laws put in place since 2012 have disenfranchised thousands of tribal voters, especially those who lived on reservations or in wilderness areas. During the 2014 midterms in Rolette County, home to the Turtle Mountain tribal reservation, turnout plunged from 45 percent to 33 percent, while neighboring non-tribal areas saw no comparable decline.
"We've been dealing with suppression of our political rights and voice for decades," said Wizipan Little Elk, who led Barack Obama's Native American outreach effort during the 2008 presidential election."