The republican President Donald Trump has a new favorite pinata, the Tallahassee, FL. Mayor Andrew Gillum who is running to become Florida's next governor. It is driving the president bananas that Mayor Gillum has been consistently ahead in the polls against the president's pick and a frequent FOX TV guest/ pundit, former US Rep. Ron DeSantis.
No sooner had the primary elections been finalized, when the republican candidate Rep. Ron Desantis appeared on a FOX TV interview where he could be heard describing  Mayor Gillum as well-spoken but that the Florida citizens could not afford to be monkeying around by voting for a socialist. Incidentally, Rep. DeSantis had to remove his membership on a Facebook site that is riddled with racist remarks, when his participation on this site became public.
Remember all that hoopla when the right made a fuss over the former democratic President Barack Obama wearing a tan suit to a press conference in 2014. Guess which right wing lawmaker led the charge against this egregious sin? Yes, it was the same Mr. DeSantis who is now vying to become Florida's next governor.
For those out of the loop, Rep. DeSantis, has accused Mayor Gillum of taking Hamilton tickets from an undercover FBI agent as part of a wider probe into corruption in Tallahassee. Mayor Gillum said that his brother was the one who gave him the tickets and that he prides himself in being a grown man who pays his own way. There's no proof Mayor Gillum broke any laws, but that hasn't stopped Rep. DeSantis from trying to create a controversy about it.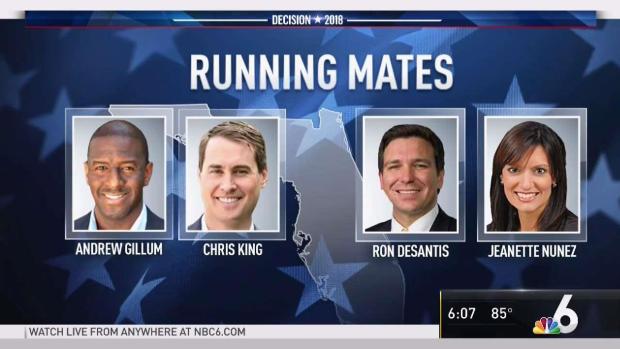 As a consequence, President Trump has been calling Mayor Gillum a thief and the mayor of a city, ripe with corruption where its murder rates have skyrocketed from 14 in 2016 to 17 in 2018 as per FDLE state records..
Technically, it's Leon County, not Tallahassee, that has the record for the highest crime rate in Florida for the past 4 years, according to FDLE state data. But on its own, Tallahassee's crime rate ranks 28th in the state among more than 500 police departments.
The good news is that Mayor Andrew Gillum has refused to bite the republican talking points against him, but like some other rising Democratic Party stars and Oprah Winfrey, he has taken the high road by being positive in his manner while focusing his messaging on the issues that matter to Floridians, like healthcare and the environment.
As per a 10/8/18 Miami Herald report by Lawrence Bower, "But if there's one thing most (Tallahassee locals) seem to agree on, it's that their fair city doesn't feel like the poster child for crime."
"When I talk about crime to people who are from bigger cities like Miami and Atlanta, they literally laugh at me," says Christic Henry, a Realtor and former president of Tallahassee's Council of Neighborhood Associations."
"Experts say there are good reasons to be skeptical of Tallahassee's numbers."
"For one, police departments across the country have been caught misclassifying rapes and other violent crimes to make it appear such crime is going down."
"The FBI does not require that police departments send them statistics and does not punish departments that are found to have manipulated them."
"In Tallahassee, an audit last year (2017) found the department was over-counting some crimes. It found that Tallahassee police were reporting 11 percent more sex offenses, 8.5 percent more robberies and 20 percent more aggravated assaults than it should have been. Burglaries, thefts and simple assaults were each over-reported by an estimated 3 percent as well."
"The audit chalked up the errors to a faulty records system and supervisors not properly reviewing officers' reports."
On November 1, 2018, Eugene Scott of the Washington Post penned the following report, "Why Andrew Gillum is incurring so much of Trump's ire"
Excerpts:
"President Trump regularly attacks his Democratic foes, and one who is increasingly drawing his attention is Tallahassee Mayor Andrew Gillum, who hopes to be the next governor of Florida."
"Trump, who campaigned on the promise of being a voice for the forgotten people against the elites, tweeted that the Ivy League education of Ron DeSantis, the Republican candidate for Florida governor, was among the factors that make him a better choice than Gillum, who attended one of Florida's historically black universities."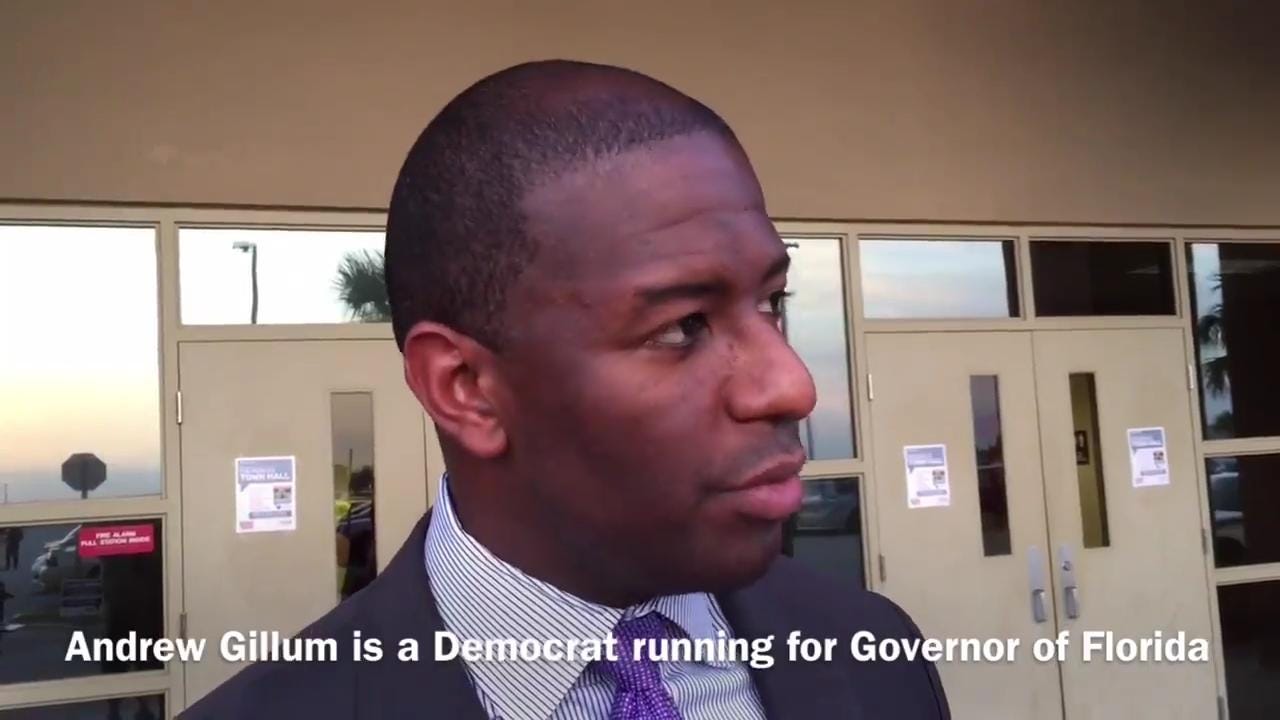 "I have not called the president a racist, but there are racists in his sympathizers who believe he may be, which is why they go to his aid, which is why he has provided them cover. I believe his cover has led to much of the degradation in our political discourse," Gillum said Thursday on CNN."
"While campaigning in Florida on Wednesday, Trump continued the jabs, calling Gillum "a failed mayor," blaming him for Tallahassee's crime rate and attempting to pit Gillum against police:"
Andrew Gillum wants to throw open your borders to drug dealers, human traffickers, gang members and criminal aliens. And Gillum supports deadly sanctuary cities. He wants to abolish ICE and he signed an extreme, left-wing pledge that supported an end to all borders….

Andrew Gillum is too extreme for the people of Florida…. And he's also weak on crime.

On Andrew Gillum's watch, there were more murders last year … than any year in the history of Tallahassee. And Gillum is weak on corruption. Tallahassee is among the most corrupt cities anywhere in the United States. Is this really what you want in the state of Florida?
"The line of attack associating Gillum with illegal immigration seems meant to instill fear in Trump's base but also to sway the independent Florida voters that swung to Trump. Enthusiasm for Gillum is high among Democrats headed into the midterm elections, which require Trump to rely on his most effective motivator: fear-mongering."
Gillum is one of the Democrats running who is viewed as a successor to former president Barack Obama's legacy, and Obama's visit Friday to Miami to campaign for Gillum seems to confirm that. A Gillum win would be a coup for Democrats in a state that went for Trump."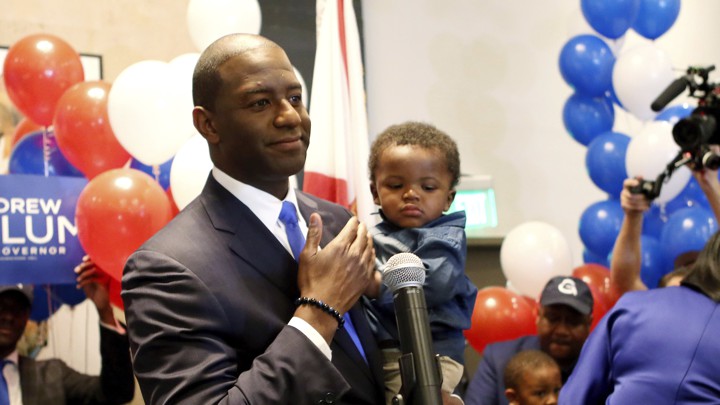 "So while the president is leaning heavily on fear to rally votes, it could be that it partly stems from what he is dealing with himself. Trump seeks to put "yes men" in positions of influence across the country. And DeSantis has signaled that he could be that. The president noticed him during the GOP gubernatorial primary when the former congressman appeared on Fox News frequently to defend the president. While Trump did not know much about him, DeSantis's support for Trumpism, which he communicated clearly in one of the 
most pro-Trump ads
 of the midterms, was more than enough for him to win the president's praise."
"It is clear, perhaps obvious, to Trump that Gillum could do great harm to Trump's agenda in Florida, an important stronghold in the South."