It's my opinion that the republican President Donald Trump has no intention of running to be reelected for a second US presidential term in 2020. While the GOP leaders have become used to living in "Never, Never Land," he has figured out that once he leaves the White House his future prospects are dim. That's also his analysis as to his chances for winning a second term.
He's street smart enough to where he recognizes that eventually his IRS tax returns will be made public after the current GOP oversight committee chairmen are replaced by Democrats, starting on January 3, 2019, where they can and will subpoena this data.
It is hard to find an area of his business where he hasn't acted in a shady manner.  For example, the 2017 Trump University scandal and the December 2018 court ordered dissolution of his charitable foundation due to fraud, are just couple of instances demonstrating how President Trump has handled his business empire. Why should he have been expected to operate and to behave differently, as president?  He probably figured that he could  simply continue to use his position as the US president to set up opportunities to add more monies to his personal piggy bank.
He is the King of Con Men everywhere. As per  the 8/12/16 Statesman article by Bill McCann, "In the 1967 movie, The Flim-Flam Man, actor George C. Scott played Mordecai Jones, who traveled around the South scamming people. Mordecai was a piker compared to Trump who is conning on a grand scale, selling himself as a smart, successful business man who can solve all of our problems if we will just elect him president."
No matter that Trump is heavy on verbiage and light on specifics. No matter that fact-checkers have found him lying more often than he tells the truth. (The fact-checking organization, Politifact, named his political statements "Lie of the Year" in 2015.) No matter that the more we learn about his business dealings the more "we learn about his failings."
"Like Mordecai, Trump preys on the ignorance and weaknesses of others. Mordecai at least was likeable. Trump, with a disapproval rating hovering around 60 percent, is much less so."
But as per Max Boot in his 5/2/18 Washington Post opinion piece,  "a more apt comparison may be with Jordan Belfort or Frank Abagnale. Who? you ask."
"Belfort is the high-living Wall Street stockbroker who was convicted of fraud and subsequently had his life story dramatized by Martin Scorsese in "The Wolf of Wall Street." Abagnale is the con artist who pretended to be a doctor and airline pilot, among other disguises. His life story was told by Steven Spielberg in "Catch Me If You Can." That title appears ever-more- ­appropriate for the Donald Trump life story as more of the president's scams come to light."
Thus, while he seats fuming at his desk in the White House, he has been taking lots of time to ponder how he can survive future legal / criminal entanglements. He knows that he needs to make as much monies as possible before he departs the scene, as his financial opportunities will have less value once he's no longer US president. He has figured out how to postpone the inevitable for as long as possible while he stockpiles his nest egg by throwing up as much confusion as he can. He doesn't care about any fall out based on his fool-hardy tactics. Others will pay the price while he's long gone. Still, he has to plan on how to circumvent the consequences for any of his current shady financial deals.
Here's a thought. What if he can work out a sweet heart deal to resign the presidency with immunity for him and his family?
Then he can say, so long GOP suckers!
So any foreign and domestic policy decisions that President Trump has been making have to be looked at with skepticism. The question has to asked, is he lining his own pockets without a second thought as to the US national security interests?
For example, his recent unilateral decision to withdraw all remaining US troops from Syria has to be suspect as he is acting outside the counsel of the US Pentagon, the US Department of State, and US Senate officials who are experts on this issue.
All the foreign policy experts are perplexed as this 12/18/18 presidential order made in concert with Turkey's President Recep Tayyip Erdoğan, as it's the perfect Christmas gift to our adversaries like, Russia, Iran, ISIS. But Turkey gets a bonus as its enemy, the Kurds who have been strong US military allies in fighting ISIS, will be left exposed to attacks by Turks without any back-up.
Plus, letting Iran get a stronghold in Syria is a slap in the face to Israel as Iran, is its arch enemy. There are going to be a lot of angry Israelis. Incidentally, if there are any commitments by Russia to contain Iran, they have NO VALUE.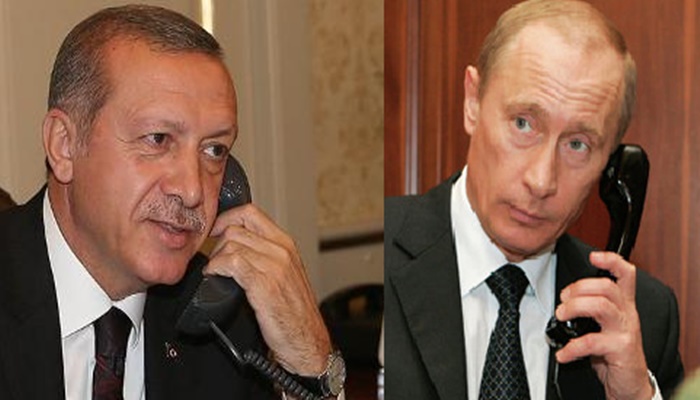 As per a 12/19/18 Washington Post report, "Jonathan Alterman, director of the Middle East Program at the Center for Strategic and International Studies, noted that the Syria decision also coincided with the administration's notification to Congress late Tuesday (12/18/18) that Turkey's long-sought purchase of U.S.-produced Patriot missile defense batteries had been approved after a years-long battle over the terms of a deal between Ankara and Washington."
"A senior administration official, made available to brief reporters on the Syria decision Tuesday, mentioned only Turkey among U.S. allies that Trump had informed of the decision in advance. "He informed President Erdogan as a neighbor of Syria," the official said."
Dear GOP leaders, don't sit there asking why President Trump would want to cover the nefarious actions by Saudi Arabia's Crown Prince Mohammed bin Salman (MBS) despite CIA evidence. The CIA did determine that it was MBS who ordered the October 2018 dismemberment murder of a US resident, Washington Post journalist Jamal Khashoggi  at a Saudi embassy in Turkey. President Trump acted by denying this truth which was obvious to everyone around him because he wants to maintain his financial relationship with MBS and Saudi Arabia.
For anyone questioning his actions designed to privatize the Veterans Healthcare system,  look no further than how he benefits financially from these plans. Some of the president's rich friends and donors with their paid for GOP legislators have been pushing hard for the complete privatization of the (VHA) the Veterans Health Administration against the wishes of the vast majority of veterans. There is one conservative vet group CVA Concerned Veterans for America, whose members backed by the Koch brothers have been encouraged to have their tentacles all over this issue. But they stand in contrast to all the other major vet organizations.
In short, President Trump is planning to bolt, leaving his GOP cronies in the US congress holding the bad filled with sh*t as he bids goodbye to all the suckers who backed him.
Voters won't be happy with those GOP congressional legislators who didn't stand up to President Trump. Remember that on December 19, 2018, when Judge Sullivan questioned the president's former National Security Adviser General Mike Flynn about his possibly having committed treason, the inquiry was based on the redacted material that the judge had just read. President Trump would have been a party of whatever the judge read.