Most Americans would be thrilled to learn that our US troops are returning from the battlefield in Syria by December 31, 2018. But when the republican President Donald Trump acted unilaterally and without consulting his foreign policy experts and counter to current Middle East strategic planning, one has to ask, is he taking this stance to kow-tow to Russia's President Vladimir Putin's demands made over several months, rather than acting in the best national security interests of the USA?
This arbitrary decision was announced after President Trump talked to Turkey's President Recep Tayyip Erdogan on December 14, 2018. The president ignored the talking points developed by his experts and told the Turkish leader that US troops would be leaving Syria as soon as possible.
US allies are reeling from the US news reports which have developed during the week of December 17, 2018. This was when the US Defense Secretary General James Mattis abruptly quit, right after the president arbitrarily ordered the immediate evacuation of all US troops from Syria. President Trump's Defense Secretary General James Mattis would never have taken this step if he didn't have serious concerns about our president going off the rails by taking unilateral actions without any serious consultation.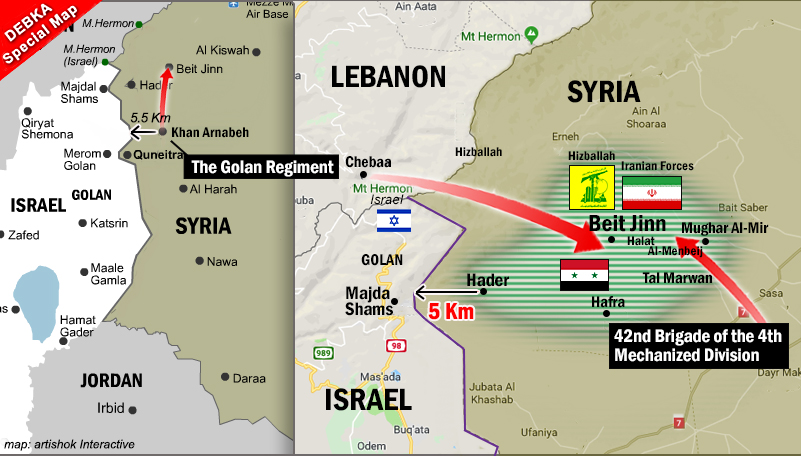 This move by President Trump is viewed by foreign policy experts, as a Christmas gift to US adversaries, Russia, Iran, ISIS and the US ne're do well ally, Turkey. Turkey now has its long-awaited opportunity to attack our #1 reliable partner in the US fight against ISIS, the Kurds without any back-up support from the US military.
Iran couldn't have been more pleased. As per a 12/22/18 Reuters report, "Iran said that the U.S. military presence in Syria had been "a mistake, illogical and a source of tension", in Tehran's first reaction to President Donald Trump's planned pull-out."
In addition, this move exposes Israel to greater risk because of  its arch enemy Iran's presence in Syria, with its military possibly being deployed to its eastern border with Israel.
According to multiple news reports, President Trump had become so frustrated by all the negative news regarding his Syrian decision that he blamed General Mattis for daring to quit on principle and for his letter which highlighted the differences in their thinking regarding foreign policy issues. Now, President Trump is demanding that the General Mattis exit the White House by January 1, 2019 which is 2 months earlier than what was previously announced.
Even FOX News pundits criticized President Trump's thinking regarding Syria.
The normally taciturn republican US Majority Leader Mitch McConnell voiced his displeasure over the president's recent foreign policy orders.
As per the 12/20/18 Business Insider report, "(The republican leader from Kentucky), issued a strong statement following the 
resignation of Defense Secretary James Mattis
, saying he is "particularly distressed that he is resigning due to sharp differences with the president on these and other key aspects of America's global leadership."
"His statement echoes Mattis' resignation letter when stressing the importance of maintaining US alliances."
"I believe it's essential that the United States maintain and strengthen the post-World War II alliances that have been carefully built by leaders in both parties," McConnell said in his statement. "We must also maintain a clear-eyed understanding of our friends and foes, and recognize that nations like Russia are among the latter."
"In Mattis' resignation letter he said, "while the US remains the indispensable nation in the free world, we cannot protect our interests or serve that role effectively without maintaining strong alliances and showing respect to those allies."
"It is clear that China and Russia, for example, want to shape a world consistent with their authoritarian model gaining veto authority over other nations' economic, diplomatic, and security decisions to promote their own interests at the expense of their neighbors, America and our allies."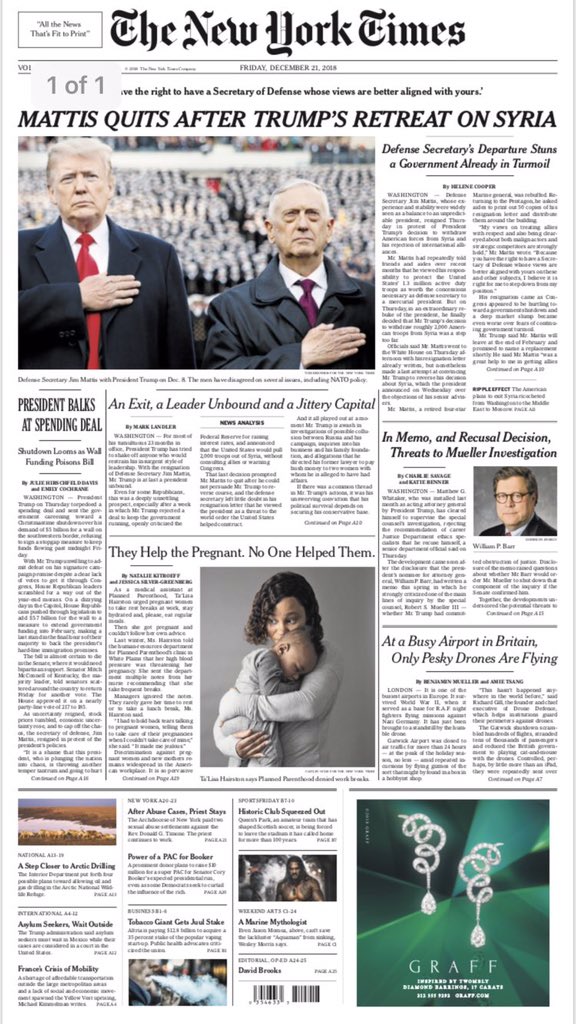 As per the 12/23/18 NYT report by Helene Cooper, "President Trump said on Sunday that he would remove Defense Secretary Jim Mattis, who issued a stinging rebuke of the president when he announced his resignation last week, from his post by Jan. 1, two months before he had planned to depart."
"Mr. Trump, in a Twitter post, said that Patrick M. Shanahan, Mr. Mattis's deputy, would serve as the acting defense secretary."
"Aides said that the president was furious that Mr. Mattis's resignation letter — in which he rebuked the president's rejection of international allies and his failure to check authoritarian governments — had led to days of negative news coverage. Mr. Mattis resigned in large part over Mr. Trump's hasty decision to withdraw American forces from Syria."
"When Mr. Trump first announced that Mr. Mattis was leaving, effective Feb. 28, he praised the defense secretary on Twitter, saying he was retiring "with distinction."
"The president has grown increasingly angry as the days have passed, the aide said. On Saturday, Mr. Trump posted a tweet that took a jab at Mr. Mattis, saying that "when President Obama ingloriously fired Jim Mattis, I gave him a second chance. Some thought I shouldn't, I thought I should."
Mr. Mattis, a retired four-star general, led the United States Central Command, which oversees military operations in the Middle East and Southwest Asia, from 2010 to 2013. His tour there was cut short by the Obama administration, which believed he was too hawkish on Iran.
Link to entire NYT article: Trump, Angry Over Mattis's Rebuke, Removes Him 2 Months Early
As per 12/22/18 Atlantic report, "The president misunderstood his secretary of defense. The Jim Mattis one saw on the battlefields of Afghanistan and in the shattered cities of Iraq was not "Mad Dog," a sobriquet he loathed, but a resolute military leader who was a reader and a thinker. Give him a copy of Marcus Aurelius's Meditations, and he would compare it with the other two editions that he already owned."
Link to report: You Can't Serve Both Trump and America