Real world to GOP in the US Congress, "We the People" are well aware that going back over a year to 2017, the song most of them were singing about the efficacy of the presidents US SW border wall sounds very different from the tunes they're singing today in January 2019. As the GOP lawmakers continue to support the president's government shutdown, harming hard working public servants who were forced to forego their paychecks or have them delayed, remember that past 2017 comments regarding the wall will become fodder for future campaign Ads.
The current GOP strategy to shift blamed onto the Democrats for this longest lasting government shutdown in US history is not fooling the American peoples to where it is a dud, but one that is causing grievous harm to government public servants with no end in sight.
As per a 1/13/19 VOX report, "One notable development is that Trump also appears to be losing ground with his base. According to a new CNN poll out Sunday, white people without college degrees are turning on Trump. While they still support building a wall along the US-Mexico border, their overall views of him are starting to dip. For the first time since last February, CNN has found that his approval ratings among his core constituents are in the red. Forty-seven percent of whites who don't have college degrees disapprove of Trump; 45 percent say they approve.
As of the 15th of January 2019, while the republican President Donald Trump and the US Senate's Majority Leader Mitch McConnell continue this shutdown, they have been demonstrating amnesia about the GOP's intransigence for passing the $5 billion plus dollars over the past 2 years in 2017 and 2018. This history proves that the president and GOP leaders' assertions that democrats are at fault for the government shutdown because they are refusing to give the president the monies of $5.7 billion dollars that he's demanding to start his border wall which would take at least 2 years to build with an estimated cost of $20 billion plus dollars, are a lot of  baloney.
Here's the rest of the story…
As per a 9/20/2017 USA Today report, "Exclusive: Less than 25% of Republicans in Congress endorse border wall funding in USA TODAY survey" by Paul Singer:
Excerpts:
"President Trump has been adamant that he needs Congress to approve funding to start building his border wall, but Republicans on Capitol Hill are far less adamant about supporting it. When asked by the USA TODAY Network whether they support the president's initial $1.6 billion budget request to begin construction, only 69 of the 292 Republicans on Capitol Hill said "yes." Among the rest, three Republicans said they oppose the money, several evaded a direct answer, and the rest simply refused to respond to the question."
"The USA TODAY Network asked the 534 members of the House and Senate whether they support the $1.6 billion down payment approved by the House and found fewer than 25% of Republicans willing to stand up for the plan."
"The House approved $1.6 billion in startup funding as part of a broad national security spending package in July (2017) that included billions $658 billion for the Defense Department and $78 billion for the Department of Veterans Affairs. The wall funding was tacked on to the bill at the last minute, and the legislation passed the House with the support of only five Democrats. Five Republicans voted against the bill."
"The Senate has not yet taken up the measure, and Congress has since passed a temporary spending bill to keep the government running for the next few months. That puts off until December (2017) a battle over the wall and other Trump spending priorities."
"Senate Minority Leader Chuck Schumer, D-N.Y., and House Minority Leader Nancy Pelosi, D-Calif., indicated last week that they had struck a deal with Trump to move legislation offering safe harbor for undocumented immigrants brought to the U.S. as children, and that the bill would not include funding for Trump's wall."
"In the USA TODAY Network survey, three Republicans — Sen. Jeff Flake of Arizona and Reps. Steve Pearce of New Mexico and Will Hurd of Texas — said they oppose the $1.6 billion expenditure to begin building the wall."
"I voted against including border wall funding into the recent appropriations package because I favor a border security solution based on improved technology and manpower," Hurd told USA TODAY. "I've made it clear time and time again that building a physical wall from sea to shining sea is the most expensive and least effective way to secure the border."
"Pearce seconded this approach. "I fully support securing the border — it is imperative for the safety and security of New Mexico and our nation," he said. "The solution must utilize modern technology and update the strategy our nation uses to patrol the border."
"At an August rally in Phoenix, 2017 Trump said that he will demand the funding be included in legislation to fund the federal government. "Build that wall. Now the obstructionist Democrats would like us not to do it, but believe me if we have to close down our government, we're building that wall," he said. But Trump did not block the short-term government funding bill that Congress approved earlier this month despite its lack of money for the wall."
"The overwhelming majority of congressional Republicans refused to take a stance on the wall funding when asked by USA TODAY. Most simply declined to participate in the survey or refused to even respond to queries. Many others offered general positions about the importance of securing the border and requiring employers to verify the immigration status of their workers."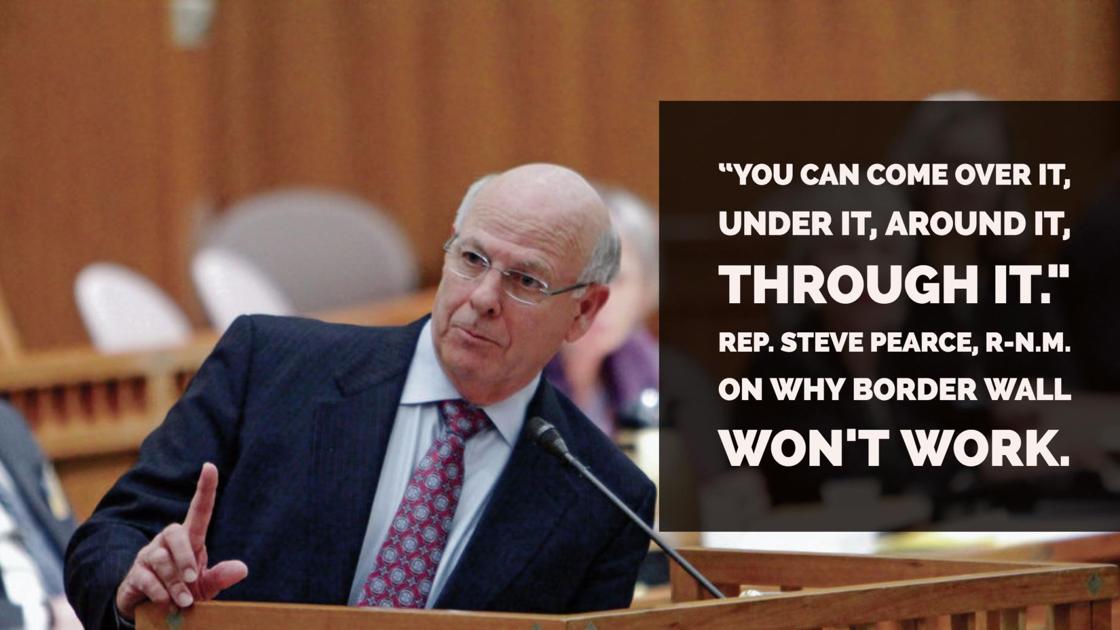 "In the end, 220 Republican lawmakers did not provide an answer to the question."
"Democrats were much easier to get on the record. Of the 240 Democrats in Congress, 133 answered the USA TODAY survey and nearly every one was a decisive "no." For Democrats, Trump's wall — one of the defining themes of his campaign — was always an overly simplistic answer to the complex problem of immigration as well as an insult to Mexico and Latino Americans."
Read: A human smuggler, and the wall that will make him rich