This has been headline news for days in mid February 2019.  Purportedly, The republican President Donald Trump's long time NYC buddy, Mr. David Pecker of AMI, media outlet parent company and one of its papers, the National Enquirer was outed for attempting to extort the richest man in the world, Jeff Bezos, the owner of Amazon, the Washington Post and other businesses.
Mr. Pecker and his organization's operations' ways of doing business was laid bare for all to see by none other than the targeted victim, Jeff Bezos. He chose to turn the tables against those attempting to blackmail/ extort him by making his personal emails, where whatever they were using to threaten him was made public for the entire world to read.
This is a developing story which has the potential to equal the Trump-Russia saga as its story lines and caste of characters are just as convoluted.  But instead of coming  under the purview of the FBI's Trump-Russia investigation being led by Special Counsel Robert Mueller III, it will be most likely be reviewed by the (SDNY) Southern District of NY Court professionals.
Two of the key players in this drama are President Trump who has made no secret of his contempt/ hatred for Jeff Bezos; and Saudi Arabia's MBS Crown Prince Mohammed Bin Salman's who has been livid over Jeff Bezos' Washington Post's relentless coverage over his ordering the 2018 brutal dismemberment murder at a Saudi embassy in Turkey of a US resident and Washington Post journalist, Jamal Khashoggi.
See NYT: Year Before Killing, Saudi Prince Told Aide He Would Use 'a Bullet' on …
See following Bill Kristol 2/9/19 tweet which indicates a Saudi Connection:
"We warn against any attempt to link Khashoggi's crime to our leadership."
Who's attempted such a link? The Post. Who owns the Post? Bezos. Who had the ability to hack Bezos and a connection to AMI? The Saudis. Who's conspired with both the Saudis and AMI and hates Bezos? Trump.

Foreign Ministry 

✔@KSAmofaEN

#WashingtonDC | Minister of State for Foreign Affairs @AdelAljubeir: "Our leadership is a red line"
As per the 8/24/18 Wall Street Journal, "David Pecker, the chief executive of the company that publishes the National Enquirer, was granted immunity by (SDNY) federal prosecutors for providing information about Michael Cohen and President Trump in the criminal investigation into hush-money payments for two women during the 2016 presidential campaign, according to people familiar with the matter."
This is a key detail, because the SDNY immunity agreement required Mr. Pecker to not be involved in any criminal activity for 3 years.
For a quick review, around July 2018, AMI via the National Enquirer did publish an expose displaying embarrassing texts and photos of Jeff Bezos and his mistress Lauren Sanchez, which probably triggered the announcement of his pending divorce with his wife of about 25 years, McKenzie. Of course, Mr. Bezos proceeded to investigate how AMI obtained these text messages and photos.
To stop this inquiry by Jeff Bezos, AMI has purportedly attempted to blackmail/ extort him by committing not to publish any more salacious photos and pertinent material in exchange for Mr. Bezos ending his investigation into its operations and for making a public statement, that the previous July 2018 publication by the National Enquirer regarding his affair, hadn't been politically motivated.
See Bloomberg report: : Full Text of Bezos Statement Accusing National Enquirer of Blackmail
Here's why journalistic and law enforcement investigators are hot on the trail of how AMI obtained the confidential information regarding Mr. Bezos and his mistress, where the National Enquirer's executives chose to display its findings in its pages around July 2018.
There's suspicion of a Saudi Arabian connection as it has been alleged that the Saudis have a financial stake in AMI/ the National Enquirer as well as a reputation for collecting salacious data for leverage.
Although, Lauren Sanchez's brother, Michael is known to be associated with AMI,  it's hard to see how Mr. David Pecker of AMI would have risked being complicit in an extortion racket if it was just Mr. Sanchez's brother who was involved, especially considering that Mr. Pecker is supposed to be bound by a 2018 immunity agreement with the SDNY courts, not to participate in any criminal activity for 3 years.
The other question about the brother of Ms. Sanchez being the sole culprit, is that Mr. Bezos has been delving into what happened with competent investigators as to how AMI came into possession of his personal data since mid-summer 2018. By now, the brother's part would be in Mr' Bezos' purview of knowledge
There have been several news reports throwing suspicion/ blame onto the brother of Ms. Sanchez before Mr. Bezos went public about AMI's attempts to extort him.
But there is recent reporting pointing the finger at the brother, like a 2/13/19 Daily Beast report, "Michael Sanchez, the Hollywood talent agent who allegedly leaked Jeff Bezos' racy text messages to the National Enquirer, has a history of weaponizing his connections at AMI and the Enquirer on behalf of—and sometimes against—his former clients."
"Sanchez leaked information about client Scottie Nell Hughes' affair with Fox Business host Charles Payne to the Enquirer, two sources told The Daily Beast. An explosive lawsuit he filed against another former client, So You Think You Can Dance judge Mary Murphy, ended up an exclusive story in AMI-owned Radar Online on the same day it was filed."
"That was years before Sanchez found himself at the center of the war between Amazon boss Jeff Bezos and American Media Inc., the Enquirer's parent company. As The Daily Beast has reported, Sanchez was the alleged source of racy text messages between Bezos and his sister, Lauren Sanchez, that wound up splashed on the pages of the Enquirer last month."
"Sanchez has denied leaking Bezos' texts, but AMI has described the culprit as a longtime Enquirer source. Sanchez also acknowledged this week that he is friends with Dylan Howard, a top executive at AMI who shared a byline on the Enquirer's Bezos story. And Sanchez admitted that he provided pictures of his sister to an AMI publication, Us Weekly."
And Check this out.
As per a 3/26/18 Daily Beast report, "A nearly 100-page magazine published by Donald Trump's allies at American Media Inc. is providing a different kind of celebrity gossip than the American supermarket shopper is used to seeing. It's selling America on a fellow Trump ally, Saudi Arabian Crown Prince Mohammed bin Salman."
"MBS, as the millennial victor of last year's Saudi palace power struggle is known, is currently on an overseas tour to cement his legitimacy. Its current stop is the US, where MBS met last week with Trump ahead of checking the young-king-in-waiting PR boxes of Silicon Valley and Hollywood."
"Greeting Americans on newsstands is a high-quality glossy advertisement for MBS, The New Kingdom. It retails for $13.99, has no ads and its 200,000 copies can be found in venues ranging from U.S. airports to WalMart, Safeway and Kroger's—raising questions about the magazine's financing and its origins. The Saudis say they don't know how it came to be. AMI, which publishes The National Enquirer, insists it had no outside editorial or financial assistance."
"The New Kingdom doesn't feature any salacious gossip about MBS, but its coverage is just as breathless. "Our Closest Middle East Ally Destroying Terrorism," the cover coos,  side-stepping decades of Saudi Arabian financial support for terrorist groups and ideologues. It Disneyfies Saudi Arabia as "the Magic Kingdom." It's easily the most uncritical encomium to MBS since Thomas Friedman."
Link: https://www.thedailybeast.com/trumps-publisher-pal-puts-saudi-propaganda-magazine-in-us-supermarkets -via Flynx
Those in the media world have been detailing how those in charge of the National Enquirer of AMI have been getting away with playing cloak and dagger games regarding the salacious data they collect, for financial gain.
As per the 2/8/2019 Daily Beast report, "It may have shocked the world when the publisher of the National Enquirer allegedly tried to use nude pictures to coerce Jeff Bezos. But it came as no surprise to 3 veterans of the Enquirer's parent company, American Media Inc."
"The threats, the blackmail, that's their business model," one former National Enquirer staffer told The Daily Beast."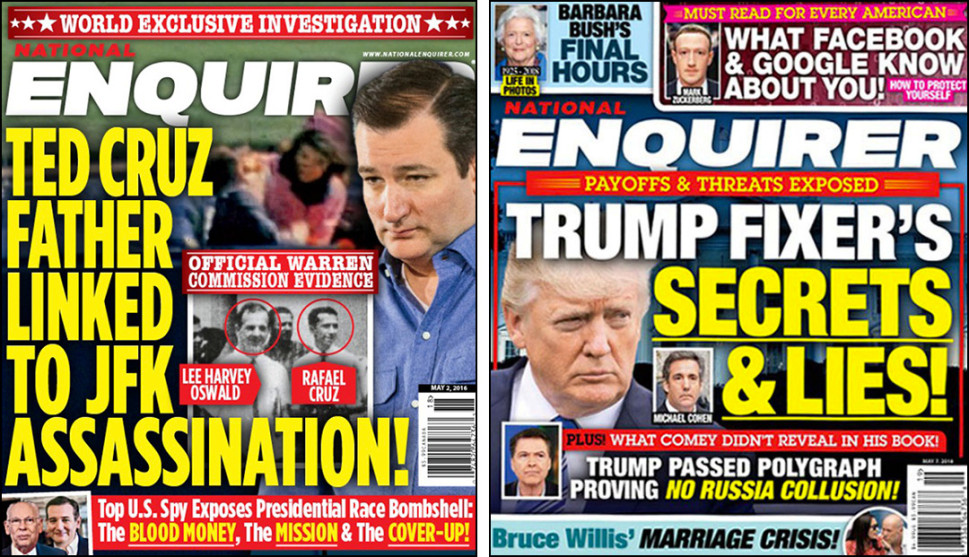 "That model burst out into public view on (2/7/19) night when Bezos—the world's richest man, the founder of Amazon, and the owner of The Washington Post—published emails from AMI chief content officer Dylan Howard that threatened the release of a "d*ck pick" if the Post didn't relent in its investigation of AMI."
"It was a familiar moment to Paul Barresi, a private investigator who spent years working on jobs for AMI and other tabloids. "The National Enquirer had some people who would go to a celebrity and say, 'unless you give in to a one-on-one interview that would amount to a fluff piece with us, we're going to report XYZ," he said. "The celebrity would then acquiesce to their demand."
"The nice way of calling it was quid pro quo, but really it was blackmail," Barresi said. "I know that the same methodology is practiced today," he added."
"As The Daily Beast reported last year, the National Enquirer offered to pay for an interview with one of Bill Cosby's accusers in 2005, then allegedly turned over the file to the comedian in exchange for an exclusive sit-down with him. The Los Angeles Times has reported that in 2003, the Enquirer paid a woman $20,000 for an exclusive about an alleged affair with Arnold Schwarzenegger, then never ran it and made Schwarzenegger a consultant for AMI magazines."
"Most infamously, AMI has admitted it paid ex-Playboy model Karen McDougal $150,000 in hush money for her story of an affair with Donald Trump, which never saw the light of day."
Link to report: Private Eyes Detail Inner Workings of National Enquirer 'Blackmail ..
As per the 2/8/19 USA Today report, "Federal prosecutors are reviewing the National Enquirer's conduct after Amazon CEO Jeff Bezos accused the tabloid's parent company of "extortion and blackmail," Bloomberg News reported.
"Two sources told Bloomberg News that prosecutors with the Southern District of NY are investigating how the National Enquirer handled its stories about Bezos's extramarital affair."